The Hanyao Ruins Park is the first large-scale theme park focusing on nuptial amenity and customs. It is located in the southeast of the Qujiang New District in Xi'an City and close to the Qujiang Ruins Park, the Great Wild Goose Pagoda, the Lotus Palace of the Tang Dynasty and the Sleepless Town of the Tang Dynasty. The Hanyao Ruins Park is also one of the six ruins park projects in the New Qujiang District. It covers 188.75 acres, including park of 60 acres and other functional areas of 120 acres. The love stories in the history and nuptial customs are the main themes in the Hanyao Ruins Park, which makes the Hanyao Ruins Park the first love-theme park in China. It is an excellent place for love-promise, love-memorize and love-education.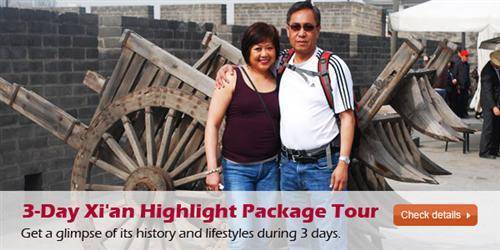 The Hanyao Ruins Park is one important part of the state-level cultural bases of Tang Dynasty. In the past, this place was famous for the moving love story of Wang Baochuan and Xue Pinggui. The ruins began to be built in the late period of the Qing Dynasty, including the Ancestral Hall of Wang Baochuan. In the 23rd year of ROC, the general Yang Hucheng's mother donated a lot of money for its repairing. In June 1984, it was repaired again with the local government's financial support. On February 28th, 1985, it was formally opened to public.
The park covers 70 acres, with a total investment of 200 million. The whole park is made up of several functional areas, nuptial district, museum area, ruins zone and other museums of nuptial customs and sexual cultures, combining ruins protecting, entertainment and wedding experiencing. It was opened to tourists on May 1st, 2010.
The newly-built Hanyao Ruins Park devotes to love on the basis of its rich historic and cultural heritages, providing an excellent place of love-promise and wedding-experiencing for young lovers. The adequate and systematic services make people feel that the real love will remain unshakable and become eve firmer as time goes by. At the same time, it tries to popularize the duteous and holy love conception and makes the Hanyao Ruins Park the first park on the subject of love.
Solo Adventure Tips:
Location:

No.18, Hanyao Road, Qujiang District, Xi'an City
How to Get There?

Ticket Price:

60RMB per person
Opening Hours:

More Tips:

Information accuracy:
We try to make the information on China Travel accurate when we write/edit it. If you find any outdated information, please inform us.