Xingqing Imperial Palace was Chinese political center and residence of Emperor Xuanzong in the Tang Dynasty. Emperor Xuanzong and his concubine Yang Yuhuan who was one of the 4 most beautiful women in ancient China loved to live in Xingqing Imperial Palace for a long time. Xingqing Imperial Palace was one of 3 imperial palaces in Chang'an (Xi'an) in the Tang Dynasty. Xingqing Imperial Palace has Xingqing Hall, Nanxun Hall, Datong Hall, Agilawood Pavilion,etc.
In the east countryside of Xi'an City, Xingqing Imperial Palace is one of the oldest relics in China. Located on Xianning Road outside of Peace Gate in Xi'an, it was Xingqing Archway in the Tang Dynasty. Xingqing Imperial Palace combines Chinese traditional architecture style and foreign building characters.
The imperial palace is Emperor Xuanzong's residence where Xuanzong and his brothers lived in before he ascended the throne. After he became the king, he and his concubine Yang Yuhuan live in the Xingqing Imperial Palace.
Occupying an area of 2,016 acres, Xingqing Imperial Palace is bigger than the Forbidden City of the Ming and Qing Dynasties which is the largest and the most well-preserved imperial architecture clusters. There are 6 gates of the palace, and the main gate is Xingqing Gate in the west. The gate in the south is called Tongyang Gate in the Tang Dynasty.
From the overall layout, the palace is divided into two parts because of a wall extending between the east and the west. The two parts have their own unique beautiful scenery. The north part has Nanxiong Palace, Changxing Palace and Datong Palace hiding in the forest.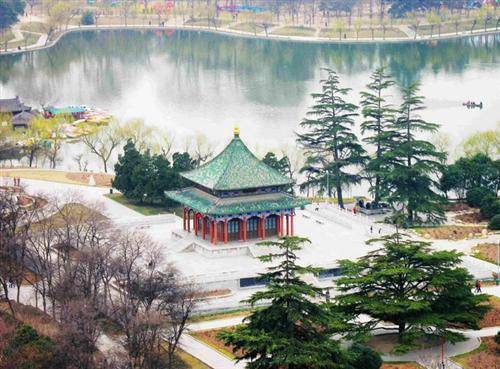 The southern part is the most beautiful area consisting of Dragon Hall, Changqing Hall, Agilawood Pavilion and Xunzong's working palace to deal with political affairs. Xingqing Imperial Palace was national political center of Emperor Ming (Xunzong) in the Tang Dynasty. Xingqing Lake is built on the relic of Dragon Pool. It is said that Dragon Pool has a large area of lotuses, water chestnuts and algae with beautiful scenery.
Solo Adventure Tips:
Location:

55 Xianning West Road, Beilin District, Xi'an
How to Get There?

There are dozens of buses to reach Xingqing Palace such as Bus 7,45,402,410,512,607,705,800, and 91O. You can also take Bus 8,27, 37, 43,102, 203, 300, 602, 604, K630, 704, 714,and 715 to Xingqing Palace's North Gate. Bus 228, 237, 240, 401, 408, 410, 512, 517 and 525 can get East Gate of Xingqing Palace. In addition, you can take Tourism Bus 10, also known as Bus 903 to the north or east gate of the palace.
Ticket Price:

Free
Opening Hours:

09:00 to 19:00
More Tips:

Tel: 029-82487345
Recommended visit time: 2 hours
The Surrounding Scenery: Xi'an City Wall, the Forest of Stone Tablets, the Grand Mosque and Banpo Museum
Information accuracy:
We try to make the information on China Travel accurate when we write/edit it. If you find any outdated information, please inform us.