Wutai Shan ("Five Plateau Mountain"), or Mount Wutai in everday parlance, is a unique and uniquely beautiful mountain landscape with a cultural heritage that is at least as prized as the mountain's natural beauty. Mount Wutai is rich in historical relics, ancient folk art, folk customs, and, of course, Buddhist culture. The mountain derives its name from the plateaus (described in more detail below) which form the tops of mountain peaks to the north, south, east and west, as well as a fifth peak, located roughly in the middle of the four other peaks. These plateaus naturally make ideal vantage points from which to view the respective landscapes below. Mount Wutai has an abundance of smaller peaks - many odd-shaped - rock outcroppings, steep cliffs, beautiful caves, ponds of various sizes, bubbling springs and spring-fed streams.
Mount Wutai is one of the four mountains of China sacred to Buddhism. It has the distinction of having been identified as the first such mountain. This identification stems from a passage in a holy Buddhist text (a sutra), in which is described the abodes of the bodhisattvas holy to Buddhism (a bodhisattva is one who has devoted himself to becoming enlightened, or in reaching nirvana). Mount Wutai was identified from the following passage: "Manjusri [a certain bodhisattva, rendered "Wensu" in Pinyin] resides on a clear, cold mountain in the northeast." Manjusri is said to reside still on the mountain, disguising himself as an ordinary monk, as a pilgrim, etc., though his usual manifestation is as a five-colored cloud [I dare say that sightings of these are more numerous than local sightings of UFOs! (: )].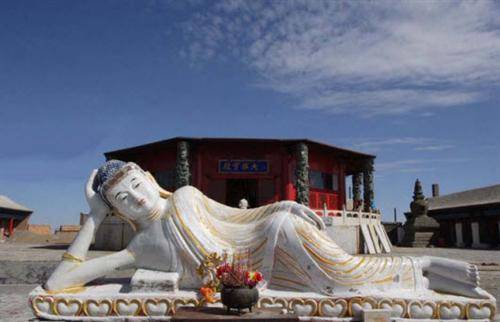 Wanghai Temple on Wutai Mountain
The earliest Buddhist temple construction on Mount Wutai occurred during the Eastern Han (CE 25-220) Dynasty - for example, the magnificent Xiantong Temple was built during this period. Their numbers increased during successive dynasties, just as existing temples and monasteries on Mount Wutai were refurbished and/or enlarged, the idea being to increase the Buddhist presence on the mountain, given its prominent position within Chinese Buddhism. Nanchan Temple and Foguang Temple were both built during the Tang (CE 618-907) Dynasty (in 782 and 857, respectively), and Tayuan Si (Temple of the Pagodas), which began as part of the temple grounds of Xiantong Temple, became a temple in its own right during the Ming (CE 1368-1644) Dynasty, when it was refurbished.
Many temples on Mount Wutai have, as an extra feature, pagodas. These vary in material from wood to brick to iron to stone, including more exotic materials such as glazed glass and crystal glass. There are also jade pagodas on Mount Wutai. Foguang Temple's Zushi Pagoda, whose exact origin is not known but is believed to stem either from the Northern Wei (CE 386-533) or the Northern Qi (CE 550-577) Dynasty (of the Northern Dynasties (CE 386-588) Period), is considered one of the most beautiful pagodas on Mount Wutai. It is a hexagonally shaped two-storey structure in white-painted brick, though the upper storey is purely ornamental. With its lotus-petal and lotus-flower decorations, Zushi Pagoda bears distinctly Indian influences. Foguang Temple itself (built in CE 857, as indicated above) has the distinction of being China's oldest surviving wooden building.
The construction of Buddhist temples on Mount Wutai has two main periods. The first period began during the Northern Wei Dynasty and ended with the close of the Tang Dynasty; the second period began with the Ming Dynasty and contiued well into the Qing (CE 1644-1911) Dynasty, a period marked by an emphasis on Tibetan, or Lama, Buddhism on Mount Wutai (prior to this, Mount Wutai had been known for its close association with the Huayan sect of Buddhism, having become an important center for Huayan scholarship and attracting Huayan devotees not only from the rest of China, but also from neighboring Japan).
This shift in sectarian emphasis made Mount Wutai almost as important to Tibetans, in terms of the pilgrimmage, as is Mecca to Muslims (it is worth mentioning that the founder of the Tibetan Yellow Hat Sect, Tsongkhapa (1357-1419), came to Mount Wutai during the early years of the 15th century to proselytize). It was during the Ming-Qing Dynasty period that much of the refurbishing and expansion of existing temples on Mount Wutai took place.
Today, there are 48 Buddhist temples on Mount Wutai, from simple temples with only a few resident monks, to monasteries with dozens of resident and visiting monks (one of the latter of whom could very well be the manifestation of a particularly auspicious bodhisattva... (: )... yet another reason for maintaining a pervasive Buddhist presence on the mountain!). A detailed description of the five famous plateaus (sometimes referred to as "platforms") of Mount Wutai follows...

East Plateau is called Wanghai Peak ("Looking-at-the-Sea") Peak. It gets its name from the main temple situated on the peak, Wanghai Temple. In summer, when you ascend the tall pavilion on Wanghai Peak you will have an amazing vista of the surrounding area. Being witness to the first probing rays of the rising sun here, amidst the clouds and the rising mists, is considered a privileged experience.
West Plateau is called Guayue Peak, though its main temple is Falei Temple. Looking out (in a westerly direction, naturally) from West Plateau, you can see a chain of mountains in the distance, covered in dense pine forests. In clear weather and late at night, when the chatter of birds and insects has ceased, West Plateau offers a calm view of the moon and stars above like no other you have experienced, as there is no artificial light to spoil the clarity with which these heavenly bodies beam their light earthwards.
North Plateau is called Yedou Peak, and, at its top, measures 3058 meters above sea level. Yedou Peak is the highest peak on Mount Wutai, and, in fact, the highest peak in all of northern China. From North Plateau you can get an excellent view of Mount Heng - aka Beiyue, or "Mountain of the North" - in the distance. Mount Heng is actually a chain of mountains, with magnificent peaks and ridges. It is a curious thought to imagine that the best view of any given mountain is often offered by a neighboring mountain!
South Plateau is known as Jingxiu Peak, though - again - its main temple is Puji Temple. Puji Temple is made of stone. The wild flowers growing in the meadows on this plateau, as well as the natural building materials of the temple itself, combine with the surrounding stillness to create an atmosphere of beauty frozen in time. The annual regeneration of nature - in the form especially of wild flowers - contrasts pleasantly with the overarching perception that this old mountain, with its time-worn, aged plateaus, was surely here long before the arrival of the first dinosaurs.
Fomu Cave of Wutai Mountain
According to Buddhist Scriptures, Fomu Cave is also called Thousand-Buddha Cave where people enshrine Sakyamuni. Sakyamuni is also named Thousand-Buddha. Fommu is the mother of Sakyamuni. She is the daughter of King Jueshan of ancientIndia. It was said by the Buddhists that people who went in and out of the Fomu Cave can get reincarnation because Fomu Cave can wash away people's iniquities, cleanse them from their sins, and bless people from all evils. As a result, the person can remould himself thoroughly and become a new man.
The holy Fomu Cave has no parallel anywhere. It consists of an outer cave and an inner cave. The outer cave with the height of about 3meters and the width of about 2 meters is bright and large, while the inner one is dark and small. The geological structure of the inner cave is odd. It has a gourd-shaped cavity. The entrance to the cave is round and flat which can hold one person go in and out. However, the cavity can hold 5 or 6 people.
There are stalactites and stalagmites in the cave. The cave walls are variegated and just like the shape of the vital organs of the human body. Especially the milky fringes on the right of the cavity are quite like spines and ribs of human bodies. So it is called Fomu Cave. Going into the small cave means reincarnating to Fomu and going out of it means getting happiness. Going in and out of the cave is a holy ritual of Buddhism and full of interest. At first glance, the entrance to the Cave is too narrow for adults to go into. Actually, people either fat or tall can manage to go into the Cave. It is necessary for tourists to visit the Fomu Cave for its particular Buddhist significance.
Historical Legend
It was said that Sakyamuni was born in the Country of Jiabiluowei in ancient North India, whose father was the King of the Country. In the evening of a spring, Sakyamuni's mother dreamt that the Bodhisattva riding a white elephant came up to her and went into her abdomen from her right rib. When she woke up, she was surprised to find that she was pregnant. Before childbearing, she went back to her parents' home to wait for the birth of her child by the mores of the day. On the way to her parents' home, as she was walking with slow steps in the street which was lined with trees and enjoying the beautiful scenery, she gave birth to the Crown Prince. The Crown Prince came out from her right rib and he was Sakyamuni. Fomu Cave of Wutai Mountain tallied with the case of the birth of the Buddha which was recorded in Buddhist Scriptures. The cavity of Fomu Cave is just like the abdomen of woman. Fomu Cave is unique and unparalleled among all the Buddhist wonders at home and abroad.
For all of these reasons, a continuous stream of visitors came to Wutai Mountain and Fomu Cave enjoys a good many sightseeing and worshiping visitors each year. The reverent worshippers with heavenly mind humbly ask the blessing of Fomu and the increase of their good fortune.    

Solo Adventure Tips:
Location:

How to Get There?

By Rail/Bus: There is an air-conditioned, non-stop special express line from Beijing to Taiyuan that takes about 8-9 hours. Taiyuan is a regional, Shanxi Province city about a 2-hour ride by bus (from Taiyuan Bus Station) to Mount Wutai. One of the Beijing-Taiyuan express trains departs at 12 noon, another at 7:00PM and another at 9:40PM, roughly. There are slower trains that take about 14 hours, if you want to rub shoulders with a more mixed crowd.

By day, the train accommodations are "sitters"; by night, "sleepers". The price of a soft seat for day travel is 22 Yuan; a hard seat, 16 Yuan. The price of sleeping berths depends on whether they are doubles or triplets, and whether they are lower, middle (where applicable), or upper berths. The gap in prices vary little within categories, the significant difference being whether your sleeping berth is a double or a triplet (it is possible - in fact quite likely - that with express trains, all night accommodations are doubles only, no triplets). Triplets go for about 30 Yuan per person, while doubles go for about 40 Yuan.

Note that prices and departure/ arrival times may vary - it is best to check with your travel agent. Taiyuan is a relatively large transportation hub, with excellent connections to other major cities.
Ticket Price:

Opening Hours:

More Tips:

1) Minimum recommended time for a visit to Mount Wutai: at least a half day.

2) Since it is chilly in the mornings and again in the evenings - even in the hottest summer months of July and August, where the maximum temperature averages 30 degrees Celsius - it is a good idea to bring layered clothing, such as a light jacket. Spring and early summer showers are not uncommon - and can occur in fact at any time, since this is mountain terrain - it is wise to bring along an umbrella. In spite of the daytime heat (albeit, 30 degrees Celsius is not hot, unless one is exposed to direct sunlight for 3-4 hours without a hat or umbrella), there is usually a breeze, so hotels are not equipped with air conditioners, as they are not necessary.
Information accuracy:
We try to make the information on China Travel accurate when we write/edit it. If you find any outdated information, please inform us.