Guangdong Marine Silk Road Museum is located on the silver beach of Hailing Beach, Yangjiang City, Guangdong Province. It was built on the basis of South China Sea 1 (an 800-year-old sunken ship of the Southern Song Dynasty) with an aim to preserve this historical relic. Covering an area of 19409 square meters, this large underwater archaeology museum cost over 200 million yuan (30 million USD) to build. It is the only one of its kind in Asia, and one of the few in the world. The museum officially opened to the public on December 24, 2009, and immediately became a new popular spot in Guangdong Province. South China Sea 1, the ancient sunken ship enters the modern world with its 800-year-old history and culture.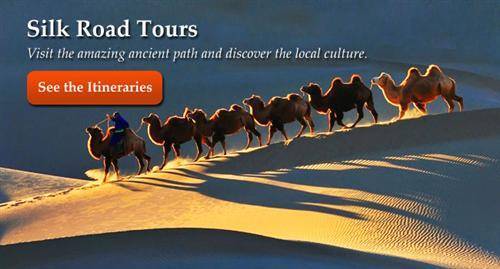 The museum was elaborately designed with the theme of sea. Five irregular ellipsoids were interlinked and joined to each other, making the museum look like a keel of an ancient ship, while the overall appearance is like rolling waves or a volant seagull. The biggest ellipsoid in the middle is called "crystal palace", a gigantic 12-meter-deep aquarium used to keep the South China Sea 1. The water within it is exactly the same with what it was on the seabed in terms of water quality, temperature and environment.
The museum has three permanent exhibitions, namely on-site exploration of South China Sea 1, history of marine silk road and underwater archaeology history. It will also gradually establish itself as China's research and statistics center of "marine silk road".
South China Sea 1 is an ancient sunken ship of over 800 years, containing 60,000 to 80,000 pieces of historical relics. The ship was salvaged as a whole on December 22, 2007. This cuspate-headed ship is over 26 meters long and over 10 meters wide. The hull (excluding the mast) is 8 meters tall, with a tonnage of about 800 tons and an estimated loading capacity of about 800 tons. It was moved intact into the crystal palace with its articles within and sullage. The museum is the first theme museum in the world to reveal to visitors its process of underwater archaeology. There is a transparent underwater corridor for visitors to walk through. Such way of protection and display is the first time in similar museums of the world, and it has a positive effect in boosting the research of marine silk road.
The museum exhibits over 4500 pieces of historical relics made of gold, bronze, iron, porcelain and jade, and over 6000 bronze coins of the Song Dynasty. These artifacts are mainly made of porcelain, by several famous porcelain schools of the Southern Song Dynasty, such as Longquan in Zhejiang Province, Dehua in Fujian Province, and Jingdezhen in Jiangxi Province. Most of them are well preserved, with unique figures and fine workmanship that are way better those porcelains unearthed on land. The museum outnumbers the total numbers of collections in Guangdong's museums, both in terms of number and value. All the porcelains on display in this museum are uncommon and precious, which present a vivid reappearance of the society back in 800 years ago.
Inside the crystal palace, visitors will see how the archaeological staff work. Dressed in diving suits, they are cleaning up the grid of South China Sea 1, and hold high to visitors the porcelain plates that they have just excavated. The plates are well preserved, bright and glittery. What's more exciting is that the shipboard and upper deck of South China Sea have come out to visitors. They see that the wood is still taking on a brownish color, which shows that it has not carbonized over the past 800 years.
The construction of Guangdong Marine Silk Road Museum broke ground on December 28, 2005. In order to withstand the corrasion of sea wind, the main building of the museum adopted a durable frame of concrete, while the exterior was made with bare concrete, which is a brand new try at home and abroad. The museum can withstand violent typhoons and tidal waves from coastal Guangdong, and protect South China Sea 1 inside the crystal palace.
As the first themed and dynamic underwater archaeological museum, the Marine Silk Road Museum has made a breakthrough on the way of display in museums. It is now making efforts to normalize its archaeological work, and try to get more visitors to know about archaeology.
Information accuracy:
We try to make the information on China Travel accurate when we write/edit it. If you find any outdated information, please inform us.