Duqiao Mountain is a provincial level scenic spot in Guangxi Province and it is called South Mountain too. It covers a total area of 37.5 square kilometers with an altitude of 743 meters above sea level. It is located seven kilometers far from Rong County seat. The mountain is a Taoist sanctum which is the No.20 Dong Tian of the thirty Dong Tians of Taoism. Duqiao Mountain is noted for its Danxia Landform and the caves, soaring peaks and great rocks form the fantastic scenery here.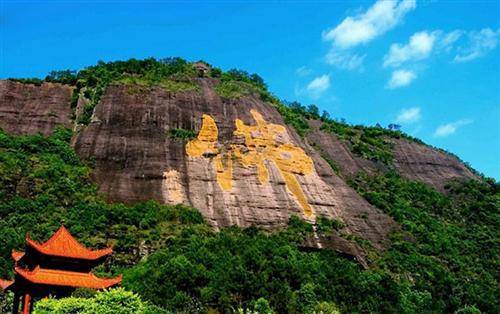 Yulin Duqiao Mountain
Duqiao Mountain earns its reputation by numerous temples and vagarious sight. In ancient time, there were nine temples, thirteen Taoist temples on this mountain and there is the tai-chi rock which was the famous place to give lectures. Famous Song Dynasty poet Su Dongpo, famous Prime Minister Li Gang, Ming Dynasty traveler Xu Xiake and some other celebrities used to be here and wrote a lot of poems and articles about this mountain as they were all attracted by the fame of Duqiao Mountain. It is a mountain combines religion, culture and scenery.
Qingshou Rock, which is in the west of Duqiao Mountain, covers about 4 square kilometers, is a new-developed resort area in where nature scenery blending in beautifully with the religion cultures. Now, you can drift in the An River; take sight-seeing cable car and visit five hundred arhats hall, temples on Qingshou Rock, the Monkey Hill and its long hall. Besides, the world-largest golden character for Buddha engraved on Qingshou Rock, pavilion on South Mountain, Fushou Bridge, Lotus Lake, Nine-curve Bridge and arboretum are also worth your visiting.
Solo Adventure Tips:
Location:

How to Get There?
Take No.2 Bus in front of the Supply and Marketing Mansion of Rong County which takes you directly to the gate of Duqiao Mountain Park. Either, you can take a tricycle or charter a car. The charter fee is about 50 Yuan and it might be a little lower in off-season.
Ticket Price:

Opening Hours:

More Tips:
1. Qingshou Hotel inside the scenic region is recommended as it a three star hotel. As another option, the visitors can also live in the hotels in Shizhai Town or take a bus to Rong County to live in the County Hotel which is with good conditions and reasonable price. The address of Rong County Hotel is No. 24 Xinnan Street, Rongcheng Town, Rong County. 2. You can find many snacks with local favor inside this scenic spot, Xiayan Chicken and shaddock banquet of Rong County is strongly recommended. The only thing you must buy here is the Shatian shaddock of Rong County which is also your ideal choice for gift. The authentic shaddock is sweet and good for your beauty and health. 3.Best touring time: Duqiao Mountain Scenic and Historic Interest Area is covered with vegetations in really good condition and the beautiful scenery always impresses the visitors. People always pay the visit in spring, summer or autumn and there is less visitors in winter. You'd better go here in a sunny day as the road is slippery in rainy days and it is inconvenient for you to climb the mountain.
Information accuracy:
We try to make the information on China Travel accurate when we write/edit it. If you find any outdated information, please inform us.