Yuntian Folk Culture City covers a whole area of 4.67 hectares with a building area of 140,000 square meters. The key architecture, which is 108 meters high with a torii 30 meters in height, is a archaize 21-storey building. This building is massive in scale, grandiose in style, elegant in sculpture and majestic in verve which expresses the cultures and history of our nation.
There are three sections of the culture city. They are sculpture exhibition hall, folk-custom museum and exhibition hall of wonderful affairs and national treasures.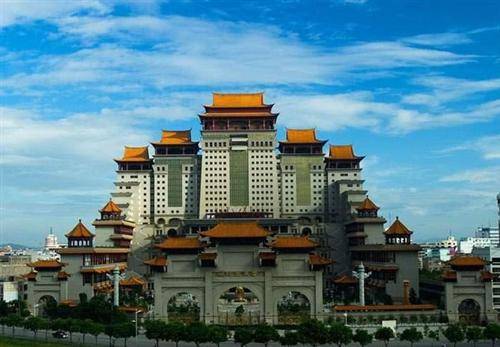 Yuntian Palace
The sculpture exhibition hall is divided into four parts: stone sculpture, wood sculpture, bronze sculpture and Closionne. The decorated gateway, monomer construction and the height of marble pillar here are all the best in China. The elaborated carved unicorn, phoenix and a Closionne ware of five dragons holding a gourd are all the largest and best over the world. The carved flying-dragon on the way is unique in the world for its elaborated engraving and fine carving. The whole majestic architecture is with a tremendous momentu
There are folk-custom relic exhibition rooms of 56 nations and a culture library in the folk-custom museum. It collects the relics of all nations in China and shows you their various customs and different cultures. It is the only place in China where you can find culture relics of 56 nations gathering together.
In exhibition hall of wonderful affairs and national treasures, you can find collections from all nations over the world, for example: curios, sculptures, cultural relics, jades, pearls and carnelians.
In Yuntian Folk Culture City, you can easily find valuable trees like sago cycad or arhat pine trees. And the sculptures in this city, mainly stone sculptures, wood sculptures and bronze sculptures, are all superb crafts excelling nature beauty. All these build a fantastic atmosphere of nature beauty and classical beauty.
Solo Adventure Tips:
Location:

How to Get There?
You can take No.2 or No. 4 bus in Yulin City or take a taxi or a tricycle to the destination.
Ticket Price:

Opening Hours:

More Tips:
1. Yuntian Folk Culture City is in the downtown area of Yulin City. So there are several hotels near it and the conditions are quite good. 2. You can taste the local cates on your way to Yuntian Folk Culture City. Just like tenderloin rice-flour noodles and Niuba noodles. 3. Best touring time: Yuntian Folk Culture City situated in the downtown area of Yulin City. And the climate is mild in every season, so you can come here every time as you like.
Information accuracy:
We try to make the information on China Travel accurate when we write/edit it. If you find any outdated information, please inform us.