Goulou Cave is located on the foot of Goulou Peak. It got its name as the caves arefamous for curving, blending, penetration and leaking. It covers a whole area of 204 hectare and is a typical sight of karst topography. The caves are the No.22 Dong Tian of the thirty-six Dong Tians of Taoism and it earns its reputation for the curving and leaking of the caves. The caves are three hundred meters in length consisting of four caves named Baogui Cave, Yuque Cave, Baisha Cave and Taoyuan Cave.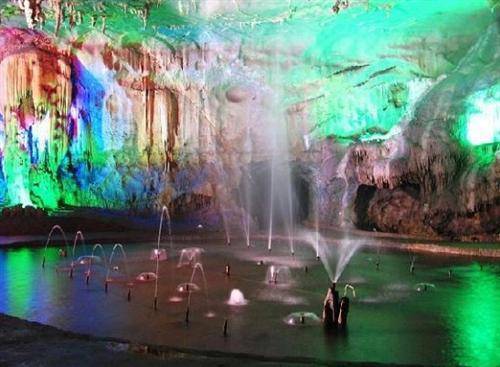 Goulou Cave
The legend said that in East Jin Dynasty, Ge Hong made pills of immortality in this cave. That's why there is an ancestral temple of Ge Hong in the front of the caves and there is his statue in the caves. In front of the caves, there are hundreds of steles and tablets which could be dated back to Tang or Song Dynasties. The peculiar sights inside the caves are all natural. Stalagmites and stalactites interveining with each other form pictures of different appearances which attract visitors into a wonderful land. In the caves, there are spacious hall, narrow corridor for one person only and clear Underground River like a mirror.
This place is of long cultural history. Since Wei and Jin Dynasties, celebrities like Wang Fu, Ge Hong, Li Gang and Xu Xiake always came here for tour and left quite a lot of writings and paintings among which only the stone inscriptions are over 120 pieces. Besides, modern artists like Guo Moruo, Ma Date and Yu Liqun came here too and left handwritings and stone inscriptions. The scenery here is beautiful with luxuriantly green and dark green acacia which add special sight to the caves.
Solo Adventure Tips:
Location:

How to Get There?
Goulou Caves Scenic and Historic Interest Area is just near the national highway which provides it with such a convenient transportation. In Yulin City, there're shuttle buses running between Yulin and Beiliu City or Yulin to Rong County which is departed every five minutes from six a.m. to ten p.m. everyday. The road condition is fine and after you arrive in Beiliu City, you can take a taxi or a motorcycle which will only cost you several Yuan.
Ticket Price:

Opening Hours:

More Tips:
1. The inns near the Goulou Caves Scenic and Historic Interest Area could provide accommodation and you can also live in Beiliu City which is only 10-minute bus far away. 2. In this scenic area, you can get the chance to taste the local chicken and baked duck of Beiliu. This place is not far from either Yulin City or Rong County that you could also taste the Niuba in Yulin and Shatian shaddock in Rong County. 3.Best touring time: Every time is proper as it situated in the suburb of Beiliu City
Information accuracy:
We try to make the information on China Travel accurate when we write/edit it. If you find any outdated information, please inform us.