Luchuan County is one of the first counties that opened up to the outside world for tourism.

The total area of Luchuan hot spring is about 667 square kilometers with the water temperature of 56 centigrade degree. This spring is one kind of alkalescent phosphate spring which contains 24 kinds of chemical elements and is abundant in carbonate, sulfate, chlorine, potassium and sodium. The spring is also full of radioelement like radium, boron, iodine and argon which are good for people's health and have curative effects on skin diseases, arthritis and neuralgia.

The sanitarium of general labor union of Guangxi Province is in Luchuan.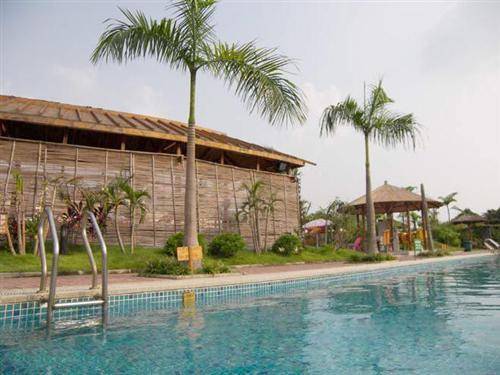 Luchuan Hot Spring
Solo Adventure Tips:
Location:

How to Get There?
The transportation is quite convenient. After arriving in Luchuan County, you could take a tricycle to Jiulong Villa for hot spring. The fare is only three Yuan.
Ticket Price:

Opening Hours:

More Tips:
1. You could live in Jiulong Villa of Luchuan hot spring. Standard double room: 288 Yuan; Style B Villa: 468 Yuan; Style A Villa: 568 Yuan; Standard Villa: 998 Yuan; Royal Villa: 1698 Yuan. 2. There is a Hakka flavor restaurant in Luchuan hot spring. The pattern is unique and it is managed by famous cooks. Roast suckling pig and pure pig hoof are their specialties. 3. Best touring time: every winter, usually January to March is proper time for visiting. Enjoying the hot spring which is 50-60 centigrade degree in cold winter is really a great joy of our lives.
Information accuracy:
We try to make the information on China Travel accurate when we write/edit it. If you find any outdated information, please inform us.