Zhenwu Pavilion Culture Park and it is one of the National Major Protected Monuments which is composed of Zhenwu Pavilion and Jinglue Platform.
Jinglue Platform was built in Tang Dynasty, the second year of the reign of Emperors Qianyuan (759 A.D.). It is said that Yuan Jie, a famous poet in Tang Dynasty, built this platform for practicing soldiers and enjoying the scenery when he was the official in charge of border security in Rong County. The former building on this platform was discarded quite a long time ago. The existing three-storey pavilion was built in the Ming Dynasty during the reign of Emperor Wanli (1573 A.D.) for dedicating God Zhenwu in order to prevent fire and it has been more than 400 years.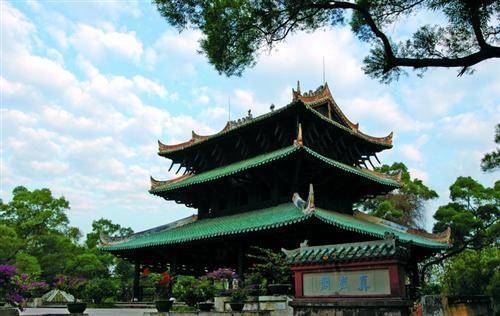 Zhenwu Pavilion
Zhenwu Pavilion is 13.2 meters high, 13.8 meters long and 11.2 meters wide. With yellow tiles and broad eaves, this pavilion is the only ancient building in China in good condition without the aid of reconstruction although it suffered five earthquakes and three gales in these 400 years. The pavilion comprises a structure according to the lever principle with 3,000 pieces of timber perfectly assembling well without any nails. The most ingenious and fantastic part of the pavilion is the four hypostyle columns on the second floor. It is a miracle that they are suspended from the ceiling and support the weight of the building and keep the balance of this pavilion as a whole.
The Jingzi Bronze Bell in the Culture Park is a municipal protected cultural relic. The Bell, which is 875 kilograms in weight, is one of the biggest bronze bells in Guangxi Province and it was cast 1200 years ago during Tang Dynasty.
Beside, there is an Imperial Concubine Garden inside the part which is built according to the romance of Yang Guifei. The buildings here are all of Tang's style and the statues are made of silica gel. Traveling in this garden, you will feel Yang Guifei, a woman of peerless beauty, is just wandering in front of you. Yangwai Village, five kilometers far from the county seat, is the birthplace of Yang Guifei. There are site of Kuei-fei temple, Kuei-fei well and site of dockyard west to Zhenwu Pavilion. Besides, a new Xiu River Fairyland is developed on the water of Xiu River nearby.
Solo Adventure Tips:
Location:

How to Get There?
Zhenwu Pavilion is just in the county seat of Rong County. You can take a coach in Yulin coach terminal or east suburb coach station which will take you to Rong County directly. There're plenty coaches and the highway condition is fine.
Ticket Price:

Opening Hours:

More Tips:
1. It isn't a good time for you to pay a visit if it rains. The wood structure of Zhenwu Pavilion is incomparable all over the world and it worth your careful observation. 2. You can find hotels and rest houses in Rong County. The conditions of these places are fairly well. 3. On your way, don't forget to taste the delicious pot-roast duck. 4.Best touring season: throughout the year
Information accuracy:
We try to make the information on China Travel accurate when we write/edit it. If you find any outdated information, please inform us.