General Introduction
Dragon Mountain Hot Spring Tourist Resort is located in Jicheng Town, 12 kilometers south of Xinxing County in Yunfu City of Guangdong Province. It boasts luxuriantly green mountain forest landscape, idyllic scenery pleasing to eyes, clean and fresh air, unique hot spring and complete recreational facilities.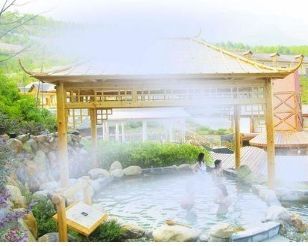 The dragon mountain hot spring is the rare and unique sulfhydryl compound spring in Guangdong Province with the water temperature of 72.8℃. The spring water is a kind of natural underground high-temperature water, which is rich in more than 20 varieties of mineral substances, such as sulfate, calcium, magnesium, radon and sodium.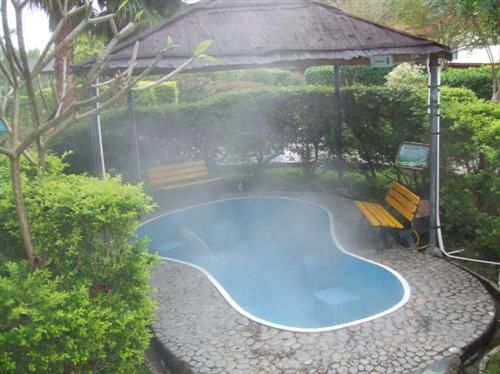 The spring water has great effect on over 30 kinds of diseases, such as skin disease, arthritis, rheumatism and hypertension. It's hailed as the facial treatment essence because it can also stimulate the circulation of the blood and cause the muscles and joints to relax, relieve internal heat, allay tiredness and keep fit.
Facilities
Dragon Mountain Hot Spring Tourist Resort covers an area of 100 mu, which is designed and decorated according to the standard of international four-star hotels. It's equipped with over 50 guest rooms, 3 luxury villas, 8 hot spring cabins and a number of VIP rooms.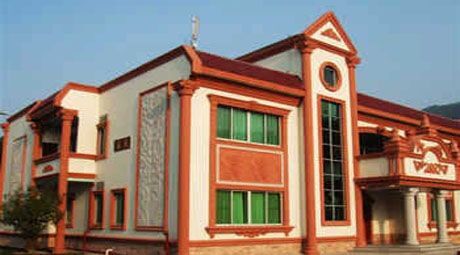 The resort also boasts a variety of multifunctional recreational facilities, such as tennis court, basketball court, table tennis, badminton, dancing hall, recreation area for children, large-scale barbecue area, dozens of open-air Japanese-style hot spring ponds, standard swimming pools and indoor hot spring ponds.
Customize a Tour to Dragon Mountain Hot Spring Tourist Resort
If you'd like to pay a visit to Dragon Mountain Hot Spring Tourist Resort while traveling to China, China Travel can customize a tour to Dragon Mountain Hot Spring Tourist Resort for you, which can save your time and money and trouble-free. Please feel free to tell us your idea immediately!
Nearby Attractions: Longshan Guo'en Temple, Panlong Cave, Panlong Tianhu Tourism Scenic Area
Solo Adventure Tips:
Location:

Liuzu Road, Liuzu Town, Xinxing County, Yunfu City, Guangdong Province
How to Get There?
There are through buses in the county.
Ticket Price:

80 yuan per person
Opening Hours:

10:00 to 00:00
More Tips:

Information accuracy:
We try to make the information on China Travel accurate when we write/edit it. If you find any outdated information, please inform us.