As a newly-rising tourist city, the transportation of Zhangjiajie has been developing dramatically to form crisscrossing road net work with highways, railway and airlines.
The Lotus Airport of Zhangjiajie is located in the lotus village in the Yong Ding Region of Zhangjiajie, 5 kilometers from the downtown. There is No.4 bus (and the 101 circulating line) going from downtown to the airport.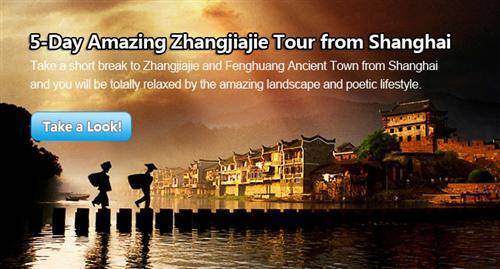 At present, Zhangjiajie Lotus Airport has opened several airlines to the large and medium cities in China, such as Changsha , Guangdong, Shanghai , Nanjing , and Beijing . Visitors should check the local number of Flights of aviation before purchasing the tickets.
Zhangjiajie Lotus Airport inquiring telephone: 0744-8238294
Zhangjiajie Lotus Airport scheduled flight inquiring: 0744-8220128, 0744-8227493, 0744-8227494
Ticket office of Zhangjiajie Lotus Airport: 0744-8238293
Zhangjiajie Lotus Airport office number: 0744-8238211
Zhangjiajie railway station is 5 kilometers from the city proper, just opposite the bus station No.1, No.6 buses service the railway station and it will take you about 20 minutes to travel downtown with a fee of 1RMB per person.
To date Zhangjiajie's rail network has been linked to several large and medium cities in the country. Trains travel to Beijing , Shanghai , Guangzhou , and so on.
Daily trains travel between Zhangjiajie and Changsha on schedule.
Zhangjiajie railway station office: 0744-8512112
Zhangjiajie long-distance station provides long-distance buses to the surrounding scenic spots and suburbs. Many buses arrive at long-distance station.
Every 5 minutes there will be a bus going from city proper to Wulingyuan, which is about one hour's drive, costing 5 RMB per person; every 15 minutes there will be a bus going from city proper to River Menglon, about 2 hours' drive, costing 15RMB per person; there is a special bus going from city proper to River Maoyan every morning from Xianglong International Hotel.
The express way from Zhangjiajie to Chengde was opened in December 26, 2006. With the opening of Chang-Zhang Express way, it takes less than 3 hours to travel from Changsha to Zhangjiajie, and it takes about 8 hours to travel from the Zhu-triangle to Zhangjiajie.
Public Bus
There are 10 bus routes in Zhangjiajie now. The average fee for the bus is either 0.5 or 1 RMB per trip. These bus routes cover most parts of the city proper.
Taxi
The starting price is 3 RMB. If you go to the railway station or the Lotus Airport by taxi, 15 RMB is enough.
Driving by oneself
Tourists who like traveling by their own expense can rent the car to go to different scenic spots. The prices have different levels according to different traveling routes, time and types of the car. Generally, 400 to 1200 RMB is enough for a car, and 800 to 4000 RMB for a minibus. For the prices and the detailed information; you had better consult the car renting company.