Zhangjiakou Featured Food:
Chaigoubao Bacon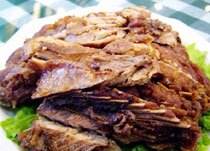 Chaigoubao Bacon is the special local food of Chaigoubao Town, Huaian County. With a history of over 200 years, it is fumigated by the timber of cypress. It is tasted fresh and not greasy with a distinctive flavor. The ingredient of the bacon can be various, such as pork, mutton, chicken, the meat of rabbit, and the meat of dog and so on. The Xi Brand bacon is the most famous.
Bean Curd Sheets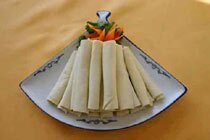 Bean Curd Sheet is one of the featured food of Huaian county. The sheet is as thin as a paper, attractive in color and fragrance. It is cheap but has high value in nutrition. The process of making is delicate. Each procedure must be taken seriously including grinding soybean into liquid, filtrating, pressing the water, tearing the sheet, and braising the sheet. So that the bean curd sheets are tasted soft and delicate.
Gezha Pancake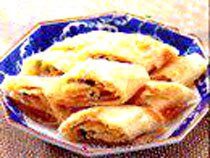 Gezha Pancake is the featured food of Yangyuan County. It was one of the tributes to royal family in Qing Dynasty. The carefully chosen ingredients and delicate process contribute to its unique flavor. It is a kind of translucent round thin pancake in golden color, tasted crisp, fragrant and sweet.
Page 1 of 1 First Previous 1 Next Last
You might also be interested in:
Top Things to Do in Zhangjiakou
Zhangjiakou Travel Services
Travel Confidently with Us

10,000 Satisfied Customers

50 Years in China Travel Industry

Quick Response within 24 hours

Secured Online Payment

Group Tours with Solo Adventure

No Hidden Fees and No Traps