Zhangye named Ganzhou in ancient China, was one of the important places in Silk Road. Marco Polo once stayed here for about 1 year.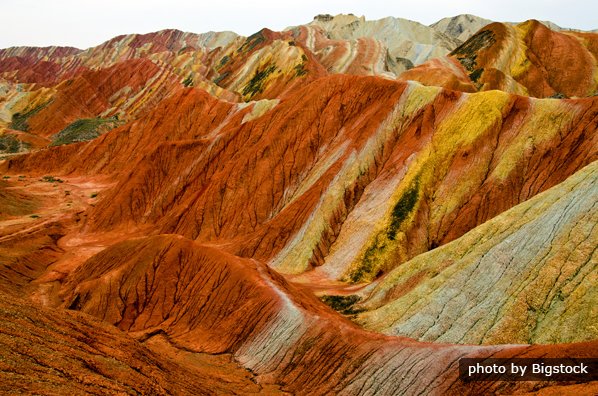 Zhangye Danxia Landform spreads between Linze County and Sunan County of Zhangye, with a total area of about 410 square kilometers, including 40 square kilometers of multi-colored hills. It divides into North and South groups; amid the landform is Zhangye Oasis Basin. Landform in that region mainly consists of three elements: red gravel, sandstone and mudstone.
Most mountains in that area feature steep cliffs. Many of these precipices are more than several hundred meters high, which gives you a very strong visual shock. Different kinds of landscapes makes Zhangye Danxia Landform unique. One can admire the widespread distribution of Danxia cliffs, stone walls, stone pillars, peaks, river terraces, eroded caves, the stratum surface, the table mountain terrain and crumbling cliffs. That's why many experts believe that Zhangye Danxia Landform is arguably one of China's largest, best landforms that possesses most abundant landscape formation.
Zhangye Danxia Landform has formed very colorful mountains. You will be deeply attracted by its spectacular landscape, changeable colors, and peculiar patterns.
This kind of unique landform is formed by the obvious arid, semi-arid climate there. Every year, a large number of tourists are attracted to take a good view of the splendid landform.
Recommended visiting time: from June to September are the peak tourism months of Zhangye. During these periods, it rains a lot. The moist weather will make visitors feel comfortable.
Recommended visiting hours: 2 to 3 hours.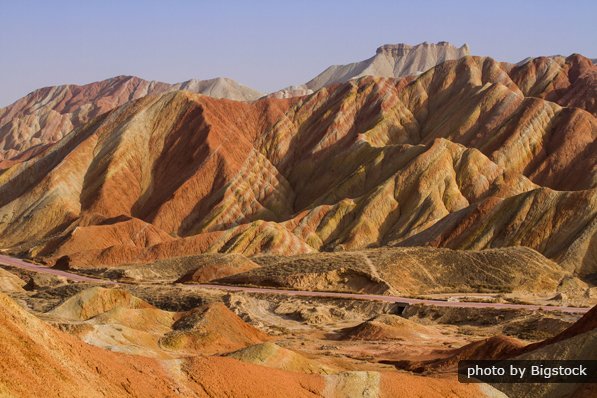 Tips:
1. The best time in a day to appreciate Danxia Landscape is at sunset. Sunshine shines the landscape tilted, which makes the landscape give visitors a layering feeling.
The best weather to appreciate Danxia Landscape is sunny day which is after the rainy day. The rain washes the whole place, which makes here a stronger colourful place.
The best sunset viewing place: No. 1 viewing deck and No. 5 viewing deck
The best sunrise viewing deck: No. 4 and 5 viewing deck
The highest viewing deck: No.2 (climbing up to this place takes about 20 minutes)
Standing on No. 3 viewing deck could see the reddest Danxia Landscape. Notice: go there in the afternoon. In the morning, the landscape stands in its own light. Coming from the No. 2 viewing deck, visitors can see the reddest Danxia Landscape all the way.
2. There is a large temperature difference between day and night in Zhangye. Remember to wear enough clothes to keep warm.
3. The best time in a day to appreciate Danxia Landscape is at sunset. But there is no passenger bus for visitors to get back to Zhangye city. Visitors can take private car for about 20 yuan per person.
Solo Adventure Tips:
Location:

Taizi Village, Linze County, Zhangye City, Gansu Province
How to Get There?

1. Take bus to Danxia Landscape Park from West Passenger Bus Station of Zhangye. Ticket price is 10 yuan per person.
How to get to West Passenger Bus Station from Zhangye Train Station: take bus No. 1 to West Avenue.
2. Taking taxi to Danxia Landscape Scenic Spot takes about 60 yuan.
Ticket Price:

40 yuan per person; tourism bus ticket: 20 yuan
Opening Hours:

from 7:00 to 19:00
More Tips:

Information accuracy:
We try to make the information on China Travel accurate when we write/edit it. If you find any outdated information, please inform us.