Zhongwei Food
Last updated by chinatravel at 2017/5/15
The food in Zhongwei is mainly made from flour, such as Yanmianrourou (A Kind of naked oats Made Snack) and other dishes. The famous Steamed Northern bronze gudgeon is one of the unique and delicious specialties that can not be missed. Zhongwei is also famous for its dairy products and mutton. Crispy and tasty Mihuangzi (a kind of pancake made of rice flour) and fried pig livers are also very famous all over China. Moreover, there are many other authentic and delicious dishes, such as Fried Tofu with Vegetable, Sautéed Camel Hoof, Braised Beef in Brown Sauce, Hand pulled Saozi Noodles, Muslim cuisine and so on.
Zhongwei Featured Food:
Hand Pulled Saozi Noodles (hand Pulled Noodle With Minced Meat)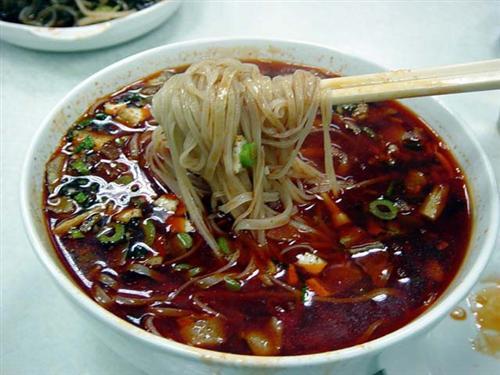 With a long history, Hand pulled Saozi Noodles is a traditional characteristic wheaten food in northwest China. It is famous for its five features: thin, chewy, hot, sour and fragrant. Noodles here are thin and long, Saozi is made of fresh pork, and the soup here includes many ingredients: black funguses, Tofu, egg, Daylily, garlic sprouts and carrots. Hand pulled Saozi Noodles plays an important role in people's daily life in the northwest region, such as weddings, funerals, birthday ceremonies and festivals.
Braised Beef In Brown Sauce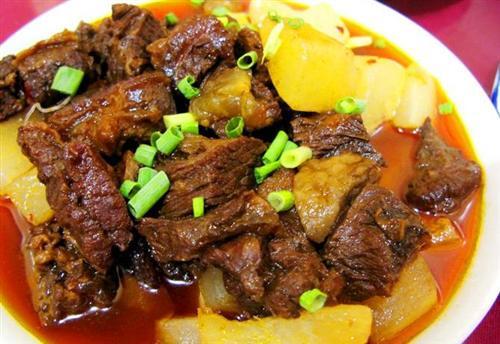 As a kind of famous Muslin dish, Braised Beef in Brown Sauce is loved by people of all ethnic groups in Zhongwei. The basic way of making it is easy. Firstly, cut the fresh beef into pieces and parboil it. Then, put the ingredients into the pot, such as ginger, scallion, and bean butter with chili oil, soy sauce, pepper, white spirit, MSG and star anise and so on. Braise them until the flavor is fully absorbed by the beef. It tastes extremely delicious and is good for improving the immunity of human beings.
Steamed Northern Bronze Gudgeon (gezi Fish)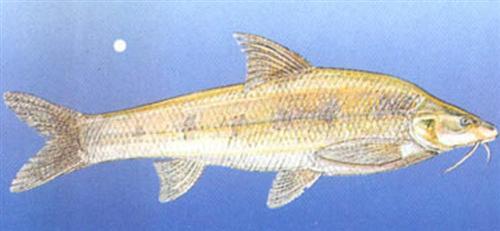 Steamed Northern bronze gudgeon is also called Gezi Fish, a kind of pigeon-looking fish. This kind of fish lives in the embayment from Zhongwei to Shiju Mountain. It is a kind of precious fish in Ningxia Province with soft and fresh taste. The method of making Steamed Northerm bronze gudgeon is easy. Firstly, kill a Gezi fish and cut some stripes on it. Then put it in pickle with salt, pepper, MSG, white spirit, scallion and ginger for one hour. The last step is steaming. When it is ready, the spicy taste will absolutely stimulate your appetite.
Yanmianrourou (a Kind Of Naked Oats Made Snack)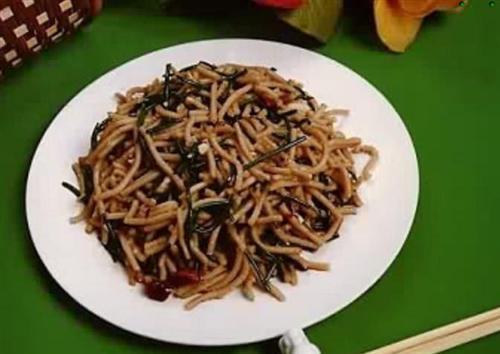 Stemming from Guyuan City, Yanmianrourou is a folk style savory food. Right now, this food can be found all over Ningxia Hui Autonomous Region. The materials for this snack include naked oats, cooked Chinese chives, cooked spinach, garlic sprouts, salt, chili, garlic, vinegar and vegetable oil. The process of making the snack is difficult, yet the essence of the procedure is to make good naked oats noodles, which can be tasted delicious and chewy.
Fried Tofu With Vegetable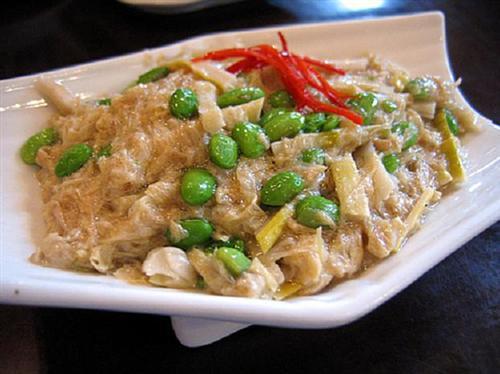 As one of the most well-known snacks in Zhongwei, Fried Tofu with Vegetable is a dish that is cooked with fresh materials through traditional recipes. Firstly, fry the fresh Tofu in sesame oil until the Tofu is yellow just like gluten. Then spinach, carrot in slices and chili oil are added in. It looks appetitive for its red, yellow and green materials. At the same time, it tastes delicious and chewy. Moreover, it is a kind of popular vegetarian food appropriating for all ages.