Public Bus
The public bus system in Zhuhai city extends in all directions with about one hundred bus routes. The buses are very clean and most of them are in good condition and many of them are air-conditioned. It's worth mentioning that the bus shelters are the harbor-styled garden architectures that are unique in China and look very elegant and comfortable. The languages of the audio system on buses are mainly mandarin and Cantonese, and there is additional English in some buses.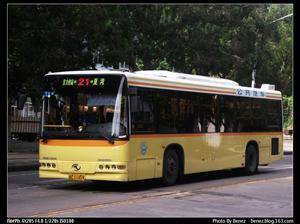 The public buses charge unified price and the vast majority of bus routes adopt self-service ticketing system. Thus, you need to prepare small changes in advance and put your small changes into the metal box when you get on the bus. Generally, in urban areas, ordinary buses charge 1 yuan per person and air-conditioned buses charge 2 yuan per person. Of course, in those remote districts, such as Jinwan District and Doumen District, the buses will charge more. The earliest buses depart from 05:40 and the large majority of buses depart from 6:00 to 7:00 every day. The last buses go back between 17:15 and 0:35 of the following day. Most of the buses operate every five to fifteen minutes.
Taxi
In the whole Zhuahai City, there are over 1,000 taxies traveling through the streets and alleyways. You can stop a taxi when you wave your hand and all the taxies are equipped with taximeter systems. The flag-down fare of taxies is 10 yuan within 3 kilometers (1.9 miles), and the fee for per additional kilometer is 2.4 yuan (0.6 miles). The flag-down fare increases to 13 yuan after midnight. Another 0.6 yuan will be charged each minute during the time of waiting. Of course, after midnight, you can have a bargain with drivers. If there is unreasonable and unjustifiable charge or bad service quality, you can make a complaint according to the indicated complaints hotline on taxies. Generally, the complaints hotline is 0756-2261133. The taxies in downtown area are mostly green and light blue. In the west districts including Doumen District and Jinwan District, the taxies are mostly dark blue. Taxies traveling between the airport and downtown area are mainly yellow in color.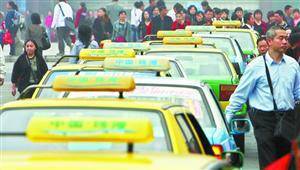 Sightseeing Bus
The sightseeing buses in Zhuhai are shuttle buses for the convenience of tourists. The sightseeing buses are quite capacious air-conditioned, and they are equipped with closed circuit televisions. There are 2 sightseeing bus routes, including the east route and the west route. The east route operates every 30 minutes with the full fare of 3 yuan per person. The west routes operate every 20 minutes with the full fare of 2 yuan per person. The sightseeing buses travel between 7:00 to 21:00 every day, and they adopt self-service ticketing system. Thus, you need to prepare small changes in advance. The consulting phone number is 0756-3345605 or 3378381. By sightseeing bus, you can appreciate nearly all the famous scenic spots of Zhuhai.

East Route: Dajinding - Jinding Market - Zhuhai International Circuit - Pearl Land - the Tang's - Zhongda - Dieshi - Sanatorium- Qiye Ridge - Xiangzhou Port - Xiangzhou General Merchandise - Cemetery of Revolutionary Martyrs - Mingting Park – Statue of Fisher Girl – Lingjiaozui Pool – Jiuzhou New Village – Jiuzhou Port – South Lovers' Road – Rihua Garden – Gongbei Hotel – Gongbei Pass – Gongbei Market - Overseas Chinese Hotel – Jiuzhou City
West Route: Mount Fenghuang Beauty Spot - Dongkeng Park - Agricultural Scientific Academy – Meixi Memorial Archway – Shangyong Village – North Mingzhu – Cuijing Industrial Park – Dreamlike Water City - New Yuanming Palace – Lanpu – Bailian Cave – Mount Lianhua – Jida - Jiuzhou City
Bicycles
In Zhuhai, you can go sightseeing by bicycle. You can rent a bicycle in Zhuhai Star Bicycle Shop or Gongbei section of Lovers Road, with the renting fee of 10 yuan per hour.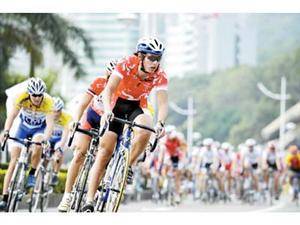 Car Rental
In Zhuhai, car rental service is available, with the stock vehicles of commercial vehicles, small cars, minibus and deluxe buses. It needs your related valid documentations. The rental of commercial vehicles made in China charges 480 to 550 yuan each day and renting imported commercial vehicles charges 600 to 650 yuan each day. The rental of top-grade car costs 1,000 to 1,800 yuan each day, and the rental of intermediate car costs 550 to 650 yuan each day. The rental of economical cars costs 350 to 450 yuan each day. Renting minibus costs 350 to 400 yuan each day, and the charge of buses are based on the specific distances and hours.