Beijing Happy Valley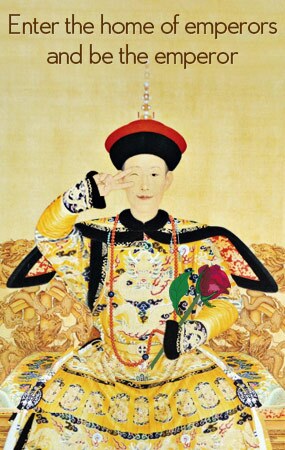 Developed by Chinese Overseas Town Group in four years, Beijing Happy Valley is an ecological paradise, which is characterized by its fashionable, dynamic and dreamlike elements, and it's become a symbol of Beijing experience tourism.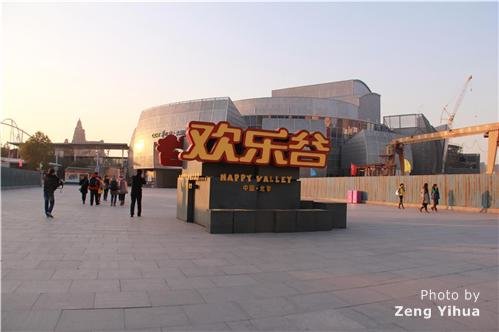 Features of Beijing Happy Valley
Beijing Happy Valley is composed of seven theme areas, Wild Fjord, Lost Maya, Aegean Harbor, Shangri-La, Ant Kingdom, Atlantis and Happy Time, which vividly shows you a colorful ecological environment of the Earth in the forms of architecture, sculptures, gardening, frescoes and performances. Beijing Happy Valley is home to over 50 theme landscapes, 10 theme performances, 30 theme recreation facilities and 20 theme games.
Wild Fjord
The journey to Beijing Happy Valley starts with the Wild Fjord, which is composed of a fashionable main gate, a colorful glass path, well-decorated Happy Square and Happy Theater. The Wild Fjord is the tourist transport center of Beijing Happy Valley, where you'll have an opportunity to tour around the park by taking a little train of the 19th century.
Lost Maya
The Lost Maya is set in the ancient agriculture and ecological community, which emphasizes on enlightening kids through outdoor education. The characteristic performances in the Lost Maya include the exhibition of Maya God of Sun and Maya natural calamity, vividly recreating the disastrous scenes of storms and floods in Maya.
Aegean Harbor
The Aegean Harbor dedicates itself to carrying forward the spirit of Olympics and annotating the essence of life through recreating the scenes of ancient Aegean Sea, and it's made up of three sections, the Deserted Town, the New Harbor and the Cultural Heritages. In addition, the comic show of the top international standard level is also available to entertain visitors from different parts of the world.
Shangri-La
Shangri-La consists of three areas, the Dreamlike Shangri-La, the Tibetan-style Town and the Tranquil Tea Garden, which is an ideal place for you to explore Chinese ancient civilization and experience the pleasure of simple life. The entertaining programs are highlighted by the hanging roller coaster and twin-tower space shuttle, both of which give you an exciting experience.
Ant Kingdom
The Ant Kingdom is really a paradise for kids, and it introduces basic knowledge about ecology, biology and species groups in an interesting way, where the entertaining program is highlighted by the Flying Ant Corp.
Atlantis
The Atlantis shows visitors how the ancient Atlantis people extracted, produced and utilized crystals, where the large steel frame, transparent sphere and slideways are also available. The symbolic landscape of Atlantis is a sculptured mountain of 69.98 meters (229.59 feet) high, which boasts of being of largest of its kind in Asia. The recommended entertaining program in Atlantis is energy-collecting flying machine, which flies around the park.
Happy Time
The Happy Time themes dynamic, fashionable, cool and futurist elements, where you can take a roller coaster crossing mountains and surf in the lake with your family.
In addition, the large-scale poetic dancing drama, Golden Mask Dynasty, is available in Chinese Overseas Town, attracting thousands of visitors to attend each time.
Solo Adventure Tips:
Location:

in the southeast of Sifang Bridge, East Fourth Ring Road, Chaoyang District, Beijing
How to Get There?

740, 752, 657, 29, 713, 822, 843, 753 and 801
Ticket Price:

Opening Hours:

9:00 a.m. to 6:00 p.m. from Monday to Friday; 8:30 a.m. to 6:00 p.m. from Saturday to Sunday
More Tips:

Our local experts are always ready to create you a hassle-free tour. Get an authentic experience by contacting one of our travel advisors.