Houhai Bar Street
Top Things to Do in Beijing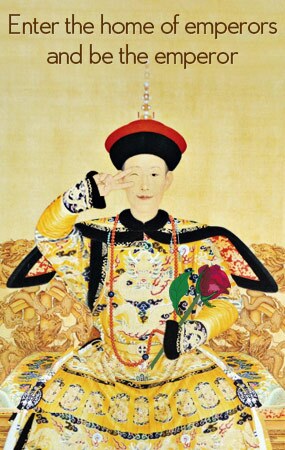 If you want to enjoy a great night life in Beijing, Houhai Bar Street is an ideal place not to miss. Close to Shichahai Lake and Beijing hutongs, Houhai Bar Street combines Chinese and western culture. A lot of people from the whole world head to Houhai Bar Street to have fun in the bars.
Due to beautiful scenery and rich wine types, it is a hot destination in the evening and highly praised by Tripadvisor. As Houhai Bar Street in one part of Shichahai Lake, you can still have a walk to enjoy its beautiful night scenery when you don't want a drink.
A cluster of bars, restaurants and coffee cafes have been settled along the street since 2000.Fine drinks, excellent services and reasonable prices are highlights of the bars. Travelers can also read books, chat with friends in a tea house or sing karaoke in KTV in the area. It is a good place for getting together with friends. There are more than 120 bars in the area to service visitors from home and abroad.
Popular Bars
Houhai 5 Hao
Renovated from a typical Siheyuan, Houhai 5 Hao is decorated with a lot of traditional Chinese antique elements. The central courtyard has a clear glass top to provide visitor with a good view. Houhai 5 Hao occupied an area of 400 square meters with a height of 5 meters. With a modern design, it can accommodate 200 people. The bar is a great place to hold a private party or a large-scale company party.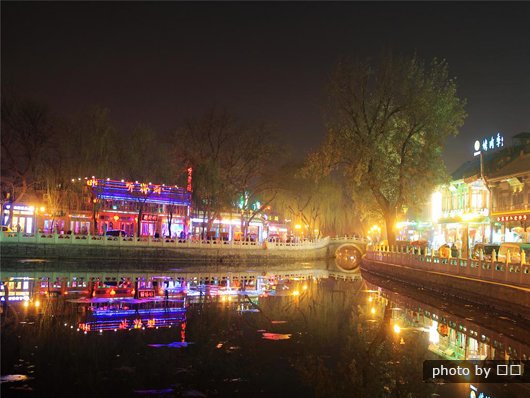 Houhai 5 Hao is famous for tasty Chinese, Western, and Thai Food, and buffet except its various wines. It holds wonderful performances acted by different style bands every night. You easily be touched by the interaction shows on stage and enjoy a very relax evening there. In addition, you can ask singers to sing song for you.

Address: 5 Houhai beiyan, Shichahai Lake, Xicheng District
Tel: 010-64061900
Work hours: 13:00 to 02:00
Average cost: 300 CNY
Zoom Club
Zoom Club is themed with football as its boss is a big fan of football. If you are a football fan, Zoom Club is the perfect bar in Houhai Bar Street. Zoom Club offers large TVs for a lot of football fans getting together to watch football matches. You can make friends and enjoy a chat with other football fans about the football. Unique football culture makes the Zoom Club have a reputation among the bars in Houhai. Besides, you can have pizza and enjoy drinks at a reasonable price there.
Address: 2 Qianhai Nanyan, Xicheng District (Near the Post office at Di'anmen Gate)
Tel: 010-64009906
Work hours: 13:00 to 02:00
Jiadingfang Bar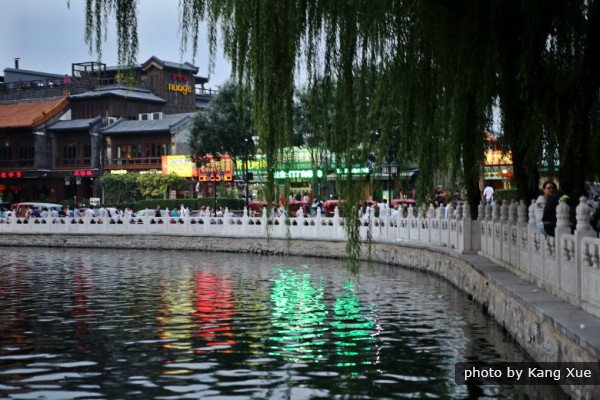 On the west bank of Shichahai Lake, Jiadingfang Bar has a beautiful natural scene. With an elegant Chinese antique corridor, Jiadingfang bar combines Chinese and Western culture. Located in Lotus Market, it offers fine western and Chinese food. Various western dishes are very popular in the bar. Beijing Roast Duck Pizza mixing Italian Pizza and Beijing Roast Duck is the most popular pizza in Jiadingfang Bar. There are large TVs for fans to watch European Cup indoor and outside of the bar.
Address: 9 Lotus Market (51 Di'an Gate Avenue), Xicheng District
Tel: 010-83289898
Work hours: 10:30 am to 2:00 am
Buddha Bar
When you first heard of Buddha Bar whether you are surprised as the Buddhists are not allowed to drink wines? Buddha Bar in Houhai Bar Street is a place for travelers who are interested in Buddhism culture to enjoy a quiet and comfortable night in Beijing. There is a Buddha statue in a room for visitor to pray for health, good luck or fortune. Have some beer, wine or coffee there can be an unforgettable experience in Beijing. It is a popular bar loved by a lot of young people.
Renovated with lounge seating on the lakeside, it is decorated with antique furniture and some Buddhism cultural elements. You can hear some beautiful music such as Latin American style music.

Address: 2 Yindianqiao, Shichahai Lake, Xicheng District.
Tel: 010-66179488
Opening hours: 12:00-02:00
Address: 2 Yindianqiao, Shichahai Lake, Xicheng District
Other Bars
Sex and da City, the Bird Nest Bar, No Name Bar, Blue Lotus Bar, Amber Bar, the 70s Bar and Jianguo Bar are other popular bars in Houhai Bar Street. The Street is worth exploring at night during your stay in Beijing.
Solo Adventure Tips:
Location:

Xicheng District, Beijing
How to Get There?
Visitors can take Bus 13, 42, 107, 111, 118, 810, 823 or 850 and get off at Beihai North Gate stop.
Ticket Price:
Free
Opening Hours:

Usually, the most popular time is from 20:00 to the midnight on Houhai Bar Street. The bars open from 14:00 to 04:00 every day.
More Tips:

Nearby attraction: Shichihai Lake, Beijing hutongs, Prince Gong's Mansion, Former Residence of Soong Ching Ling