Houhai Bar Street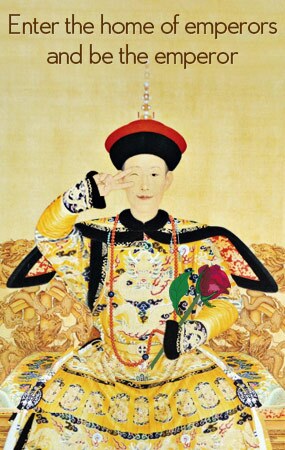 Rating: ★★★★★
Recommended visiting time: 3 hours
Highlights: nightlife, bars with live music, eateries, great views of the lake
If you want to enjoy a great night life in Beijing, Houhai Bar Street (Houhai Jiuba Jie, 后海酒吧街) is an ideal place for you to visit.
Surrounded by Shichahai Lake and Beijing hutongs, Houhai Bar Street combines Chinese and western culture. Let's explore why lots of people from all over the world head there for fun.
Recommended Ways of Exploring Houhai Bar Street
Houhai (the Back Lake) has existed for 700 years, since the Yuan dynasty (1271-1368), as part of Shichahai Lake.
Surrounded by lakes and hutongs, Houhai Bar Street has a very different type of vibe by day than by night. Try to explore the area at different times and in different ways, and maybe you'll make some interesting discoveries.
1. A Leisurely Stroll by the Lake and Through Hutongs
As well as the peaceful and beautiful scenery of the lakes in Houhai, there are loads of hutongs in the area. These alleyways with traditional courtyards represent the most authentic Beijing neighborhood life, having been a cultural feature and foundation of old Beijing.
If you want to catch a glimpse of the hutongs and the real everyday life of Beijingers, don't hesitate to walk through the hutongs near Houhai.
2. Hit the Nightlife at Houhai Bar Street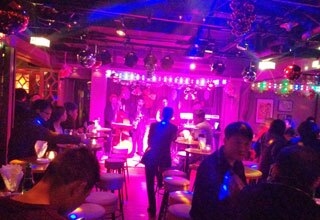 A cluster of bars, restaurants and cafes has been settled along the street since 2000. The bars feature a rich variety of fine drinks, various styles of live music, and excellent service.
Alternatively, in the same area you could also read books or chat with friends at a teahouse, or sing karaoke at KTV.
Popular Bars
There are more than 120 bars on the street for travelers from home and abroad, but the good and bad are intermingled. Below are some recommended, popular bars you may like to try.
1. Zoom Bar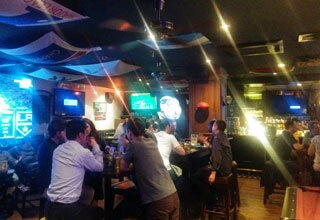 Address: 2 Qianhai Nanyan, Xicheng District (near the post office at Di'anmen Gate), Beijing
Tel: 010-64009906
Working hours: 15:00-2:00
The Zoom Bar has a soccer theme, as its boss is a big soccer fan. If you too are a fan, the Zoom Bar is perfect for you. It offers large TVs on which you can watch matches. Its unique soccer culture has given it a reputation among the bars in Houhai. Besides, you can have pizza and enjoy drinks here at a reasonable price.
2. East Shore Live Jazz Café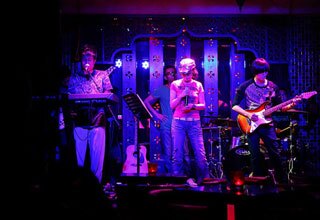 Address: 2/F, 2 Qianhai Nanyan, Xicheng District (just to the west of the post office at Di'anmen Gate), Beijing
Tel: 010-84032131
Working hours: 15:00-2:00
Nestled south of the Front Lake (Qianhai), the East Shore Live Jazz Café (东岸咖啡) is said to be the only authentic jazz bar in Beijing. With laid-back and unobtrusive vibes, it seems to be incompatible with its surroundings.
Order a glass of the bar's signature cocktail – "East Shore" – sit quietly in the corner and indulge in the lazy live jazz. You'll find that "the wine is not intoxicating, but the people are drunk".
3. Houhai #5 Bar Club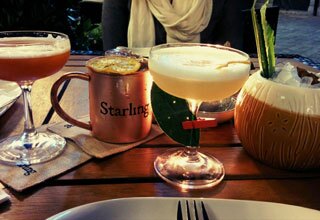 Address: 5 Houhai Beiyan, Shichahai, Xicheng District (20 meters from the Silver Ingot Bridge), Beijing
Tel: 010-64061900
Working hours: open 24 hours
Renovated from a typical siheyuan, Houhai #5 Bar Club (Houhai 5 Hao, 后海5号) is decorated with many traditional Chinese antiques.
The central courtyard has a clear glass top to provide visitors with a good view. The bar occupies an area of 400 square meters at 5 meters' height, and can accommodate 200 people.
Houhai 5 Hao is famous for tasty Chinese, western, and Thai food, and buffet, as well as for various wines. It hosts wonderful performances day and night by different-style bands: classical music by day and modern music by night. You can easily be touched by the interactive shows on stage and enjoy a relaxing evening here.
Other Bars
There are many other popular bars at Houhai Bar Street, such as Sex and da City (欲望都市), Bird's Nest (鸟巢), Buddha Bar, and Jia Ding Fang (甲丁坊). The street is worth exploring at night during your stopover in Beijing.
Contact us if you have any queries about Houhai Bar Street.
Location:

No. 51 Di'anmen West Main Street, Xicheng District, Beijing
How to Get There?

Metro: Line 6 to Beihai North Gate (北海北门)
Bus: Nos. 13, 42, 90, 107, 111, 118, 204, 609, 612, 623, or 701 to Beihai North Gate stop
Ticket Price:
Free
Opening Hours:

All day. But usually the most popular time is from 20:00 to 2:00.
More Tips:

There are numerous choices of bar and it's suggested you take a walk along the street before deciding where to settle down.
Nearby attractions: Shichahai Lake, Beijing hutongs, Prince Gong's Mansion, Former Residence of Soong Ching Ling
Our local experts are always ready to create you a hassle-free tour. Get an authentic experience by contacting one of our travel advisors.