Longtan Park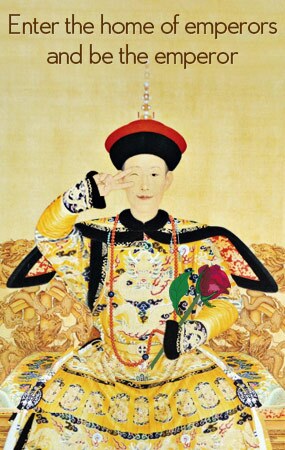 Longtan (Dragon Pool) Park in the southeast of the Chongwen district contains 118 hectares of land surface and more than 300, 000 square meters of water surface for all ages to enjoy. The elements that give the park its dramatic name are the many dragon-inspired elements throughout the grounds.
Trees planted in the park have been given names such as Dragon Cypress, Dragon Beard Willow, and Dragon Pawn Pagoda Tree. Even upon entering the park, visitors are immediately welcomed by 2 dragons whose bodies are made of flowers and plants. In recent years, a number of new attractions have been developed and almost all are named after dragon such as the Pavilion of the Dragon Singing Scenic Zone, the Dragon Forest of Stone Steles Scenic Zone, and the Dragon Gate Scenic Zone.
Two stone arch bridges, Double Pavilion Bridge and the Longtan Waterfall, divide the beautiful Longtan Park lake into 4 islands, 4 peninsulas, 3 fords, 1 valley, and 6 patches of green land. Also, around the banks of the lake there is a popular outdoor bird market. Each day, hundreds of people come to buy or admire the numerous colorful birds in the little stalls run by merchants and traders. As well, visitors may enjoy the three 700-meter-long zigzagging pool banks made of natural rocks.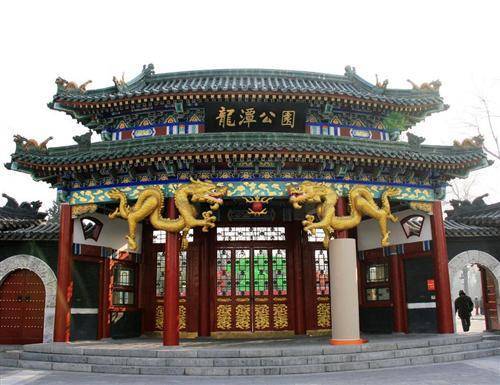 To the northeast of the park, there stands the temple and shrine of Yuan Chonghua. Born on June 6, 1584 and died on September 22, 1630, he was a famed patriot and military commander of the Ming Dynasty who battled the Manchu in Liaoning Province. The twentieth century intellectual Liang Qichao, characterized Yuan Chonghuan as China's greatest soldier.
Inside the temple, visitors can see the portrait of this brave man as well as some inscriptions of poems written by Kang Youwei. Youwei lived 1858 to 1927 and was a famed Chinese philosopher and reform movement leader. He was a leading philosopher of the new text school of Confucianism, which regarded Confucius as a utopian political reformer. To the other side of the park is the Children's center of the Chongwen District.
Since its opening in March 1986, Longtan Park has already hosted a series of important events such as the annual Longtan Lake Cultural Temple Fair, the 1988 International Dragon Boat Race, and more. All these activities heavily increased the popularity of the park to audiences abroad.
Solo Adventure Tips:
Location:

No. 8 Longtan Road, Chongwen District.
How to Get There?

Take Bus No. 6, 12, 60, 116 and 807 and get off at the Beijing Amusement Park.
Ticket Price:

Opening Hours:

8:00 - 21:00
More Tips:

Our local experts are always ready to create you a hassle-free tour. Get an authentic experience by contacting one of our travel advisors.