National Center for the Performing Arts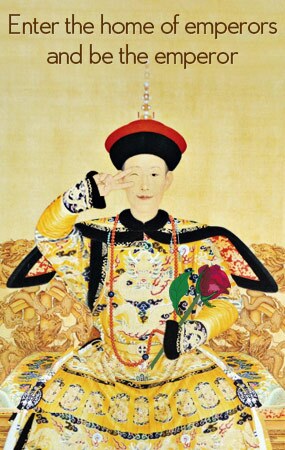 National Center for the Performing Arts is a grand Opera House in Beijing. Located to the west of Tiananmen Square and the Great Hall of the People, National Center for the Performing Arts consists of the Artificial Lake, Underwater Corridor, grassland and the main building which colloquially described as The Giant Egg etc. It was designed by famous French architect Paul Andreu, and constructed from the year of 2001 and completed in 2007, covering an area of 165 000 ㎡,
Main Building
The main building shaped like an egg is an oval glass dome which is surrounded completely by a man-made lake. Looking from afar, the theater looks like an egg floating on water. The exterior of the theater is made of titanium and broken by a glass-curtain in north-south direction that gradually widens from the top to the bottom. The titanium glass dome is 212 meters in length, 144 meters width and 46 meters high. As a landmark in Beijing, the theater is also a building constructed for 2008 Beijing Olympic Games. It mainly has three performing spaces namely the Opera House, Concert Hall and the Drama Theater, and the Multi-functional Theater and the Fifth Space.
Opera House
Opera House, at the center of the building, is the most imposing structure in the theater, with gorgeous golden as the dominant color. It can seat 2, 398 people and equipped with a moveable multifunctional modern stage. Besides that, it possesses the largest ballet stage that be slanting to an angle of 5.7 degrees. Operas, dance dramas, ballet and large theatrical festivals are often played in the Opera House. The walls are also well-designed so that it has a reverberation time lasts for 1.6 seconds to meets the requirement of the performances.
Concert Hall
The Concert Hall, located in the eastern part of the building, has seats amount to 2,019. The dominant color is silver white which gives the concert an atmosphere of serenity and refinement. It is the stage mainly for large symphonic and national music performances. The largest pipe organ in China can be seen here. It can meet performing requirements of different styles and considered as a treasure of the hall.
Drama Theater
Drama Theater, lying in the western part of the building, is not as large as the Opera House and Concert Hall, but has its own characteristics. It is the venue mainly for traditional Chinese opera, modern dramas, local opera and ethnic music and dances. Therefore, it is featured with traditional Chinese characteristics. The theater has more than 1000 seats and equipped with hi-technological, theatrical stage and audio visual equipment.
Multi-functional Theater
Multi-functional Theater has 19 rows and 556 seats which include some moveable seats. It came into use in October 2009 and equipped with sound proof walls and partition walls of tempered glass. Its graceful and fresh style suits chamber music, small solo singing and small theater opera.
The Fifth Space
Beside Opera House, Concert Hall, Drama Theater and Multi-functional Theater, there are some public spaces in the National Performing Center for the Performing arts which are called the Fifth Space. The Fifth Space includes Underwater Corridor, Locker Room, Olive Hall, the Grand Foyer, Exhibition Halls and roof terrace area.
Café and Restaurant
There are four coffee houses in the theater where you can rest and have a drink. Western-style restaurant also can be seen in the fourth floor. Covering an area of 360 square meters, this restaurant can provide services 120 customers at the same time.
Souvenirs
There are many souvenir shops at the ground floor of the Concert Hall. Many beautiful and dedicate art souvenirs are sold here. The souvenir shops include Audiovisual Shop, Drama-Artwork Shop, TT-Art Bookstore, Porcelain Artwork Shop and Souvenirs shop. You can buy some well-designed art souvenirs, books and CDs for your friends and yourself.

Opening Hours: 9:00-17:00 and admission before 16:30
From Tuesday to Sunday and National Holidays:
Ticket fee: 30 RMB per person and 55/88 RMB for family package
Transportation:Take metro line 1 and get off at Tiananmen West Station;
Or take metro line 2 and get off at Hepingmen Station;
Or take bus 1or 5, 10, 22, 37, 52, 728, 802 and get off at Tiananmen West Station;
Or take bus 4 or 7, 9, 44, 67, 301, 337, 673, 808, 901 and get off at Qianmenxi Station
Our local experts are always ready to create you a hassle-free tour. Get an authentic experience by contacting one of our travel advisors.