Peking Man Site at Zhoukoudian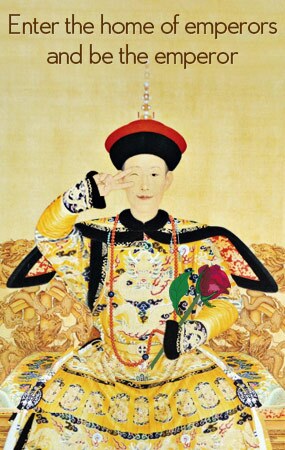 Main Content
Peking Man Site at Zhoukoudian is located in the north of Mount Longgu in Zhoukoudian of Fangshan District, about 50 kilometers from downtown Beijing. As the birthplace cradle of Peking man, it's China's major cultural relics of the ancient human being and the world's archaeological site of ancient human being and vertebrate paleontology. Peking Man Site at Zhoukoudian mainly refers to 8 cultural relics of the ancient human being and mammal fossil sites on Mount Longgu. It becomes world-renowned as relatively complete Peking man fossils were unearthed in this site in the 1920's. Especially in the year 1929, the first Peking man skull was discovered, which provides a firm basis for the proof of the existence of the Peking man, and it's regarded as a milestone in the history of ancient human being research. In December 1987, Peking Man Site at Zhoukoudian was listed as world cultural heritage by UNESCO's World Heritage Committee.
So far, the unearthed human being fossils at Zhoukoudian include 6 skulls, 15 mandibles, 157 teeth and a large number of bone fragments, which represent about 40 Peking man individuals, providing physical basis on the research of the early evolutionary biology and the early cultural development of ancient human beings. As the national key cultural relic's protection unit, Peking Man Site at Zhoukoudian is the characteristic human site of lower Palaeolithic times which is the most vivid, the most systematic, the most valuable and contains the most abundant human fossil materials and plant fossil categories in the world so far.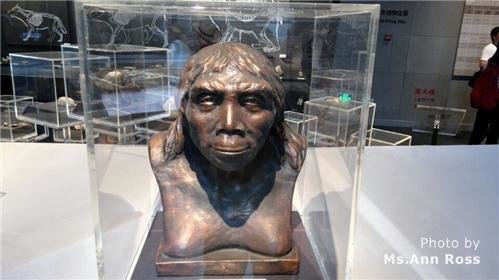 Historical Discoveries at Zhoukoudian
From 1921 to 1927, archaeologists discovered 3 human teeth fossils outside the cave site in Zhoukoudian. In 1929, Chinese paleontologist Pei Wenzhong discovered hominid's teeth, skeleton, a complete skull, artificial tools and the remains of using fire, which conforms that there were human activities about 500,000 years ago in Beijing area. The discovery in 1929 became a significant world-shaking archaeological discovery at that time. In 1930, Upper Cave Man fossils and cultural relics about 20,000 years ago were discovered at Zhoukoudian, which were named Upper Cave Man. In 1973, the New Cave Man was discovered, indicating the continuation and development of Peking man. In the following years, stone implements and remains of using fire were discovered in succession on Mount Longgu. So far, over 40 Peking man individuals' skulls, mandibles and teeth fossils and a variety of stone implements, 100,000 pieces of stone materials, bone implements, hornwork and remains of using fire were discovered at Zhoukoudian. It is estimated that the height of an ancient Peking man is 156 centimeters and a Peking woman is 150 centimeters. Peking Man is the earliest human being who began to use fire and they mainly feed on hunting and picking. Peking Man ate cooked food and knew how to use, take and save fire. In 1953, Zhoukoudian Museum of Ancient Ruined Site was built near Peking Man Site at Zhoukoudian and began to open to the public from then.
General Idea of Evaluation from World Heritage Committee
About 42 kilometers from southwest of Beijing, the scientific investigation on relics is still in progress. Until now, the archaeologists have discovered the historical remains of ancient Chinese human being in Beijing. They mainly lived in Middle Pleistocene Era. Simultaneously, various living materials were discovered and New Peking Man site dating back to 18,000 BC to 11,000 BC was also discovered. Peking Man Site at Zhoukoudian is not only a rare historical evidence of human society on the continent of Asia in ancient times, but also clarifies the process of human evolution.
Must-See Sites at Zhoukoudian
Locality 1 (The Peking Man Cave)
The Locality 1 of Zhoukoudian, also named the Peking Man Cave, is the famous site where Peking man fossils were unearthed. Peking Man Cave is a natural limestone cave which is 140 meters long from east to west and from 2 to 40 meters wide from south to north. In 1921 and 1923, a Sweden geologist and an Austria paleontologist discovered this site and they began to formally unearth this site in 1927. In 1927, they discovered a well-preserved lower molar tooth of human beings who have been named Peking man since then. So far, the remains of using fire, about 200 pieces of human fossils, a large number of stone implements and hundreds of kinds of mammal fossils were discovered in Locality 1.
Locality 4 (The New Cave)
Locality 4, also known as the New Cave, was discovered in 1927 and began to be explored from 1937 to 1938. In Locality 4, stone implements, burnt stone and hackberry seed and over 40 varieties of animal fossils (such as macaque, zokor and bear fossils) were discovered. In the early 1970s, a premolar teeth of ancient human being was discovered in the cave.
The Upper Cave
The Upper Cave was discovered in 1930 and unearthed from 1933 to 1934 where Upper Cave Man dating back to from 18,000 to 30,000 years ago lived. In this cave, 3 skulls, human fossil materials representing at least 8 human individuals, a large number of animal fossils and cultural relics including stone implements, bone implements and adornments made of shells were discovered.
Locality 15
Locality 15 was discovered in 1932 and explored from 1934 to 1935. In Locality 15, a great many stone implements, ashes, bird fossils and 33 varieties of mammal fossils such as woolly rhinoceros and antelopes were discovered.
Simulative Excavation Site
In the Simulative Excavation Site with the area of 200 square meters, the simulative archaeological excavation is guided by experts. Visitors can experience the natural and actual archaeological excavation as if they were in the field. They can excavate different fossils or stone implements in different excavation sites.
Zhoukoudian Museum of Ancient Ruined Site
Zhoukoudian Museum of Ancient Ruined Site was built near Peking Man Site at Zhoukoudian and began to open to the public in 1953, covering an area of 1,000 square meters. At present, it has more than 600 collections of cultural relics which are mainly achievements of archaeological discovery, such as animal fossils, remains of using fire, ashes and stone implements. The basic exhibition mainly consists of five parts, including review of the past, physical characteristics and cultural relics of ancient Peking man, the living environment of Peking man, all the fossil sites at Zhoukoudian and the latest achievement display of Peking man site.
Research Significance
In Peking Man Site at Zhoukoudian, 27 sites of great academic value were discovered and a great many ancient human fossils, stone implements, animal fossils, abundant fire remains and tombs and adornments discovered in Upper Cave have been unearthed, which is the world's unique site containing prehistoric remains of ancient human activities and the evidence of the earliest ancient human being's using fire. Based on these archaeology informations, the archaeologists confirmed that Peking man began to live in Zhoukoudian can date back to 700,000 to 200,000 years ago. The unique paleolithic culture they created has profound and lasting influence on the development of China's paleolithic culture.
In the whole world, especially in East Asia, the evolution and survival mode of Homo erectus and Homo sapiens was established mainly on the basis of the sites at Zhoukoudian. Meanwhile, Peking Man Site at Zhoukoudian is a standard section of North China's quaternary cave deposit, which also contains huge information resources on the research of classification and correlation of strata, biogenetic derivation and environmental change
Customize a Tour to Peking Man Site at Zhoukoudian
If you want to Peking Man Site at Zhoukoudian while traveling to Beijing, China Travel can customize a tour to Peking Man Site at Zhoukoudian, which can save your time and money and trouble-free. Please feel free to tell us your idea!
Solo Adventure Tips:
Location:

The excavation site, and site of the museum, is on Longgu (Dragon Bone) Mountain, Zhoukoudian, Fangshan District, which is locted some 50 kilometers southwest of Beijing.
How to Get There?

Take bus No. 917 from Tianqiao to Zhoukoudian, and then transfer Fangshan Bus No. 38 to Peking Man Site; Or take Bus No. 616 from the south square of Beijing West Train Station and get off at Liang Xian g Ximen, then transfer to Fangshan Bus No. 38 to Peking Man Site.
Ticket Price:

30 yuan per person; 15 yuan per person for students with student's ID card
Opening Hours:

8:30 to 16:00 from November 1st to March 31st; 8:30 to 16:30 from April 1st to October 31st; 3D Movie: 9:30, 14:00 from November 1st to March 31st; 09:30, 10:00 from April 1st to October 31st)
More Tips: