Yandai Xie Street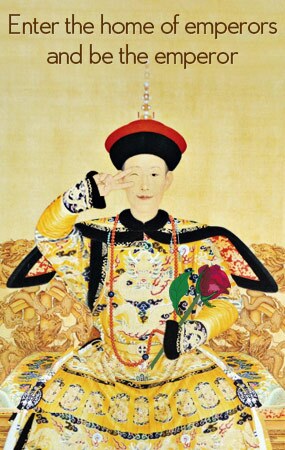 With a length of 232 meters (254 yards) and a width of 5 to 6 meters (5.5 to 6.6 yards), Yandai Xie Street (烟袋斜街),also known as Tobacco Pouch Tilt Street), starts at Di'anmenwai Avenue in the east and Xiaoshibei Hutong in the west, which joins Dashibei Hutong and Yapianer Hutong, and it was a prosperous commercial street specializing in the sales of tobacco pouches, calligraphy and paintings and jade articles during the Qing Dynasty (1616 -1911).
History
Initially known as Dayuting (a government institution in charge of fishing industry) Xie Street in the Ming Dynasty (1368- 1644) and Drum Tower Xie Street in the Emperor Qianlong's reign of the Qing Dynasty (1616 -1911), Yandai Xie Street got its present name during the emperor Jiaqing's reign of the Qing Dynasty (1616 -1911).
Two legends about Yandai Xie Street are very popular among Beijing locals, one of which is Yandai Xie Street resembles a tobacco holder in the east and a tobacco rod in the west, hence its name Tobacco Pouch Tilt Street. The other legend is related to the Empress Dowager, whose tobacco pouches were usually washed in Tong He Sheng Pouch Store and Shuang Sheng Tai Pouch Store on the street, therefore, the locals call it Yandai Xie Street.
Yandai Xie Street served as a famous commercial street in the Qing Dynasty (1616 -1911), where government officials, soldiers often purchased tobaccos and smoking sets, and it stimulated the development of tobacco industry. Yandai Xie Street reached its peak time during the late Qing Dynasty (1616 -1911) and the early period of Republic of China (1912 -1949), where more than 80 stores were opened, including tea houses, wine houses, tobacco stores and curios stores, and it has become a gathering site for antique dealers ever since.
Highlights
Yandai Xie Street is lined with famous curios stores now,which have become highlights when visitors taking Hutong Tours. They include Bao Wen Studio, Min Wen Studio, Tai Gu Studio, Bao Pu Studio, and the earliest western-style suit shop of Beijing, Pan Bu Kun Suit Shop, is also located on the street. Xin Yuan Bathhouse, Tong He Hair Shop and Zhen Xing Barber's Shop are also available on Yandai Xie Street, of which Xin Yuan Bathhouse was founded by the last eunuch of the Qing Dynasty (1616 -1911), Li Lianying, and it was converted into the first high-grade public bath in Xicheng District of Beijing in 1985. Yandai Xie Street is also an ideal place for those who are interested in collecting the four treasures of the study, (i.e. writing brush, ink stick, ink slab, paper) owing to many calligraphy and painting stores available to visitors, and visitors can purchase works by famous calligraphers on the spot.
In addition, a number of famous restaurants are also available on Yandai Xie Street, highlighted by Kao Rou Ji Restaurant, Li Er Fried Shrimp Restaurant, Qing Yun Restaurant and Yi He Xuan Restaurant. Qing Yun Lou Restaurant was among the four famous restaurants of Dianmen along with Heng Feng Tang, Qing He Tang and De Feng Tang in the Qing Dynasty (1616 -1911).
Yandai Xie Street has taken on a new look since renovation in 2007, where a number of stores, specializing in selling national clothes (such as Tang suits and cheongsams), smoking sets, tea sets and curios, have been opened in an antique style, and it attracts thousands of visitors each day. Shichahai Post Office was opened in 2011 and becomes a new landscape on the street, which is decorated in an antique style.
Solo Adventure Tips:
Location:

Di'anmenwai Avenue, Xicheng District, Beijing
How to Get There?

Bus 5, 60, 107, 124, 635 and subway line 2
Ticket Price:

Free
Opening Hours:

all day long
More Tips:

Our local experts are always ready to create you a hassle-free tour. Get an authentic experience by contacting one of our travel advisors.