Yushengtang TCM Museum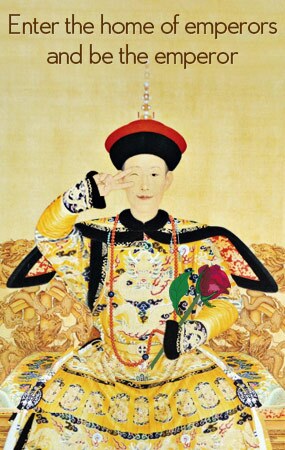 Yu Sheng Tang TCM Museum [note, "TCM" does not refer to "Turner Classic Movies" in this context :), but to "Traditional Chinese Medicine", just to clear up that little item!], or Yushengtang Museum, as it is usually written in English, is located on Fengtai Nan Road in the Fengtai district of Beijing. The TCM Museum in Beijing is only one of several such museums round about China - there are similar museums in Shanghai and in Hangzhou, the museum in Shanghai being both the first and the largest in the country. Above the entrance to Yushengtang Museum is a tablet with the name of the museum inscribed by none other than Emperor Qianlong of the Qing Dynasty (CE 1644-1911), who ruled China from 1735 to 1796.
Yushengtang TCM Museum consists of the following, rather complexly-named permanent exhibitions, or departments: the Department of the Restoration of Ancient Yushengtang Pharmacy; the Department of TCM's Application during China's Dynastic Past, including the use of the bronze needle during the Warring States (BCE 475-221) Period of the Eastern Zhou BCE 770-221) Dynasty; the Department of TCM's History during China's Ancient Past, including treatment methods that date back to the Neolithic period; and the Department of TCM Medical Books, Magazines, Prescriptions, etc., from China's Dynastic Past. In all, there are some 2000 items on display at the museum.
The museum also houses sculptures of famous doctors down through China's history, including prominent doctors such as Li Shizhen and Sun Simiao. Besides offering remedies for more serious maladies, TCM also offers health-care and beauty-treatment recipes that are even more in demand today than when they were originally developed. Yushengtang TCM Museum bears witness to ancient China's advancement in the areas of alternative medicine and health enhancements, the latter of which might be called wellness treatments in today's terminology.
Solo Adventure Tips:
Location:

Beijing Yushengtang Traditional Chinese Medicine Museum Royal apartment 2-35 ,
No.1 Wangfu Street, Beiqijia Town
Changping District
Beijing 102209, P. R. China
How to Get There?

From the center of the city, take buses nos. 880 or 960, then get off at the Sihe Bridge bus stop.
Ticket Price:

20 Yuan per person.
Opening Hours:

Daily, from 9:00AM to 15:30PM.
More Tips:

Our local experts are always ready to create you a hassle-free tour. Get an authentic experience by contacting one of our travel advisors.