Beijing Food
Last updated by david at 2017/7/11
For any country's popularity, its cuisine is one of the major contributing factors and a source of attraction for the tourists. If you have been fortunate enough to travel across China, then you must have an idea that China is such a vast country that is enriched in providing you a countless number of cuisine varieties that differ from one another according to the regions, natives and provinces. And, if you have not visited China, then be ready to visit this country which is having a lot of charm as far as cuisine is concerned. Being the capital of China, the city of Beijing is also world famous for its specialty cuisine.
Beijing food or Northern food is a collection of varieties from Hebei, Shangdong, Lower Yangzi River, Inner Mongolia and Xinjiang. Methods of cooking include barbecuing, deep-boiling, roasting, smoking and braising. Local products such as garlic, ginger, leeks, pork, spring onions, bean sauce, different spices, chilies and vegetables, particularly the Northern white cabbage, together with duck, pork, chicken, seafood, beef, and lamb are used to make many varieties of gourmet dishes.
Beijing Featured Food:
Man Han Quan Xi (feast Of Complete Manchu Han Courses)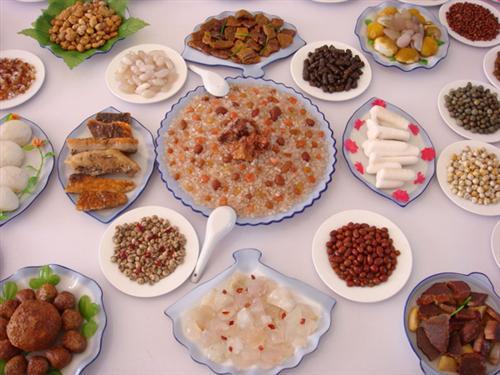 The Manchu and Han banquet originated during the Qing Dynasty. At first the complete courses of Manchu and Han were served separately, but later both were combined and thus the Man Han Quan Xi came into being shortly after the Manchu rulers took supreme power in Beijing. In an attempt to unify the two most important ethnic groups of the empire, the Qing emperors ordered that the two peoples should live, work, and eat together. To reduce social resistance while ruling a nation whose dominant population was Han, the Manchu rulers ostensibly strove to equalize the treatment of the Manchu and Han officials, encouraging the exchange and integration between the two cultures in all aspects. This is the historical backdrop of Man Han Quan Xi.
The Evolvement of Man Han Quan Xi
By the reign of Emperor Kangxi (1654-1722), the integration of Manchu and Han people had advanced dramatically from several decades before. More frequent exchanges between officials of the two sides was realize
Beijing Roast Duck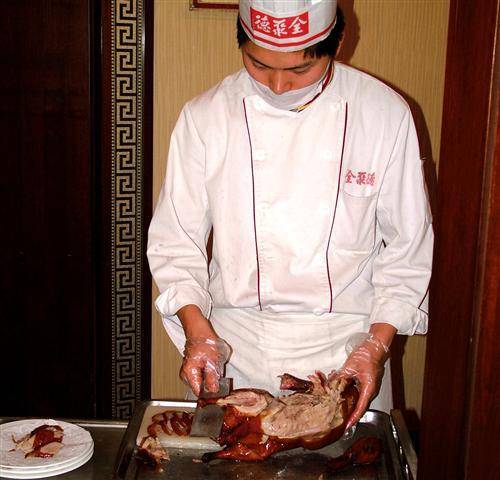 General Introduction
With a high reputation in the world, Beijing Roast Duck is a famous time-honored Beijing dish that is popular in the whole country. With carefully selected materials and top-quality Beijing force-fed fat duck weighing about 3 kilometers each, Beijing Roast Duck features delicate meat quality and mellow taste, taking on a reddish bright color and tasting fat but not greasy. Usually a roast duck with the weight of 3 kilometers can be sliced up into over 100 thin slices composed of both meat and ski. Beijing Roast Duck has won fame both at home and abroad, which is honored as "Tastiest Dish in the World". For Chinese people, having a taste of Beijing Roast Duck during their visit to Beijing is one of their must-do things. Nowadays, an increasing number of foreigners traveling to Beijing fall in love with this palatable roast duck.
Eating Beijing Roast Duck must be in the appropriate seasons, otherwise, the taste will be affected. The best seasons
Bifengtang Prawns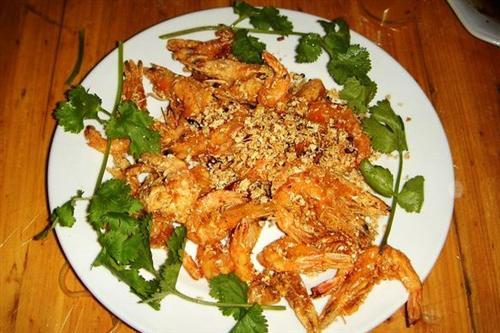 Bifengtang cuisine is originated from Hong Kong. Bifengtang actually means "safe harbor" in English. For fishermen in the coastal areas of Guangdong, once they encounter stormy waves while fishing, they can only choose to avoid stormy waves in safe harbors. During the period in safe harbors, fishermen have nothing to eat; instead, they can only cook the seafood they caught to feed themselves. The cooked seafood is extremely fresh and delicious in taste, which is the origin of Bifengtang cuisine. Thus, Bifengtang dishes boast extremely fresh, superior and delicious seafood. The marrow of Bifengtang dishes is the characteristic flavor of minced garlic which is crisp but not charred. The seafood cooked with this special minced garlic tastes fabulous. With special cooking techniques from Hong Kong, Bifengtang boasts fried, tasty and a little bit spicy prawns which are golden red and also feature the unique minced garlic flavor. Bifengtang Prawn is a unique dish that you
Chinese Yam In Hot Toffee
Ingredients: Chinese yam, marinated osmanthus, rock sugar, fried white sesame seeds, peanut oil
Chinese Yam in Hot Toffee, with sticky, fragrant and sweet taste, is a dessert served during the Spring Festival. Chinese Yam contains high level of nutrition that can help with anti-aging. It is a traditional dish of Beijing, with at least 100 years of history. Nowadays marinated osmanthus is added and white sesame seeds are peppered evenly on the dish. It is better to consume it while the dish is very hot, but do dip it in cold water before putting it into your mouth, otherwise your tongue may easily get burned.
Chinese Yam is one of China's traditional medicines, as well as a familiar nutritious food with Chinese people. It is rich in starch, protein, mineral substances, vitamins, fiber, choline and phlegm. According to Chinese medicinal theories, Chinese Yam is nutritious and good for the liver, stomach, and kidney, and helps advance the immune system of human body.

Chinese Cabbage With Mustard Sauce
This delicious spicy dish has a crispy texture with a sweet and sour flavor. It is a low-fat meal which according to ancient Chinese wisdom is beneficial to your respiratory system as well. It is a dish best enjoyed in the winter or spring.
Ingredients: Chinese cabbage 500g, granulated sugar 10g, mustard sauce 5g, salt 20g, sesame oil 10g, boiled water 100g, vinegar 5g
Instructions:
· Rinse the cabbage, remove the core, and slice into strips about 4cm long.
· Drop the strips of cabbage into boiling water for about 5 seconds, then remove them and set aside.
· Mix mustard and boiled water in a bowl and stir for about 20 seconds or until mixed.
· Then add the vinegar, salt, sugar, and sesame oil into the bowl and mix again for about 30 seconds.
· Place strips of cabbage onto large plate or pans