Color Glazed Ware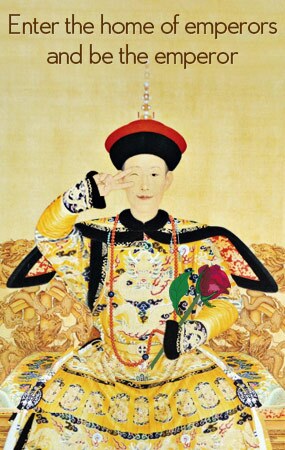 Nearly all the ancient imperial buildings in Beijing have color glazed roof and other outer ornaments. Standing on the top of the Jingshan Hill, which stands by the Forbidden City on the north, one may clearly see the shining glazed roof of the imperial palaces and the alters around. Many temples where the emperor often visited also have lustrous color glazed top or small decoration such as imaginary animals, flowers, and birds on the roof. The Temple of Heaven, for example is painted blue on its glazed roof and walls because blue is deemed as the color of the heaven whereas the Temple of the Earth uses yellow, the color of the soil. Likewise, the Temple of the Sun is painted red and the Temple of the Moon white. 
The other commonly seen color glazed wares in Beijing are the brown ancient handicrafts. The color glaze is derived from a sort of colorful semi-transparent mineral. The essential step of the artisanship is "to blow." Thus in the past the color glazed artisan was also called "the blower." At present, there are over 50 sorts of color-glazed wares in Beijing, which are widely used in ornament, architecture, and tourist souvenir.
Our local experts are always ready to create you a hassle-free tour. Get an authentic experience by contacting one of our travel advisors.