Kang Ling Xuan Teahouse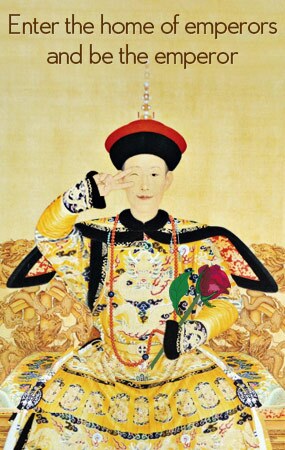 Kang Ling Xuan Teahouse is situated in the central part of the scenic spot, Shicha Lake. It is in No. 21 (backyard) of Ya'er Hutong (Ya'er Alleyway) near the Yinding Bridge. Kang Ling Xuan Teahouse is an old but beautiful quadrangle courtyard in old Beijing style. The courtyard is clean and neat, with pavilions, tea tables, grape trellis, fish tanks, flowers, birds and pomegranate trees. In front of the house, there is a winding corridor extending around, creating elegant and quiet scenery. This exquisite environment is hard to find in big cities. In the noisy and crowded city, Kang Ling Xuan Teahouse can provide customers with a comfortable and quiet environment of the old Beijing people. Here, people can enjoy rural scenery while in the prosperous metropolis. During the Beijing Olympic Games, Kang Ling Xuan Teahouse was used specially to receive tourists from home and abroad. In Kang Ling Xuan Teahouse, foreign customers can have the opportunity to experience and get to know the lives of local people in Beijing. Living with the Chinese host families is convenient and free for foreigners to learn and make Chinese food by themselves.

Kang Ling Xuan Teahouse also contributes a lot for inheriting, developing and publicizing traditional culture and folk customs of old Beijing. The folk arts, such as plaited straws, fuzzy toy monkey, paper cutting, handwriting, martial arts, tea ceremony, collection of folk toys and the shows of quintessence of Chinese culture can all be seen in this courtyard with an area of more than 500 square meters. Every week, there is a cultural performance, spreading the vocal culture and silent color in the strong tea fragrance. In Kang Ling Xuan Teahouse, it only costs 2 Yuan to have a teapot of tea which is enough for a whole day. In addition, customers can also enjoy themselves by playing Chinese chess, singing, acting in opera, chatting, attending lectures on health, learning finger exercise and many other activities. There is a Peking Opera fan's team in Kang Ling Xuan Teahouse, consisting of more than 20 people. They have all kinds of musical instruments which are needed in Peking Opera performance, such as gongs, drums and small cymbals. Their Peking Opera performance is performed every week on regular time, attracting a large number of Peking Opera fans. There are also many senior fans of Chinese folk art forms, most of whom have reached the level that almost all the comic dialogues can hardly make them laugh. However, in Kang Ling Xuan Teahouse, they can always be amused by Ma Qi when watching his storytelling performance. Kang Ling Xuan Teahouse has been a good place for the elderly to entertain themselves, meet friends and chat with people.

Kang Ling Xuan Teahouse is equipped with clean, neat and bright customer rooms as well. Customers from far can feel that they are living in the land of idyllic beauty instead of living in hotels or even motels. All the people who have ever lived there are fond of the environment and atmosphere in Kang Ling Xuan Teahouse. They even introduce Kang Ling Xuan Teahouse to their friends and advise them to live there and experience the magic and beauty of living in a Beijing quadrangle courtyard.
Our local experts are always ready to create you a hassle-free tour. Get an authentic experience by contacting one of our travel advisors.