Beijing Shopping
Beijing Local Products:
The metropolis of Beijing has several shopping districts offering a mind-boggling variety of goods. The traditional shopping districts have been always Wuangfujing Street, Qianmen Street, Dongdan and Xidan Commercial Street but now it seems that Jianguomen Wai Street and Chaowai Street have risen to the top for the latest and most luxurious items. Shopping at outdoor markets remains not-to-be-missed experience for foreign travelers.
Jade Ware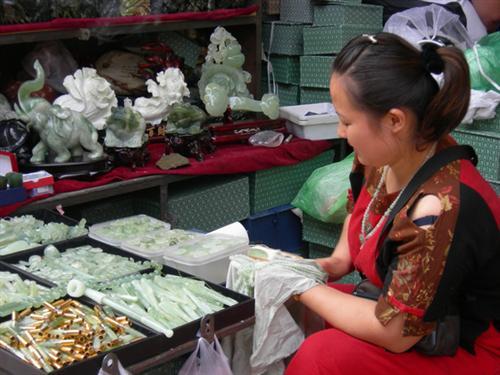 With its bright and pure luster, jade has long been considered by the Chinese as a treasure of tremendous value and a symbol of one's social status. In ancient time only the wealthy could afford to wear jade carving for the purpose of ornament and others For instance, many Taoist followers believed, even though sounding strange, that jade was edible and could keep one physically immortal. Many years ago, today's Huashi of Chongwenmen in Beijing was a huge and prosperous jade market where numerous jade artisans and merchants met and traded each day. Beijing has long been a centre for China'jade industry. Ancient Chinese believed jade to be the essence of Heaven and the Earth, so they carved jade into birds and beasts and worshiped as totems. Those who were engaged in this industry belonged to the higher class of the handicraftsmen. Some famous jade carvers were even called Xian Sheng or Master. Today in Beijing the designs of jade ware follow the old tradition to a large extent which i
Dough Figurine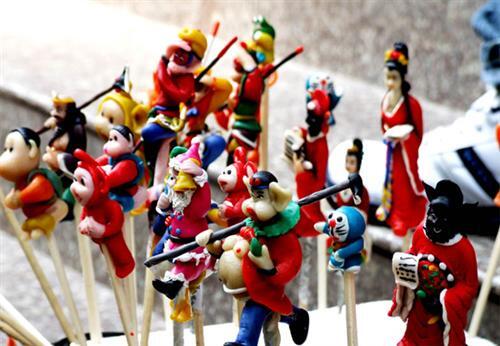 Dough shaping is a traditional Chinese folk art that demand simple equipment but with high artistic value. Traditional dough figurines are made of purified wheat flour, glutinous rice power mixed with bee-honey and glycerin. The artists use their skillful gingers cut, pinch, rub, and twist the soft dough and in a few minutes, a cute human figure or a lively animal will be born. The various colors of the dough are from mineral pigments, and do not change with time and so does the shape of the dough figurine, the features of which make it a ideal gift for friends or a remembrance for the trip to Beijing.
Cloisonne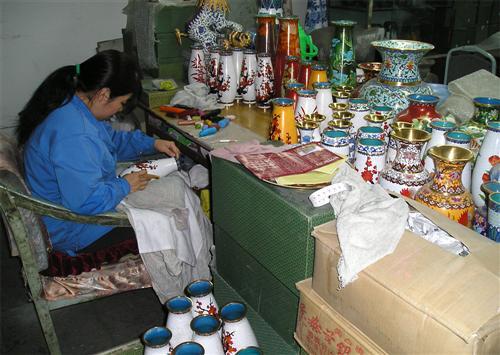 Beijing is commonly as hometown of cloisonn whose cloisonn-production history dated back to the Yuan Dynasty. The cloisonn was originately made as a sort of replicate for the bronze ware. During the Ming Dynasty, artisans discovered a kind of deep blue enamel, which could serve a perfect material for the cloisonn. This kind of enamelware is known as Jingtai Blue or Jing Tai Lan in Chinese. It was so named because the color blue is the most frequently used for enameling. Jintai actually was the name of the 7th emperor of the Ming Dynasty. Cloisonn underwent a great craftsmanship leap during his reign (1450 1456 A D). During the reign of Emperor Qianlong, Qing Dynasty, the more ductile and flexible bronze started to be used for the cloisonn body. The craftsmanship of cloisonn is a unique combination of Chinese traditional arts and techniques: painting, sculpture and suchlike. The whole production process is quite complex. Copper is used as the main material for shaping the body
Lacquer Work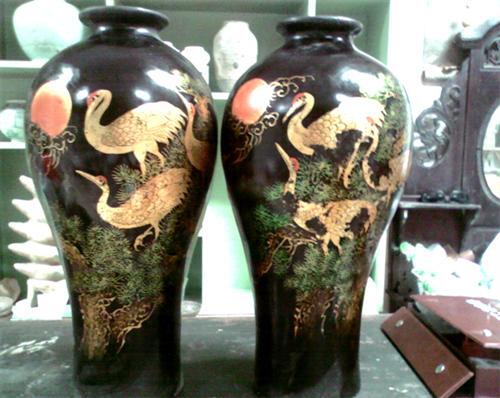 Lacquer work was one of the earliest industrial arts of China. Multifarious in kind and exquisite in workmanship, it is characterized by elegant modeling, beautiful figuration, and the lustrous color. Lacquer work in Beijing falls into two groups: the engraving lacquer work and the inlaid gold lacquer work. The technology of the engraving lacquer work was mature in the 14th century. In this category, bronze and enamel are used to make the body of the ware. Fine Asian ware may have more than 100 coats, each being dried and smoothed with a whetstone before application of the next. The ware may be decorated in color, gold, or silver and enhanced by modeled relief, engraving, or carving. The second of the lacquer work is normally inlaid with ivory, jade, coral, or abalone and were unrivaled in making articles carved from it. The art spread to Korea, then to Japan, where it took new forms. All these two sorts lacquer work featured by the imperial gloss and grandeur are very typical Beijin
Color Glazed Ware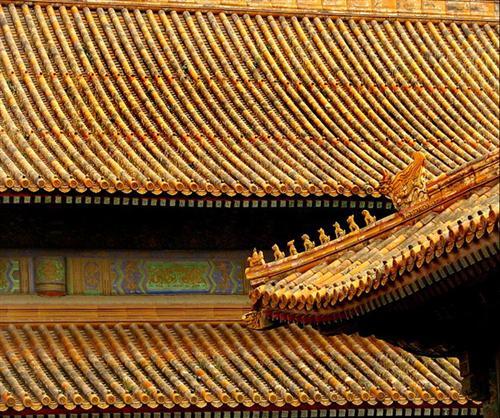 Nearly all the ancient imperial buildings in Beijing have color glazed roof and other outer ornaments. Standing on the top of the Jingshan Hill, which stands by the Forbidden City on the north, one may clearly see the shining glazed roof of the imperial palaces and the alters around. Many temples where the emperor often visited also have lustrous color glazed top or small decoration such as imaginary animals, flowers, and birds on the roof. The Temple of Heaven, for example is painted blue on its glazed roof and walls because blue is deemed as the color of the heaven whereas the Temple of the Earth uses yellow, the color of the soil. Likewise, the Temple of the Sun is painted red and the Temple of the Moon white. The other commonly seen color glazed wares in Beijing are the brown ancient handicrafts. The color glaze is derived from a sort of colorful semi-transparent mineral. The essential step of the artisanship is to blow. Thus in the past the color glazed artisan was also called t
Palace Lantern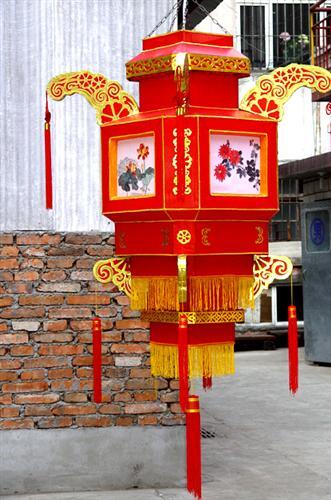 The elegant Beijing palace lantern is demanding in its making. Such precious wood as the rosewood, sandalwood and pear wood are normally used for the frame. The colorfully painted gauze and silk make the lantern look more splendid and lustrous. If you come to Beijing during the Lantern Festival, which marks the end of the Spring Festival in the middle of January, you will see the avenues and alleys alike are decorated with a large variety of lanterns. A sort of thin silk lantern with brush paintings has the special flavor of the imperial palace. In nearly all the handicrafts shops you can buy these beautiful ornaments.
Beijing Shops and Stores:
Beijing is a Great place to shopping, from shopping malls to street markets, you will find things that suitable for you.
Cloisonne Factory
Cloisonn is a magnificent and colorful handicraft article that is made within a complex manufacturing process, including inlaying thin gold threads or copper wires into various patterns, hammering the base, inlaying copper strips, soldering, filling with enamel, firing enamel, polishing, gilding and adhering enamels of various colors to copper molds. Blue is the major color of cloisonn. The making of cloisonn can date back to the Ming Dynasty and became prosperous in the Qing Dynasty, boasting a history of over 500 years. Cloisonn is deeply preferred by people in all ages for its dignified image, marvelous design, palatial appearance, crystal colored glaze, superior quality and bright contrasting colors. Beijing Huairou Cloisonn Factory is an ideal place to appreciate and purchase splendid cloisonn products. In the arts and crafts exhibition hall, a variety of cloisonn products will feast your eyes, such as various colors of cloisonn bracelets that are suitable for the female of various
Wangfujing Shopping Street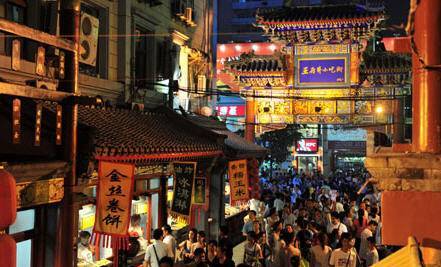 Wangfujing Street, stretching from East Changan Avenue in the south to National Art Museum of China in the north with the length of 1,600 meters, is the most well-known commercial street in Beijing and one of the largest pedestrian streets in China, serving general merchandise, clothing, diamond, jewelry and the like. It boasts about 280 brand-name stores, including China time-honored brands and multinational well-known brands, such as Shengxifu hat store, Wuyutai tea house, New China Children Products Shopping Mall, the Malls at Oriental Plaza and Tongshenghe shoe shop. Besides those famous stores, Wangfujing Street features a variety of unique stores. If you are tired, the benches around parterre are available. If you feel hungry, Wangfujing Snack Street can provide you with a variety of Beijings famous snacks.
Chaowai Yuexiu Clothing Market
The Chaowai Yuexiu Clothing Market, situated near the Chaoyangmen metro station, was opened in 2005. Currently, it covers a total area of 30,000 square meters having possession of more than 1000 shops. Visitors can find various kinds of cloth here, such as Business suits, T-shirts, and casual wear, especially traditional Chinese apparel: Qipao, Tang cloth and sun yat sens uniform. It is also a good place to discover interesting traditional Chinese crafts such as Chinese Brocade, silk, Chinese Pottery.
Sanlitun Yashou Clothing Market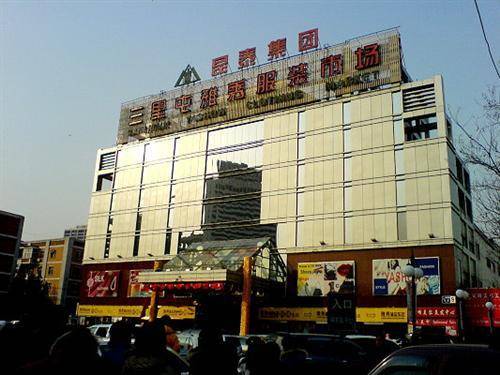 Sanlitun Yashou Clothing Market, located at 58 Gong Ti Bei Lu, was opened in May 2002. Currently, it covers an total area of 28000 square meters. This market is similar to the Silk Street, but the things here are much cheaper than those in Silk Street. There are five floors selling various kinds of things. Basement: shoes, handbags and suitcases. Almost every people especially who are struggling to house big feet can find fitting shoes here. First floor: coats and jackets. Second floor: hiking gear, suits, ladies wear. Third floor: silk, clothes, carpets, fabrics and tailors to fashion your material into something wearable. Fourth floor: jewelry, souvenirs, toys and a beauty salon. And, finally in the fifth floor, there are more than 20 restaurants selling delicious local recipes.
Xiushui Silk Market
Silk market(Xiushui Street) is replete with some of the finest silk products, as well as an amazing arrays of name-brand clothes, bags such as Reebok, Adidas, Gucci. But very few of these top labels are the real thing despite their uncanny resemblance. This is probably the reason that serious shoppers usually avoid this market but there is still a lot of interesting things to see and to do. The fun of the place may not come in searching for the perfect bag or best shirt, it comes in the haggling. It may yield a feeling of accomplishment when you purchase an item at maybe 30 percent of the original price. No price is fixed is the golden rule there. The more you haggle, the better price you may get. Xiushui Street is the one of the few places in Beijing where foreign can purchase clothes and shoes in large sizes.
Lihengtang Pearl Store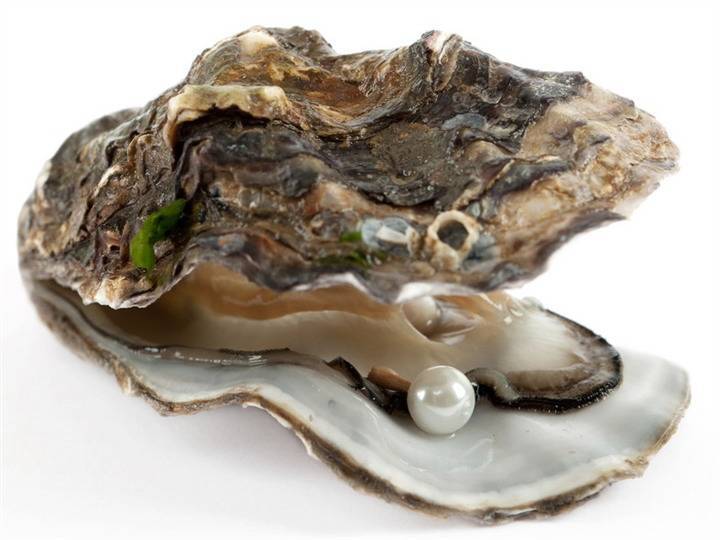 Lihengtang Pearl Store is a state-owned enterprise with a business of the cultivation processes, manufactures and sales of pearls. Jiangsu and Zhejiang provinces make China lead the fresh water pearl industry in the world. Various kinds of fresh water and sea pearls with different qualities are offered in Lihengtang Pearl Store. The Tahitian Black Pearl and Nanyang Golden pearl are their famous seawater pearls. It is an absolutely good chance to know how to cultivate the seeds in the live mussels and learn to distinguish genuine pearls from the fake pearls.
Panjiayuan Market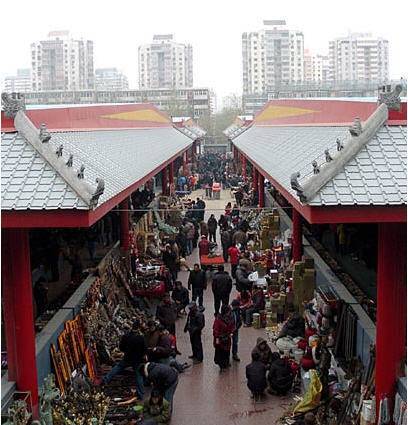 Panjiayuan Market is an open-air holiday market selling old arts crafts. Over 4000 stalls offer abundant old merchandise including old books published during the Culture Revolution, Jade bracelet, ancient furniture, hand-made porcelains, calligraphy, paintings and Cultural Revolution propaganda posters. All the thing you can imagine and many thing you cant imagine are available. But most of things on the shelves are fake. Every weekend, millions of visitors come here looking for treasure. Serious collectors are the early birds. Although it is very rare, people have been reported to find priceless ancient treasure. Perhaps thats the real reason why so many people gather here to try their lucks each weekend. You may not be lucky enough to find the Ming Dynasty vase or jade pieces from the Qing Dynasty but wandering around watching the locals doing their business is a fascinating experience.
Liulichang Antiques Street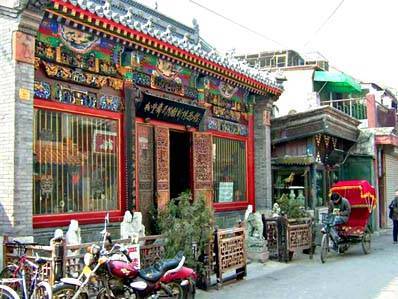 The Liulichang Culture Street, a few minutes' walk from the south of Hepingmen Subway Station is a great place for shopping in terms of both variety and atmosphere. The street is thought to have originated from Qing Dynasty, which is evidenced by the ancient wooden architecture lining either side of the street. Products sold here include jewelry, antiques, and ancient calligraphy and paintings. Enjoy the pleasure of bargaining when you decide to buy something.
Recommended Tours: