The Life of An Emperor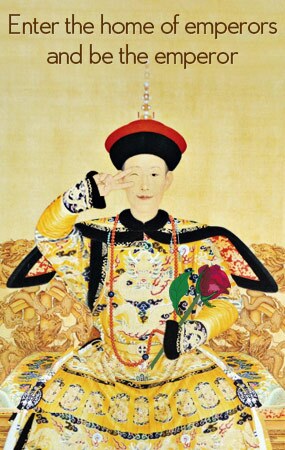 Mandate of Heaven
Tianming, or the Heavenly Mandate (天命), was ancient political and religious doctrine that bound the dynasties since ancient times to rule over China. The mandate, which represents the natural order of the universe requires a "just ruler of China" be the "Son of Heaven of the Celestial Empire." The mandate was not just a justification for rule, it actually bound the emperor to the nation, in some ways that were beyond his control.
The Mandate of Heaven is often compared to the divine right of kings in Europe, there were similarities, but there several major differences.
As in European divine right, the Mandate of Heaven essentially stated that heaven/god gave the ruler power and authority.
Under the Mandate of Heaven, any individual in Chinese society could be the emperor. Whether common or noble or birth, the only requirement was that he be fit to rule.
Much of ancient China focused on balance, and the emperors' rule was no exception, the emperors were responsible for maintaining the Heavenly Mandate. If they lost governance, by being overthrown or excised from power, their subjects believed they lost the mandate. Another belief was that natural disasters like floods, earthquakes, and famines were signs of heaven's displeasure with the emperor, and that heaven had withdrawn the mandate. In the case of heaven withdrawing the mandate through natural disasters, the people viewed rebellion as a justified means for changing leadership.