Jingyue Lake National Forest Park
Jingyue Lake National Forest Park covers 200 square kilometers, with over 4.3 square kilometers water surface and 80 square kilometers planted forest, with 58.6% of the park covered in forestation.
It is famous for its picturesque scenery and is known as the sister of Sun-moon Lake in Taiwan. A vast sea of lush trees and chains of magnificent mountains form a rounded ecosystem with over 30 tree species. The whole scenic area consists of Jinyue Lake National Key Scenic Spot, Jinyue Lake National Park and Jinyue Lake Tourist and Vocation Area.
There is fresh air, a pleasant climate, and picturesque scenery. The scenes here are different year round. It is cool in dense shade in summer and in winter the snow is over 30 cm and forms a natural ski field.
Jinyue Lake Ski Field is in Jinyue Lake National Key Scenic Spot. It is different from other ski fields for it is a ski field in the city.
Simple and ancient Northern Putuo Temple, which was built in 1996, is a very famous temple. Although it doesn't have a long history, it is known far and wide. Whenever there is a meeting of distinguished Buddhists the burning incense is always very thick and pilgrims come in an endless stream.
Sand Bath Beach that can hold 3000 people to play in the water is the largest man-made sand bath beach in Jilin Province. There are silver sands, sunshine, wooden houses, and tents. You can go boating, play in the water, and play beach volleyball to feel a romantic beach flavor without stepping out of Jilin Province.
After going boating and playing in the water, you can have a rest in a Korean style tent and taste a delicious Jinyue fish feast. There are 18 odd chain bridges crisscrossing the sounds and beach parks. Walking along the odd chain bridges is breathtaking but not dangerous, so it has become a paradise. People enjoy everything here so much as to forget to go home.
"Christmas Paradise" is a park that reverberates with European flavor. It is only the second park in the world with "the homeland of father Christmas" as its theme. Special-styled western architecture, childish cartoon characters, and a riotous atmosphere make you feel like you're visiting a fairyland.
Stone Sheep and Stone Tiger Mountain is located in the southern bank of the lake. There is an ancient tomb in the Jin Dynasty on the mountain. It is a city-level protective unit. Deer park occupies an area of 30,000 square meters, with over 1,000 spotted deer raised here. At the same time there are large reindeer from the foot of Tianshan Mountains. Besides these attractions there is a golf course and aquatic entertainment. Newly built Jinyue Square is a place for relaxing, going sightseeing, and bodybuilding.
How to Get There?

You can take No, 62 bus at the Raiway Station to Shanma Road, and then change to No, 102 tourist bus to go there. It takes around 30 minutes to travel there from the Railway Station. Bus No, 160 and No 120 go there directly.
Opening Hours:

8:00 —21:00
More Tips:

1. The best time for traveling in Jinyue Lake National Forest Park is in summer and in winter. It is green, full of vigor and with moderate temperature here in summer, so it is a great place to spend summer holiday; in winter, the branches of the pines are weighed down by snow and it is a great place to appreciate snows and play with snows.
2. There are many vocation villages for visitors to lodge and spend holidays.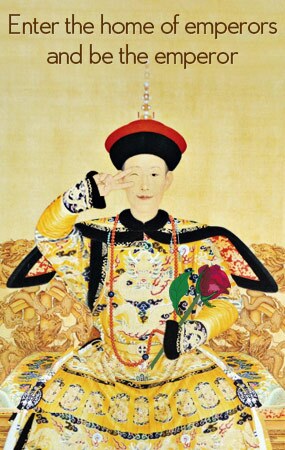 For an authentic travel experience, contact one of our travel advisors. Our local experts are always ready to create a hassle-free tour for you.