Changsha Shopping
Changsha Local Products:
Chrysanthemum Stone Carving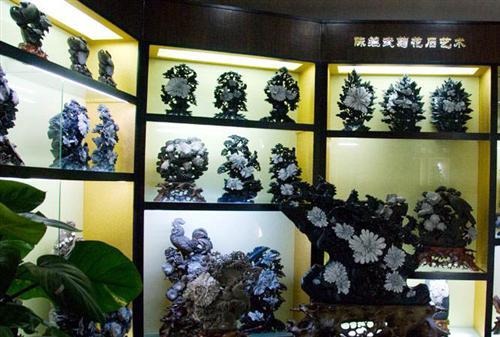 Chrysanthemum stone carving is the unique craftwork of Liuyang County. It is made from the chrysanthemum stone which was formed 200 million years ago. As far as we know, this kind of stone is produced in Liuyang County only all over the world. Liuyang chrysanthemum stone carving is regarded as number one in the world. The stones look like chrysanthemum, with single core, double core, triple core or no core. The craftsmen take the shape of the stone to create different kinds of chrysanthemums. In recent year, it developed to be solid multilayer flowers, some even with figures in it.
Hunan (xiang) Embroidery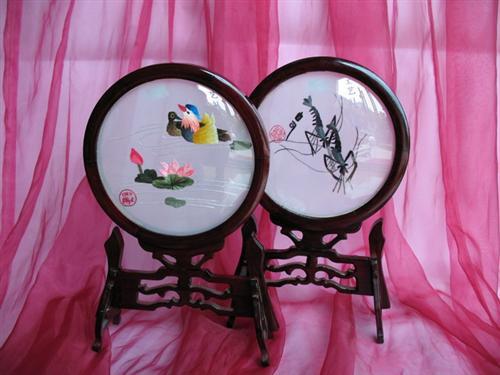 Hunan embroidery is one the four famous embroideries in China. It developed from the needlework from the countryside of Changsha. In the end of Qing Dynasty, handicraftsman Hu Lianxian and Yue Weishi mixed the stitch of Jiangsu and Guangdong embroideries with that of Changsha local embroidery, forming a new style Hunan embroidery. It is known for its bright color, vividness and strong expressive force. 70 kinds of stitches have been developed by craftsmen of Hunan embroidery. In recent years, they developed double-faced embroidery. On a transparent material, each side has a subject. For example, screen Hua Mulan, one side is Hua Mulan wearing the clothes of men, with weapons, while the other side is Hua Mulan wearing females clothes, doing making up. Both subjects are very perfect. Hunan embroidery has won several prizes at international expo and is popular all over the world.
Tongguan Pottery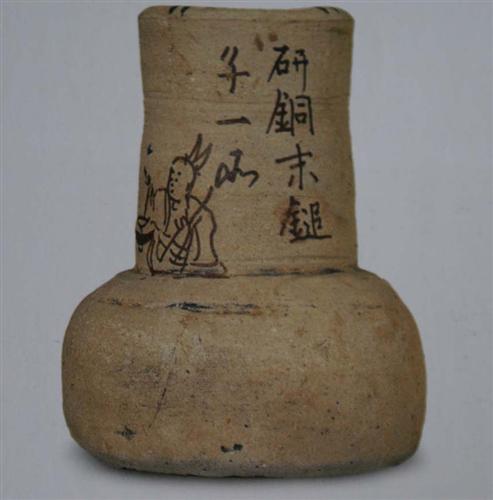 Tongguan pottery is made in Tongguan Town, Wangcheng City, which is one of the five great pottery towns of China. The Tang style tea set is elegant and of primitive simple. Art pottery and architecture pottery are of western traditional art style: character and beasts are vivid; colored glaze tiles are so bright; guardrail and screen are beautiful; ancient flower windows are delicate.
Hunan Bean Noodle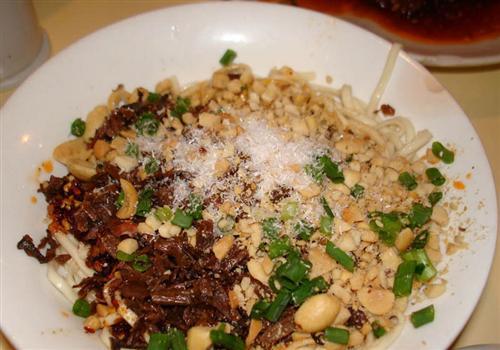 it was made in Changsha County and Wangcheng County, with a history of more than 130 years. Made of horsebean, mung bean and pea, it is round, thin and white. It is called dragon beard bean noodle, because it waves in water like dragon beard. It is an indispensable material in vegetarian banquet.
Changsha Cake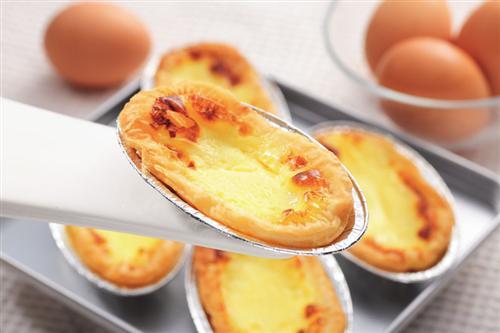 Changsha has a long history of producing cakes, the records of which can be traced back to several hundred years ago. There are a variety of breed with strong Hunan style. The most famous three breeds are Changsha rice cake, Changsha milk cake, Changsha milk fa cake (the only fermented one among Hunan cakes).
Changsha Famous Tea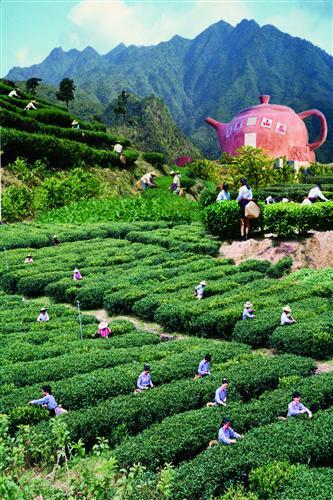 Changsha has a long history of producing tea. It was recorded in the poems at Tang Dynasty. During Machu Kingdom of Five Period (907-960AD), tea industry was booming and tea trade with north China was the main source of the income of Changsha government. There are many famous tea in Changsha, the most famous ones are Gaoqiao yinfeng, Changsha jasmine tea and Ningxiang Weishan maojian.
Liuyang Fireworks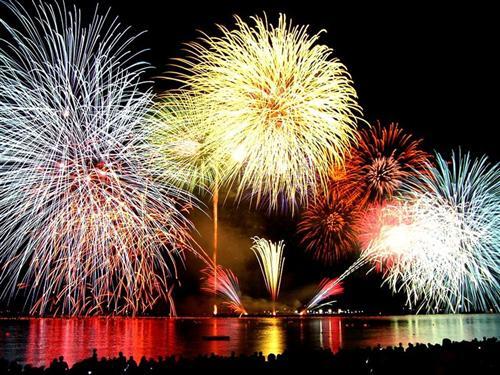 Liuyang fireworks are the traditional special local products of Hunan and the main products exported overseas. Produced in Liuyang County, it has a history of 1300 years, famous for its unique technique, variety, decoration, design and color, sounds, fragrance and safety.
Liuyang Fermented Soybeans
Liuyang fermented soybeans are the special local food of Liuyang County. It is made of muddy soybeans and small black soybeans. The product is dark brown or red, with crinkled skin and dried flesh. It is good seasoning for cooking. The famous dish steamed preserved chicken, fish, duck, pork is cook with fermented soybeans.
Changsha Shops and Stores:
Recommended Tours: