Changsha has the very convenient transportation in air, railway, highway and watercourse. Changsha Huanghua International Airport is the largest and best-equipped in Hunan Province with capability of handling 4,600,000 passengers every year and also famous as one of the top 20 busiest airports in China. The complex watercourses spread the whole of city, which there are over one hundred watercourses including Xiang River and Dongting Lake. Besides, there are three national highway 107, 319 and 106 go through the city and connect most large and moderate cities of China.
Huanghua International Airport is a national first-level airport with 24.2 kilometers east to the center of Changsha City. It is the largest and best-equipped in Hunan Province.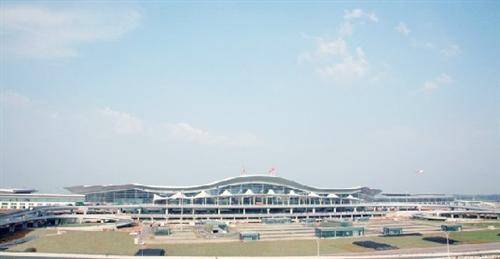 Changsha Huanghua International Airport
Now, from Huanghua Airport, there are non-stop Flights to over 50 cities including Beijing , Shanghai , Guangzhou , Xian, Shenzhen , Kunming , Chongqing and Hong Kong , and also some international flights to Southeast Asia.
There are regular airport buses from the Aviation Hotel to the airport from 6:30 am, the ticket is RMB 16.5 while taking 30 minutes. If you are not in a hurry, you can also take the public bus No 114 which takes 65 minutes from the railway station to the airport, and open time is from 6:30 am to 4:30 pm.
CAAC General Booking Office in Changsha: 0731-4119821
General Booking Office in Changsha (passenger transport): 0731-4112222
Changsha Aviation Information Center: 0731-4449540
Changsha is really an important transportation hinge of center, south and southwest of China. Changsha has the complex railway network, and there are more than one hundred trains leaving from or taking a stopover at Changsha Railway Station daily.
Direct and stopover trains can take you to most of the big and moderate cities in China, Beijing - Guangzhou Railway goes through the heart of Hunan Province, which connects Changsha, Beijing, Guangzhou, Shandong Province, Shanxi Province and many other provinces.
The railway station is located at Dongzhan Road of the downtown. It could be reached by many public buses such as 108, 110, 111 and 113. Changsha railway station is a big modern station in the line of Beijing – Guangzhou railway. There are waiting rooms for express train and way train respectively.
Call center (human): 0731-2637122
Call center (automatic): 0731-2634567
Information Desk of railway station: 0731-2296421
There are 107 national highway from Beijing to Shenzhen , 319 national highway from Xiamen to Chengdu and 106 national way crossed in Changsha .
There are three long distance bus stations: East Station, West Station and South Station.
From East Bus Station, there are mainly coaches to Hefei, Nanchang , Xiamen, Nanjing and Shanghai .
From South Bus Station, there are mainly coaches to Guilin , Xianmen and other cities and counties of Hunan Province.
The West Bus Station is located at Xiaoxiangbeilu, with long distance buses to the cities and counties of Hunan Provinces.
Besides, there are also intercity buses to Zhuzhou and Xiangtan at the south of Friendship Apollo Commercial Plaza every 15 fifteen minutes, with a price of RMB 16.5 and RMB15.5.
East Bus Station Information Desk: 0731-4611731
South Bus Station Information Desk: 0731-5630505
West Bus Station Information Desk: 0731-8816553
Public Bus Trouble Call: 0731-5520110
Ferries can run between Changsha Harbor and Nanjing , Shanghai , Lienyunkang and other cities along Yangzi River. From Changsha Ship Passenger Transport Center Station, there are regular ships to Yiyang, Jingshi, Anxiang, Changde, Xiangtan and Yueyang City etc.
Through Yueyang, the ships can reach Chongqing , Wuhan and Shanghai. There are navigations to the coast cities of the Changjiang River and some sea ports such as Nanjing, Shanghai and Lianyungang.
Public Bus
Of the downtown, there are perfect public transportation system, covering all the city zone and outskirts. The price is RMB 1 for common public bus and RMB 2 for air-conditioning public bus.
Special Tour Line
There are three special tour lines in Changsha City, reaching the tourist spots like Yuelu Academy, Provincial Museum, Chuanshan Academy, the Original Residence of Jia Yi and Kaifu Temple. Each ticket can be uses twice, with a price of RMB 3.
Tour Bus
There is a famous bus line named "Lishan Special Line" in Changsha running between Changsha Railway Station and Central South University of Technology. The line stops at some scenic spots like Mountain Yuelu Shan. Line 1 runs between the railway station and Yuelu Academy via Martyr Park, Provincial Museum, Qingshui Tang and Yuelu Park while Line 2 runs between Southern Suburbs Park and Huaxia Market via Hunan First Normal College, Tianxin Pavilion, Former Residence of Jiayi, Kaifu Temple etc. Tickets for the tour bus costs 3 RMB and can be used for twice.
Taxi
At the day time, the base rate for taxis in Changsha is 3 RMB for the first kilometer and then 0.9 RMB per additional kilometer.
At the night-time (21:00 – 05:00 am), the charge is: within 3 kilometers, adds RMB 1 on the base of day time charge; over 3 kilometers, RMB 2.16 for each kilometer.