Huan Huaxi Park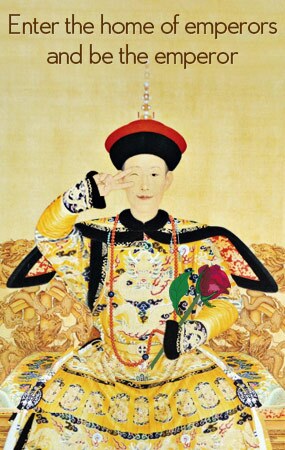 The cultural background of Huan Huaxi Park is the culture of Dufu Cottage. Huan Huaxi Park combines modern design of garden and architecture with deep historical culture of west Sichuan. Huanhua brook and Gan river flow across here. This park covers an area of 32.32 hectares, consisting of Wanshu Garden, Plum Garden and Egret Garden.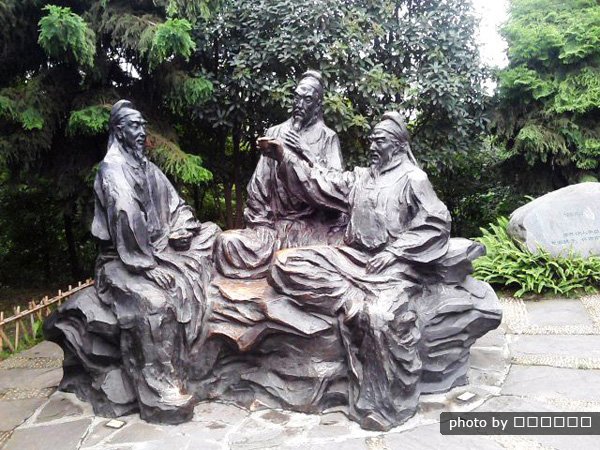 In the morning, the park is the place where people do morning exercises, like Taichi.
In the day time, it is the flourishing attraction to tourists and wedding couples having their wedding photos taken.
What is special here?
It is the biggest park in Chengdu.
Poetry is the biggest feature of Huan Huaxi Park.
What to see sculptures of poets of the past 2000 years old? Here, historically famous poets' sculptures seems vivid, attracting visitors to gaze upon.
Viewing fish in Huanhua Viewing Fish pond.
In the pond, there are thousands of swimming fish. Visitors can spend 2 yuan to buy a little bag of fish food. Once you throw fish food off, groups of fishes will competing their food. The size of big fish reaches about 50 centimeters and the size of small fish has only about 4 centimeters. Some fish will jump out of the big lake. The competition scene is magnificent.
In the park, visitors will often see cartoon characters taking pictures, knights with swords and Lin Daiyu and Jia Baoyu from A Dream in Three Mansions appreciating flowers. They are in cosplay. Visitors can take photos with them.
What to see?
Plum Garden
Plum blossom trees and bamboos are planted in here. Water, bridges and green trees integrate with Plum Garden.
Bamboo Square
Bamboo square is a recreation zone for visitors to appreciate bamboo decoration. Bamboos decorations are processed with traditional processing technic, which presents cultural features of west areas of Sichuan. A big glass house stands on the square, which is a best place to appreciate stars in the evening.
Egret Island
On Egret Island, there are many egrets. Visitors can feed egrets. Some egrets are far away from people. Some egrets use their beaks to clean their feathers; some search fish in water; some fly next to water; some overlook at distance and some show their fair bodies to visitors.
Green Lake
Green lake is the biggest artificial lake in Chengdu. Islands on the lake connect with main land with concrete roads.
Wanshu Garden
Wanshu Garden in Chinese means a garden planted various kinds of trees. Visitors will find Ginkgo biloba, osmanthus, yulan as well as gardenia trees in here.
Badiao Tea Garden
Huanhua brook and Gan River meet in Badiao Tea Garden. It is the best place to view the river sceneries.
Wanshu Hill
Wanshu Hill is located in the southwest of the park. The main body is an artificial hill, surrounded by Wanzhu Square and West Sichuan Folk Custom Square. Color the the hill will change as seasons pass.
Recommended visiting hours: Generally 2 to 4 hours, however, if you like you can take more time to cover as many trails as possible, to find some nice surprises off the beaten path, such as nice sculptures, another pond, beautiful trees and bamboos. 
Nearby attractions
Sichuan Museum
No matter you know Chinese or not, you will find the museum wonderful. Collections are beautifully presented and so thorough in their exhibits. Hire an English speaking  guide will make you know more. For the parts without a guide, this museum has a lot of information in English. Sichuan Museum was built in 1941. There are about 300,000 collections in here. Bashu bronzes are the feature in here. 10 exhibition halls distribute in 3 floors.
Du Fu Thatched Cottage
Du Fu was a great poet in the Tang Dynasty. He lived in this cottage for 4 years off and on and created 240 poems in here. Du Fu Thatched Cottage is located in a very nice, tranquil area in the busy city. The layout and arrangement of this park is nice. Inside it, there are historic sites, a lake, a museum and plenty of trees. The place is cool and peaceful even in summer hot day. 
Solo Adventure Tips:
Location:

No.9 Qinghua Road, Qingyang District, Chengdu 610072, China
How to Get There?
1. About a 15-20min walk from metro line 2 Chengdu University Station. 2. Take public bus No. 165, 170, 19, 309, 319, 35, 407, 47, 58, 88, 82 and 59 to Songxian Bridge.
Ticket Price:
free
Opening Hours:

More Tips:
Tel: 028-87384099
Our local experts are always ready to create you a hassle-free tour. Get an authentic experience by contacting one of our travel advisors.