Luodai Ancient Town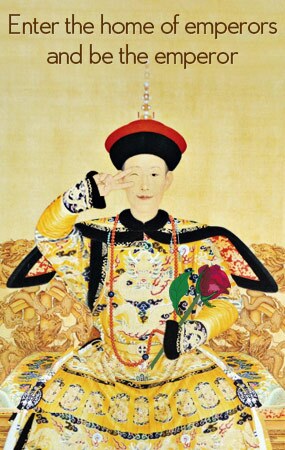 Brief Introduction
Luodai Ancient Town is a town located about 10 kilometers from Chengdu City . The town covers an area of 20 square kilometers, and has a population of about 200,000, with more than 90% of the population being Hakka people. Hakka language is widely used and spoken here. Luodai Ancient Town is considered the largest and best preserved Hakka ancient town in the western part of China.
Luodai Ancient Town is nestled at the foot of Er'eshan Mountain which is at the middle section of Longquanshan Mountains . It has profound history and culture, with abundant tourist resources. The town was built during the Three Kingdoms Period more than 1,000 years ago. The architecture and layout of the ancient town preserves the typical styles from Ming and Qing dynasties, with old streets, Hakka folk houses and narrow alleys.
The history of Luodai Ancient Town is very long. It is recorded that as early as the Han Dynasty, a street named Wanjing Street had been established here. As years went on and with development, it was enlarged and developed into a district of a small town. In 1976, Luodai was officially declared to be a town.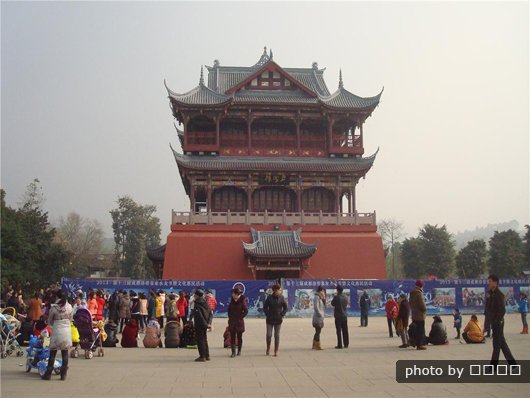 Architecture and Attractions
Luodai Ancient Town has a long history and profound culture. Many historical relics still remain, telling tales and stories of the past. The whole town mainly consists of "one street and seven alleys", besides, there are Hakka guildhalls of Guangdong , Jiangxi , Huguang and Chuanbei, as well as a Hakka museum and a park.
The main street is paved by slab stones and formed by upper street and lower street, with a length of 1200 meters and a width of 9 meters. There are seven alleys crisscrossing by both sides of the main street: Bei Xiang (alley), Huaishu Xiang, Jiangxi Huiguan Xiang, Chaishi Xiang, Macaoyan Xiang, and Kangshi Xiang. The four guildhalls are especially of great historical and artistic value, which made them become historical buildings under national-level protection. The architecture of the guildhalls is of typical styles of Ming and Qing dynasties, with delicate and vivid carvings of images of dragons, phoenix, flowers and birds.
Other Nearby Attractions
Yudai Lake
Yudai Lake surrounded by flowers and trees all year round, with fresh air and good natural environment. You can go boating here, which is a relaxing and pleasant experience.
Jinlong Great Wall and Temple
Jinlong literally means golden dragon in Chinese. Jinlong Great Wall is also known as Luodai Great Wall. It is the largest simulated Great Wall in China , with five beacon towers. It is 1680 meters long, 4 meters tall and 3 meters wide. At the entrance of Jinlong Great Wall there is a big arch engraved with many images of dragon. Walking along Jinlong Great Wall to the top of the hill there is Jinlong Temple . The scenery along the way is very pleasant with verdant trees by both sides. This is a good place for having a leisurely walk.
Best Time to Visit
Luodai Ancient Town is located in the subtropical monsoon climate zone. The climate here is pleasant, with an annual average temperature at 16 -17℃ . It is suitable for traveling all year round, though the best time to visit is summer, which is the fruit season. Lots of fruits are available, such as pears, grapes and peaches, for tourists to taste. Besides, there is a Hakka festival called "Water Dragon Festival", and tourists can know about Hakka's festival celebrations and customs.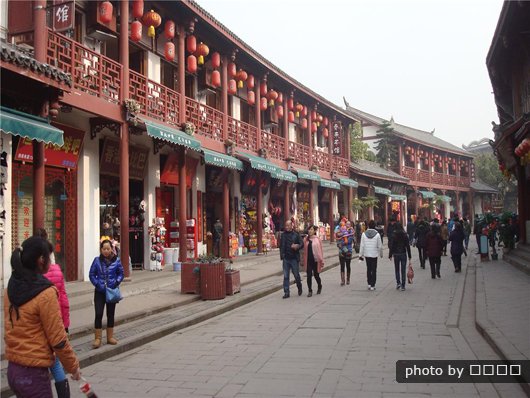 Festivals
Dragon is the legendary creature of Chinese mythology. It is an old custom in China to perform dragon dance during festivals. In Luodai, the dragon dance performance by Liu Family is the most well-known.
Liu Family has lived in Luodai for 14 generations spanning more than 300 years, and they have also performed dragon dance for more than 300 years. Their performance history is long, and the skills are only passed down within the family over the years, therefore their performances retain the primitive procedures and ceremonies of the past.
Huolong Festival (Fire Dragon Festival)
The Fire Dragon Festival is held on January 15th of the Chinese Lunar Calendar. The performers are topless and wearing only short pants. As they wave the dragon up and down, the watchers use fireworks to shoot at the dragon. The fireworks are a symbol of wealth and fortune. The brighter the flame implies the better the future.
Shuolong Festival (Water Dragon Festival)
It is an old custom for Hakka people to perform water dragon dances every year in summer, to thank deities for timely rainfall and bumper harvest. Performers only wear short pants, and wave the dragon up and down, while watchers use water guns or basins to chase after the dragon and pour water at it. Hakka people see water as the source of wealth, so the wetter the scene, the better the luck.
Location and Transportation
Luodai Ancient Town is located about 20 kilometers away from Chengdu downtown and 43 kilometers from Chengdu Shuangliu International Airport.
From Chengdu City , you can take public bus No. 71, 81 or 58 to Wuguiqiao Long Distance Bus Station, and then transfer to public bus No. 219 to Luodai Ancient Town.
You can also first take a bus from Wuguiqiao Long Distance Bus Station to Longquan, which costs 5 Yuan, and then take bus from Longquan to Luodai, which costs 3 Yuan.
Solo Adventure Tips:
Location:

 Longquanyi District, 20 kilometers away from Chengdu City
How to Get There?

Take No.2 bus from the bus station at the north of the train station and then transfer to No.219 bus at Wuguiqiao bus station to Luodai.
Ticket Price:

free
Opening Hours:

all day
More Tips:

The best season to visit Luodai Ancien Town is summer because there are some festivals and activities held there during summer, providing a ideal place to spend the hot summer. Besides, in summer, there are also a variety of fruits, such as pears, grapes, loquats and peaches.
Our local experts are always ready to create you a hassle-free tour. Get an authentic experience by contacting one of our travel advisors.