Half Day Hutong Rickshaw Tour to Learn Paper-cut and Watch Druming Show

Half Day Hutong Rickshaw Tour to Learn Paper-cut and Watch Druming Show
Summary
Activities: Learn Paper Cut and Watch Druming Show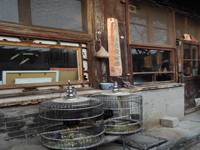 Highlights
Take a rickshaw to explore Hutong
Visit a Hutong family
Learn a traditional Chinese art - paper cutting
A well-trained English speaking tour guide
Hotel pick-up and drop-off
You will be picked up from your hotel lobby at about 9:00am by your driver and English-speaking tour guide. Then you will head to Hutong area by car. Then you will walk to see the most beautiful authentic Hutong area of Beijing and hop on a rickshaw to ride through narrow alleys. Before leaving hutong, you will visit a local family and learn something about Chinese calligraphy writing and painting. Later, we will walk towards Drum tower and climb it, and watch the fantastic drum beating performance on the top of the drum tower. At about 12:30, we will return to your hotel.
About 09:00 to 11:30
Activities: hotel pick up, exploring hutong and paying a visit to a hutong family
Meet your guide at your hotel and walk to the hutong area, and then take a rickshaw to explore the inner hutong as well as visit a hutong family to learn paper cutting, calligraphy and so on.
Hutong plays a significant role in Beijing. Hutong was first built in the Yuan Dynasty which was ruled by Mongol. The word "hutong" originates from the word "hottog" which means "well" in Mongol. In hutong, you will see the history.
About 11:30 to 12:30
Activities: climb drum tower and watch a drumming show
At about 11:30, we will head to drum tower from hutong. You will climb to the top of drum tower so that you will be seeing an excellent drumming performance which lasts for about 5 minutes. 
The drum tower once used to tell time to the public. A bell announced the official commencement of the day, at which time the city's gates would be opened, while a drum marked the official end of the day when the city's gates were closed.
About 12:30
Activities: Transfer you back to your hotel.
Good to Know
There is no meal included in this tour.
Your guide will contact you in the evening before your tour date and confirm the exact pick-up time with you.
Your guide will pick you up in your hotel lobby at the appointed time.
Price Inclusion and Exclusion
| 1 Person | 2 - 5 Person | 6 - 9 Person |
| --- | --- | --- |
| $ 86 | $ 45 | $ 29 |
Tour Code: bjalc-177
Location: Beijing
Duration: 4 Hours
Tour type: Half Day Trips  (Private Tour)