Hiking from the Original Jiankou to Restored Mutianyu Great Wall

Hiking from the Original Jiankou to Restored Mutianyu Great Wall
Summary
Summary
Take time out to conquer 10km (6 miles) of precipitous Jiankou and Mutianyu Great Wall. This classic hiking tour takes about 5 hours. The restored Mutianyu boasts the most majestic scenery of all the Great Wall sections. Photographers love this hiking route as there are many wonderful and iconic photography spots.
Highlights
A full day hiking on the Great Wall from wild Jiankou to rejuvenated Mutianyu
Watch the sunset
Wonderful photography spots
Chinese farm-style lunch and Refreshments Kiosk
Knowledgeable and friendly English speaking guide and licensed local driver
Quality climbing and hiking equipments provided
What You Can Expect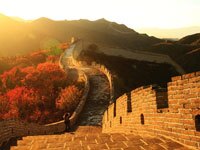 You will be picked up at your hotel lobby after breakfast at about 8:00am. Then head to Jiankou, and alight at Badaohe Village, a small village at the foot of the mountain. The ride takes  2½ hours. Our vehicle is an air-conditioned business car (max: 7 seats) with GPS facilities and free in-car Wi-Fi. You will learn the history of China and the Great Wall on the road.
Arrive at Jiankou Great Wall at 11:00 am. Have lunch in a local farmer's home. Your guide will introduce you  the hiking route with a map there. After lunch, your driver will drive you to the end of the mountain road, where you will start your 5 hours of hiking, at 1:00 pm. Experience original and scarily steep Great Wall at Jiankou and restored Great Wall in its former glory at Mutianyu.
At the peak of Jiankou, you will see Zhengbei Watchtower. You need to climb a ladder up into Zhengbei Watch Tower. Then,  go eastwards to the Mutianyu section of the Great Wall via several watchtowers in various states of ruins, connected by broken walls. After a challenging walk on the original rugged steps and broken wall, you will arrive at the Mutianyu section of the Great Wall. There you will enjoy a leisurely walk on restored Great Wall.
You can try the fun toboggan down the mountain. The toboggan is optional with ticket price of 60 yuan per person. You can also hike or take a cable car down the mountain. After that, walk 5 minutes to the parking lot and board a bus to return to your hotel in Beijing. Arrive at hotel at 8:30 pm.
Good to Know
The tour is available every Monday, Wednesday and Friday, and you will be in a small group with a maximum of 6 people.
The tour is

 

not open during Dec. 1. 2015 to Feb. 29. 2016

 

due to the cold and snowy weather condition.
Babies and children under 12 years old are not recommended to hike on this part of Great Wall. Likewise anyone who is feeling unsteady or unfit.
Your guide will call you or leave a message the night before your tour to confirm the exact pickup time with you.
Price Inclusion and Exclusion
Tour Code: BJALC-212
Location: Beijing
Duration: 8 Hours
Tour type: One Day Trips  (Private Tour)