1-Day Beijing City Tour Plus Mutianyu Great Wall

1-Day Beijing City Tour Plus Mutianyu Great Wall
Summary
About 8:30 am - 12:00 am
Activities: visit Tiananmen Square, the Forbidden City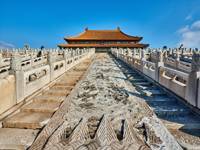 In the morning your tour guide will pick you up from hotel on departure time (during 7:00 - 8:00 am), and then drive to the Tiananmen Square (30 minutes) - the biggest city center square in the world, and then visit the Forbidden City, along the central axis from south to north for 2 hours. It is the largest ancient imperial palaces group with 500 years' history in the world.
Tips: Your tour guide will contact you for the exact departure time the day before your departure date.
About 12:30 pm - 13:30 pm
Activities: lunch time (Cloisonne restaurant)
After that, we'll drive to the
Cloisonne restaurant
nearby the
Mutianyu Great Wall
and having a typical Chinese lunch (50 minutes).
About 14:00 pm - 18:00 pm
Activities: visit Mutianyu Great Wall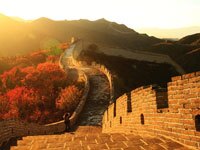 In the afternoon you'll sightseeing on the most famous part of the Great Wall, Mutianyu section, for 2 hours.
Finally you'll be transfered back to your hotel.
Please Note:
* You'll visit 2 shops in this itinerary. No forced-shopping at all!
* Please confirm with us if it is available before making payment.
* Visitors need to take a ferry bus into the scenic area. The cost of the ferry bus, as well as the cable car, is not include in this package tour.
Your information about name, passport number and nationality is required to get Forbidden City tickets. Please provide them after you pay.
Price Inclusion and Exclusion
Tour Code: BJSIC-4
Location: Beijing
Duration: 8 Hours
Tour type: Seat-in-Coach Tours