1-Day Simatai Great Wall Hiking Tour (No Shopping)

1-Day Simatai Great Wall Hiking Tour (No Shopping)
Summary
About 6:00 am 13:00 pm
Activities: hotel pick up, breakfast, hiking the Jinshanling Great Wall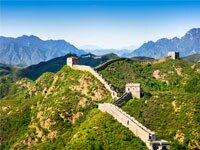 This is seat-in-coach tour. Around 6:00am (Your tour guide will contact you for the exact departure time the day before your departure date) pick up from your hotel in downtown Beijing. We offer simple breakfast. Arrival at Simatai Great Wall around 9:00am. Hike the east section of Simatai Great Wall. Simatai Great Wall is located about 120 km from downtown Beijing. The Simatai Great Wall was first constructed built in the Ming Dynasty. the Simatai section was refortified by General Qi Jiguang during the reign (CE 1572-1620) of the Wanli emperor, Emperor Shenzhong of the Ming (CE 1368-1644) Dynasty.
The round trip hike is about 10 km and takes about 4 hours. Each tower has its unique feature and look. There are relatively less crowded here at Simatai Great Wall, it is a nice place to explore the Great Wall in Beijing.
Tips: Please wear comfortable shoes and sun glasses.
About 13:00 pm - 14:00 pm
Your tour guide will take you to a local Chinese restaurant nearby to enjoy the lunch time.
About 14:00 pm - 17:00 pm
Activities: way back to your hotel in Beijing
After lunch, transferred back to your downtown hotel in Beijing.
Price Inclusion and Exclusion
Tour Code: BJSIC-7
Location: Beijing
Duration: 8 Hours
Tour type: Seat-in-Coach Tours