1-Day Dujiangyan Panda Keeper Program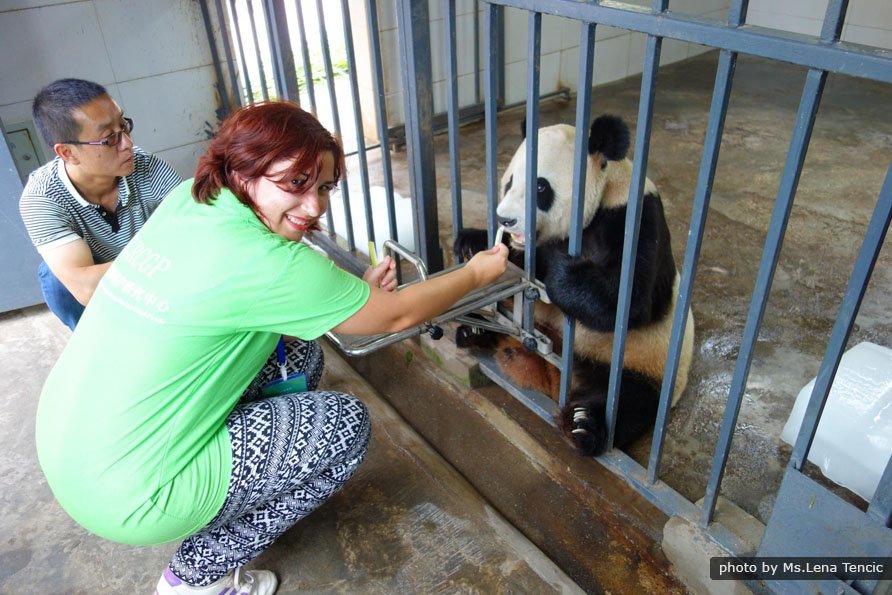 1-Day Dujiangyan Panda Keeper Program
Summary
Summary
Panda is adorable and is the national treasure of China. This tour will provide you an opportunity to get close contact with pandas and take care of them. You will learn more about this endangered species and love them more.
Note: This program has been fully booked as following dates. You can still book other dates.
April: 30th May: 1st, 5th June: 11th, 18th, 26th July: 2nd-3rd, 6th-8th, 11th, 12th, 14th-20th, 23rd-25th, 28th-30th August: 7th- 9th
Highlights
Panda Keeper Program
Feeding pandas
Cleaning panda's enclosure
Watching a panda movie
Listening to a panda lecture
Cleaning pandas' food – bamboo
Making panda cakes
A full-day trip to Dujiangyan from Chengdu
What You Can Expect
Your driver and English speaking guide will pick you up from your hotel lobby in Chengdu at 7:00 and head to Dujiangyan Panda Valley.
At about 8:30, you will arrive there. The pandas will be awake and you will start the Panda Keeper program and learn to take care of them.
Your lunch will start around 12:00 in a local restaurant near Dujiangyan Panda Valley. After lunch, you can have a short rest or you can wander around the valley.
The program will recommence in the afternoon at about 14:00. The valley will award you a panda keeper certificate when you finish all activities.
The program will come to an end at 16:00. You will then be transferred back to your Chengdu hotel.
You will arrive at your hotel in Chengdu at 17:30.
Good to Know
Appointing pickup time: Your guide will contact you the night before the tour or leave you a message to appoint the pick-up time.
Be subject to change: The Panda Keeper Program is totally dependent on the arrangement of Dujiangyan Panda Valley and is subject to change without notice. We cannot assure the activities listed above will all be provided, but we will try our best to make your day special.
Donation fee for holding panda: In China, holding a panda is now only available in Dujiangyan Panda Valley. It is also a donation activity. The Panda Keeper Program fee does not include this donation activity which allows you to take photos with a panda when holding it. You can hold it for about one minute. If you want to hold a panda, you should tell your travel advisor when you book this tour because you have to apply for this activity at least one week in advance and there is a daily quota of only 20 volunteers. Please take enough RMB cash, as credit cards are not accepted there.
Limited dish choice: Dish choice in the local restaurant is limited, but we will arrange the best they have.
Volunteer Restrictions
12 to 65 years old volunteers are allowed to take part in the program.
If your children are between 2 to 11 years old, you can still take them to the panda valley. You just have to pay their valley's entrance tickets and electromobile fee. Your guide will help to take care of your children, when you are in the program.
You can take the children under 2 years old to join in the program without extra tour cost.
Price Inclusion and Exclusion
| 1 Person | 2 Person | 3 Person | 4 Person | 5 Person | 6 Person | 7 Person | 8 Person | 9 Person | 10 Person | 11 Person | 12 Person |
| --- | --- | --- | --- | --- | --- | --- | --- | --- | --- | --- | --- |
| $ 390 | $ 274 | $ 243 | $ 221 | $ 209 | $ 211 | $ 204 | $ 198 | $ 199 | $ 194 | $ 191 | $ 188 |
Price Inclusion
Entrance fees , Panda Volunteer Program fees, Private English-speaking guide, private vehicle transfer, one simple lunch, taxes and all credit card processing fees.
Price Exclusion
CNY1800 for holding a panda for photos, meals and sightseeing not mentioned in this itinerary.
Tour Code: CDALC-34
Location: Chengdu
Duration: 7 Hours
Tour type: One Day Trips (Private Tour)