One Day Dujiangyan Panda Base and Dujiangyan Irrigation Project Tour

One Day Dujiangyan Panda Base and Dujiangyan Irrigation Project Tour
Summary
Summary
Take time out to enjoy a day trip to get alone with adorable giant panda and natural beauty. You will see those cute pandas in Panda Base. It is allowed to hold a panda for photos with extra donation fee. It is definitely worth the donation, because you almost have no chance to hold a panda outside of China. In the afternoon, you will visit Dujiangyan Irrigation Project which is one of the top attractions in Chengdu. The whole tour will last for about 8 hours.
Highlights
See adorable pandas in Panda Valley
Allowed to hold pandas
Visit Dujiangyan Irrigation Project
Hotel pickup and drop off
Professional and friendly English-speaking tour guide
Experienced driver
What You Can Expect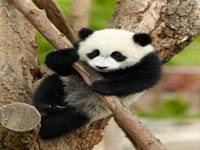 At about 8am, your guide and driver will pick you up at your hotel lobby. You will then head to Panda Valley which is 90 minutes' drive from Chengdu. At about 9:30am, you will arrive at Panda Valley in Dujiangyan. You can tour around and see pandas there.
At about 11:30am, you will have your lunch at local restaurant.
1:30pm: Arrive at Dujiangyan Irrigation Project and start the tour there. It enjoys a history of over 2,000 years and still perfectly work to this day. It works as not only a flood prevention mechanism but also a source of irrigation. At about 4:00pm, you will Finish the tour and transfer back to Chengdu. Arrive at your hotel in Chengdu and end the tour at about 5:30pm.
Good to Know
Holding pandas: It is allowed in Panda Valley to hold a panda for about one minute by donating 1800 yuan. If you want to hold a panda, you should tell your travel advisor and apply it at least one week in advance because there is a daily quota of only 20 volunteers. This program is subject to the availability of pandas on that day. Take enough CNY cash that day, as payment by credit card is not accepted there.
Appoint pickup time: your guide and will call you or leave a message the night before your tour to check the exact pickup time with you
Limited dish choice: Dish choice in the local restaurant is limited, but we will arrange the best they have.
Alternative Choice
Get closer to panda: if you want to do something for pandas and get closer to them, there is a Panda Volunteer Program for you. The program may include cleaning the enclosure, watching a panda movie, listening to a panda lecture,cleaning pandas' food - bamboo, making panda cakes and feeding pandas.
Visit Panda Valley only: If you want to rest in the afternoon, we can also transfer you back to Chengdu after the visit to Panda Valley. The price of the tour will be lower.
Price Inclusion and Exclusion
| 1 Person | 2 Person | 3 Person | 4 Person | 5 Person | 6 Person | 7 Person | 8 Person | 9 Person | 10 Person | 11 Person | 12 Person |
| --- | --- | --- | --- | --- | --- | --- | --- | --- | --- | --- | --- |
| $ 285 | $ 169 | $ 141 | $ 117 | $ 106 | $ 106 | $ 99 | $ 94 | $ 94 | $ 88 | $ 86 | $ 83 |
Tour Code: CDALC-35
Location: Chengdu
Duration: 8 Hours
Tour type: One Day Trips  (Private Tour)