One Day Hike from Ancient Zhuang Village to Ping'an Zhuang Village in Longji
Visit the Longji Rice Terraced in the great time of year, take a bit hike from ancient Zhuang ethnic tribe to Ping'an Zhuang village, enjoy peaceful moments in wild nature, marvel on the stunning view of endless rice terraced from the mountain edge which was created by human, and acknowledge customs and traditions of Zhuang and Yao minority groups.
About This Tours
Duration: 9 hours
Difficulty: Medium
Availability : Depart on every day
Tour Type: Private
Best time for travel: May to late October
Easy Cancellation : Up to 14 days before departure: 100% full refund; 7 to 13 days before departure: 90% refund; 3 to 6 days before departure: 50% refund; 2 to 0 days days before departure: no refund
What To Expect
See the only Red Yao Ethnic Group in the world
Peaceful wild hike on the edge of rice terrace
Get to know how they irrigated the fields in high mountains
Reveal the secret of why every Yao Lady wearing over 1-meter long hair
Taste local minority flavor - roasted bamboo rice
Tour Itinerary
The night before your tour: arranging a pickup time
Your guide will call you at about 8pm-9pm on the night before your tour to arrange the exact pick-up time. If you don't answer, your guide will leave you a message at the front desk of your hotel.
We will also send you your guide's phone number about 3 days before your tour. So don't worry about pickup.
08:30-10:30
Hotel Pick Up, Drive to Longji Ancient Zhuang Village
Meet your guide in your hotel in the morning at 08:30, and takes 2 1/2 hours drive to Ancient Zhuang village in Longji.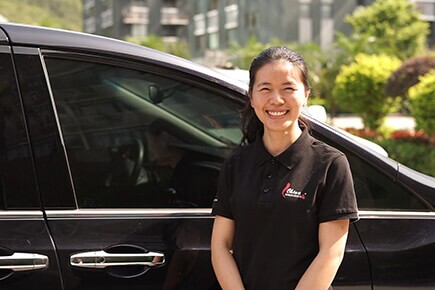 Pick up by Local Guide
Jessica making explanations on the way to Longji
10:30-12:30
Hike from Longji Ancient Zhuang Village to Ping'an Zhuang Village, 8km(5mi), 2 Hours
You will get off at the entrance of Anciant Zhuang Village, follow your guide through flagstone walkway to the village, situated at the half way on the mountainside, Zhuang village has largest scale of wooden buildings in China, the style of buildings are built with pillars supporting them and therefore keep a distance from ground, it can well keep away from humidity in the mountain area.
The villagers still live with the most traditional customs and the way of farming, you will have an opportunity to visit the hundreds years old house and have a free talk to the household, visit the Zhuang Culture Museum is a good place to acknowledge the history of Zhuang and the locals.
Follow the way up along walking path, then takes 1 1/2 hours hike to Ping'an Village, under the clear weather conditions, you will witness undulating rice terraces, and fir tree forest. This is an easy route and good staircases that suite for family with kids over 6 years old.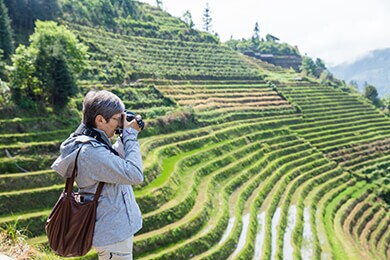 Ancient Zhuang Village hike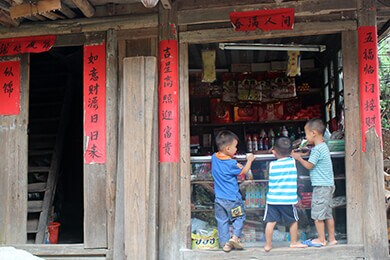 Kids loitering in a local grocery store
12:30-13:30
Lunch Time, Taste Roasted Bamboo Rice and Locally Grows
1 1/2 hours later we will reach to Ping'an Village. Going downhill to the Ping'an Village for lunch, have chance to taste roasted bamboo rice and locally organic vegetables, these are Zhuang flavor in the tribe.
Or you can choose continue to hike in Ping'an than have lunch later, it depends on your physical condition.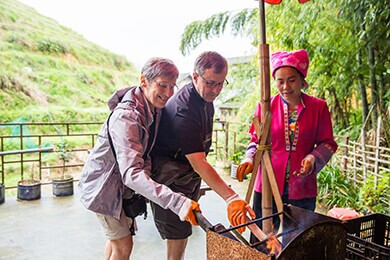 Roasted bamboo rice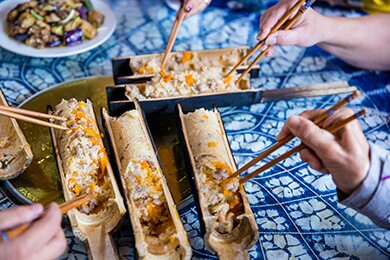 Bamboo rice, YUMMY!
13:30-15:30
Hike from Viewpiont Seven Stars with Moon to Viewpiont Nine Jargons and Five Tigers, 3km(1.9mi), 40minutes
Walk around the village, see Zhuang and Yao wearing custom dress and ladies have unique hair style, your guide will tell the interesting story of these traditions.
There are two viewpoints: Seven Stars with Moon (七星伴月) and Nine Jargons and Five Tigers(九龙五虎), but with walking distance 3km(1.9mi) between each other, but the view on top are awesome. May expect more tourists in Ping'an than Ancient Zhuang.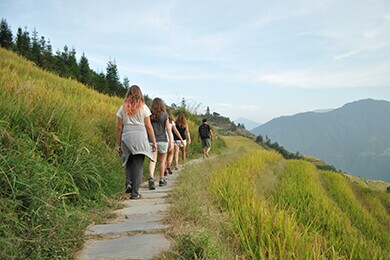 Hike along the edge of terraces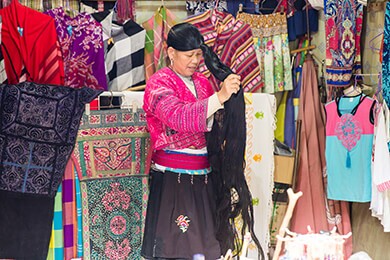 A Yao lady showing her long hair
15:30-18:00
Transfer Back to Guilin Afterward
Tips:
1. The harvest time in Longji are stunning, you can see golden rows of rice terraces, it normally comes in the middle of October.
2. This tour includes round way transfers to your Guilin hotel, additional fees apply for transfer to Guilin Airport, or to Yangshuo , just ask us if any special requirements.
Price Per Person in US Dollars
| 1 Person | 2 - 3 Person | 4 - 5 Person | 6 - 9 Person | 10 - 20 Person |
| --- | --- | --- | --- | --- |
| $ 289 | $ 176 | $ 125 | $ 105 | $ 88 |
* Price per Person in US Dollars 1 Person $ 123 The price may change during some festivals including Spring Festival, Tomb Sweeping Day, Labor Day (1st May), Mid- Autumn Day and National Day (1st-7th October).
* The price is subject to change based on exchange rate.
* An extra fee may be applied if there is a pickup or drop-off earlier than 09:00 or later than 19:00.
Price Inclusion
Private English-speaking guide service fee
Private transfer service with air-conditioned vehichle
All entrance tickets and meals listed above
Service charge and tax
China life tourist accident/casualty insurance
Luggage transfers
Price Exclusion
Airfare/train tickets/hotel/China visa
Any meals not listed above
Tips to the tour guide and driver
Personal expenses such as drinks, shopping and attractions that are not listed in the itinerary
Excess baggage charges and travel insurance
Extra fee may be applied if there is a pickup or drop-off earlier 09:00 or later than 19:00
Tour Code: GLALC-25
Tour Type: One Day Trips  (Private Tour)
from US $176 p/p
Last Minute Booking
For 48-hours last minute booking, please give us a call to check on tour availability.
+86-773-286-5632
For an authentic travel experience, contact one of our travel advisors. Our local experts are always ready to create a hassle-free tour for you.