One Day Yangshuo and Li River Highlights Tour (mini group of 6)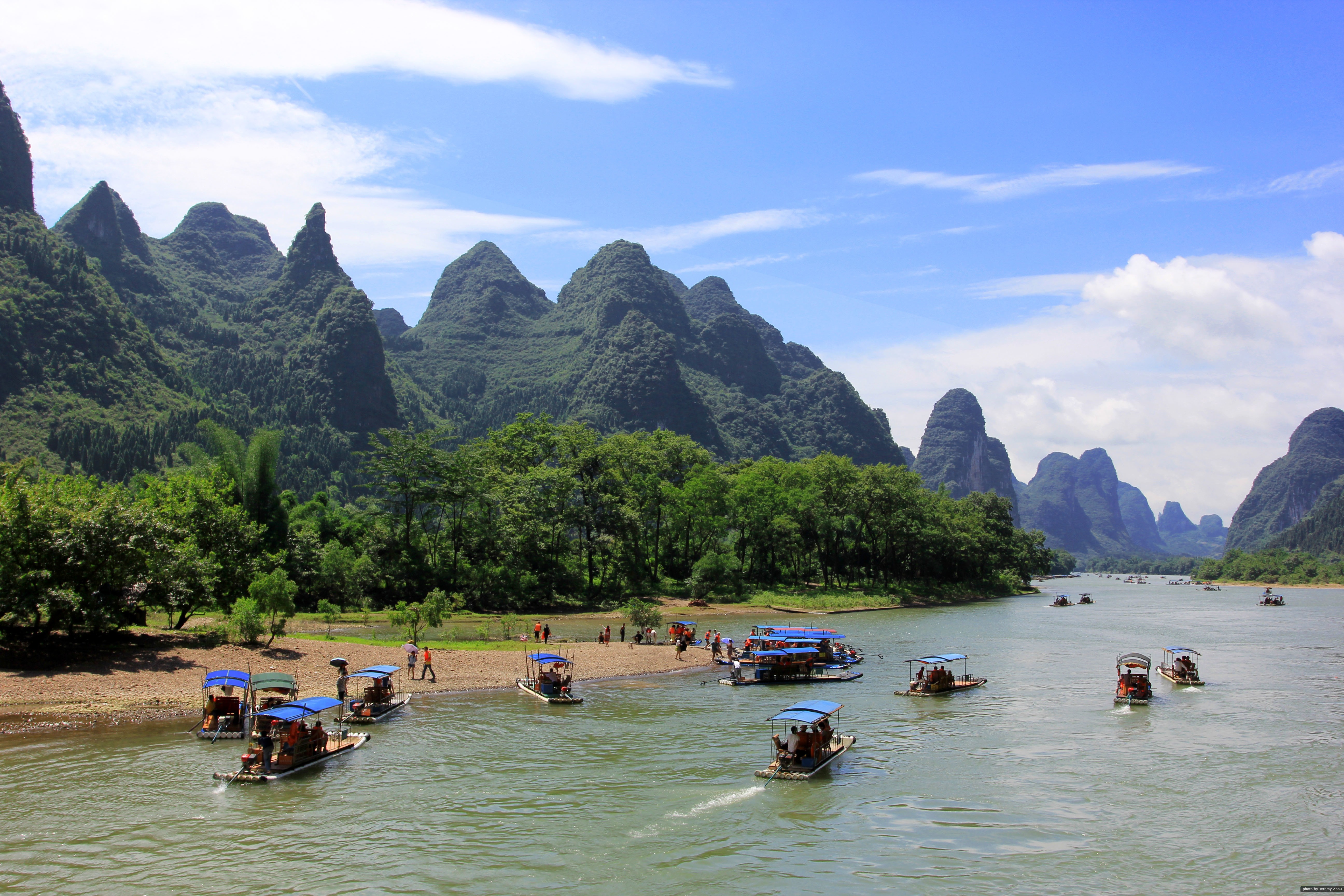 One Day Yangshuo and Li River Highlights Tour (mini group of 6)
Summary
Departure dates: every Monday, Wednesday and Friday, not available on winter time during Sep 1th and Feb 28th.
This is NO SHOPPING TOUR that ensure your enjoy most of Guilin in limited time, we don't go to the regular tourist route but putting more experience activities in the itinerary for enhancing your trip, either quite the crowded site that wasting time of waiting. That is the way we want to show you the real Guilin.
Highlights of the trip:
Enjoy real Guilin besides regular travel route
Panoramic of Li River by only 10 minutes climb
Learn traditional handicraft of painted fans in Fuli old town
Rafting by motorize- bamboo boat along the most essence part of Li River
Admire idyllic Yangshuo countryside and chance to talk to locals
Detail Itinerary
The day before the trip
Our guide will contact you before 9:30pm for ensure the exact pick up time, just make sure you leave us a valid contact number.
Any emergency or the guide do not contact you in the real time, please call us at 86-13557335293.
You tour itinerary will adjust due to the weather condition and any force majeure base on your agreement.
7:30 – 8:00: Pick up from your hotel in Guilin or in Yangshuo at appointment time and place; and may wait for collecting other group members from other hotel.
Notes:
1. The pickup time is subject to the distance of the hotel
2. The free hotel collection and drop-off areas will be within the urban areas of Guilin and Yangshuo. If the hotel you stay outside downtown, can take a taxi to the appointed hotel. So leave us the detail of your hotel is necessary.
3. The transportation we provide is air-conditioning van, space seat with seat-belt, our driver is licensed with over 5 year driving experience.
8:00 – 10:30: Transfer to Xianggong Hill and Have a Bird's-Eye View of the Hills and the Li River from the Peak of Xianggong Hill
After collected all group members, then takes 1 1/2 hours drive to Xianggong Mountain, one of the best place for photos of the breathtaking views especially the sunrise over the bend in the Li River. Follow the stone steps and takes about 10-15 minutes' walk up to the top of Xianggong Hill. You'll have opportunity to watch the Li River running round a right-angled bend as the sun rises in the background.
Notes:
The mountain have gentle stone steps lead to the mountain top, but if customer have problem of walking. We suggest skipping this.
10:30 – 12:30: Transfer to Fuli Ancient Town,Experience how to make the Chinese Painted Fan
Guilin is famous for landscape, and paint this beautiful landscape on a paper fan is a great way to take it back as great memory. This is largest industry in Fuli town near Yangshuo, and then we have great chance to learn this traditional handicraft.
You will see the demonstration of how to makes the ribs of a fan by bamboo, how to make the fan body, and how to paint it, then sit down to make your own one.
12:30 – 14:00: Lunch time in local rice noodle restaurant
Rice noodle is the flavor of Guilin, local people eat it as the daily food, and you can find out rice noodle restaurant everywhere in the street. Don't miss it when you are here. 14:00 – 15:30: transfer to Xingping dock. Take a Raft Ride on the Most Popular Part of the Li River (Xingping - Nine-Horse Painted Hill)
After lunch, you will take a 15-minute drive to Xingping Wharf where you will enjoy a private raft trip. The trip will last for 1 hour and starts from Xingping dock, then Nine Horse Painted Hill and back to original boarding dock.
You will see the scenery on the back of 20Yuan note, hold the money and shot by the same background. Between spectacular limestone peaks you'll see graceful bamboo groves and lumbering water buffaloes pulling carts or cooling off in the river.
15:30 – 17:30: Transfer to Yangshuo, enjoy a Bicycle Ride in Yangshuo's Countryside
This is the best way to explore Yangshuo, so get up close to the real Chinese farming life, while along the way is spectacular landscape, and farmers working in the fields.
17:30 – 18:00: Drive to West Street in Yangshuo, and finish the tour today.
If you stay in Guilin, your driver will take you back to Guilin (after dinner and drop you off at your hotel.
Price Inclusion and Exclusion
| 1 - 10 Person | 1 - 10 Person |
| --- | --- |
| $ 124 | $ 124 |
Tour Code: GLSIC-11
Location: Guilin
Duration: 8 Hours
Tour type: Seat-in-Coach Tours