Driver Guide: One Day Tour to Longji Rice Terraces and Mountain Village

Driver Guide: One Day Tour to Longji Rice Terraces and Mountain Village
Summary
Summary
Take time out to enjoy one day tour to Longji Rice Terraces and Mountain Village and discover several minority groups, like Yao and Zhuang. You will appreciate spectacular scenery and get familiars with Chinese minorities life styles.
Highlights
Experience Zhuang and Yao minorities life styles
Trek up the amazing Longji Terraces and Mountain Village
Friendly and knowledgeable English-speaking driver guide
Bamboo-tube rice and local food as meal
No shopping
Hotel pickup and drop off
What You Can Expect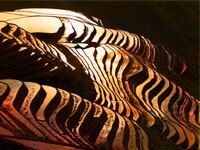 You will be picked up at the hotel lobby in Guilin at about 8: 30 am. Then we will head west towards to Longsheng Longji Rice Terraces Field. The 100 kilometers' road will takes about 2 hours' drive. There will be 10 minutes on the road for gas and break. It might be little bumpy on the mountain winding roads.
We will arrive at Huangluo Yao Village at about 11 am. You will see many half timbered houses scatter on mountain slopes as Yao people believe that house built by mountain or river will provide good fortune to the family. Long hair is the symbol of Yao female.
You will have lunch at about 12:00pm. Delicious bamboo-tube rice and other local food will be served for your lunch. Your guide will tell you the secrets of the food.
In the afternoon, you will first visit Ping'an Village to appreciate the spectacular view of the rice terrace. We will climb to the view point and our car will park at the door of the village. It will be easy for you to climb. If you won't want to climb, you will always have the opportunity to hire a sedan chair hoisted by locals. You will see a lot of Zhuang people there.
We will then arrive at
Longji Rice Terrace
which enjoys a history of over 800 years from the Yuan Dynasty. Yao people migrated to the mountainous area to away from wars and transform mountain areas into fertile fields - Longji Rice Terrace. You will be led to the
best viewing spot
to appreciate the scenery with a panoramic view.
At about 4:30 pm, we will return to your hotel in Guilin. The drive also takes about 2 hours.
Good to Know
Book the tour at least 7 days before your tour date.
Appoint pickup time: Your tour guide will contact the night before your tour date to appoint the exact pickup time with you.
Pickup point: Your guide will pick you up in your hotel lobby in Shanghai downtown area.
Best time to visit: Longji Rice Terrace is various according to seasons. From May to October are the best viewing months, especially for photographers.
A recommended night activity with extra fee: Two Rivers and Four Lakes Night Cruise (about one hour)–about USD30 (Starting time: 7:30PM, 8:40PM and 9:50PM)
Extra fee will be applied if you need to be picked up or drop off outside of Guilin down town area, like from or to airports or Yangshuo.
Price Inclusion and Exclusion
Tour Code: GLSIC-8
Location: Guilin
Duration: 7 Hours
Tour type: Seat-in-Coach Tours