Southern Song Dynasty Map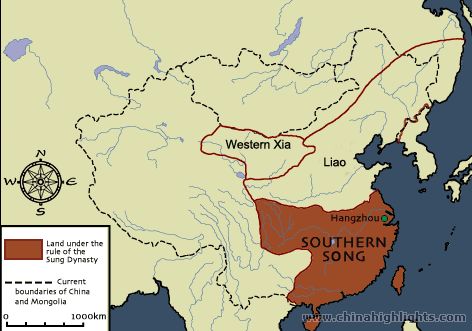 Southern Song Dynasty Map, click to enlarge the map!
Zhao Kuangyun in Song dynasty in history of ChinaIn the south in several of the Ten States the same continuity was evident and the examination system continued. When Zhao Kuangyin seized power by a coup in Chenqiaoyi in 960 he was able to consolidate and extend his control in a restrained and methodical manner.
» Get detailed information about China History
» See more Ancient China Maps
Note: These maps are provided by China Highlights, the tour service provider of Chinatravel.com. If you want to share some maps, please contact us at info@chinatravel.com, or just upload your maps from here. Thank you!
You can also find more China maps from here.
Large and clear China city maps on different themes, such as attractions, transportations, city areas, locations and subways.
China location maps list by different dynasty in China history.
Large and clear maps by the following themes: