Ancient Silk Road Map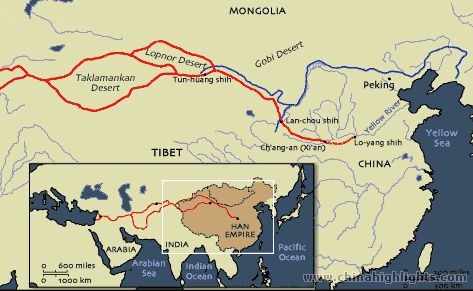 Ancient Silk Road Map, click to enlarge the map!
"The Silk Road" is a special term which describes the trade route between the Central Asia and China. In ancient times, Chinese people transported silk, tea and other products to exchange for horses with small kingdoms in west of China. The famous explorer Marco Polo opened this trade route to the Middle East, Western Europe and North Africa. Over time the Silk Road became one of the most important trade route linking China and Europe. The route is no longer used for international trade but much history and many stories of the happenings on the Silk Road remain.
» Get detailed information about China History
» See more Ancient China Maps
Note: These maps are provided by China Highlights, the tour service provider of Chinatravel.com. If you want to share some maps, please contact us at info@chinatravel.com, or just upload your maps from here. Thank you!
You can also find more China maps from here.
Large and clear China city maps on different themes, such as attractions, transportations, city areas, locations and subways.
China location maps list by different dynasty in China history.
Large and clear maps by the following themes: