Is it difficult to access Beijing?
Beijing is China's most important transportation hub, which is not a surprise since it is the capital city. That is to say, all roads in China lead to Beijing. Options are modern and well organized, though some may be more difficult for non-Chinese speakers or those who are unfamiliar with the city's layout. Whether you travel by private car, hail a taxi, or journey by bus or subway, transiting alongside local residents will give you a fuller understanding of life in China's capital. The downside of Beijing's accessibility is that transport is often between crowded and very crowded, especially so during rush hours, and traffic jams can be relentless.
I don't speak Chinese. Will I have trouble getting around Beijing?
As a general rule, it is very useful to have your destination's address and any driving directions in Chinese writing as many taxi drivers and residents speak only basic English or not at all. As well, because the Chinese language is very sensitive to different tones, attempting to pronounce your destination may be additionally inefficient. The Beijing subway system is well marked in English and easy for foreign travelers to use.
What should I know about Beijing Capital International Airport?
The Beijing Capital International Airport is used for both domestic and international journeys and will be the main hub for your travels in and out of the capital. It is conveniently located about 26 kilometers (16 miles) from the central areas of the city. In total, there are 3 large terminals (with Terminal 3 being with shuttle buses and "travelators" to help you get around faster. Despite the size, we recommend per international standards arriving 30 minutes before a domestic flight and 1 hour in advance of international flights.
What kind of traveler resources are available at the Beijing airport?
The airport is very well equipped with basic traveler resources. WiFi zones with charging stations and outlets, ATMs, money changers, public computers, and restaurants offering both local and international flavors.
How do I get between Beijing city and Beijing Capital International Airport?
You can take a hotel shuttle bus, taxi, Airport Express train, or airport shuttle bus. Many hotels have their own airport shuttle services so it may be best to arrange this service ahead of time.
How do I get to/from Beijing airport by taxi?
The most comfortable and convenient public way to transfer into the city is via taxi, especially during nighttime during the hours when public transportation stops running. All taxis should be metered so you just pay the indicated fare upon arrival at your destination. It is very helpful to have the Chinese address of your hotel or destination so your driver may best help you.
How does the Airport Express train work?
Another way to reach Beijing city is to take the Airport Express train which arrives to Sanyuanqiao Station and Dongzhimen Station where you can connect with the metropolitan subway to your specific destination. Your luggage will be checked for safety before embarking. The last Airport Express departs the airport around 11pm daily, and the subways stop running around that time as well. It is not recommended to arrive to a subway station once the subways stop since safe and legitimate taxis may be difficult to find at that time. Line 3 best connects to the Dongcheng district and line 4 is ideal for the Xicheng area, both central zones for tourism purposes.
What is the most affordable way to get to/from the airport?
An airport shuttle bus leaves every 10-30 minutes (depending on the time of the day) and takes you to connect with a large number of extensive city bus lines. There are 6 airport shuttle bus lines; line 3 is best to access the city center, and line 4 takes you to the Beijing Olympic Village, for example.
Where can I take a train to or from Beijing?
China's capital city has many train stations depending on the external destination. For example, Beijing Railway Station is the city's historic oldest and connects you with destination such as Chengde, Dalian, Guangzhou, Hangzhou, Harbin, Hefei, Jilin, Nanjing, Shanghai, Suzhou, Tianjin, and more (such as Mongolia and even Russia!). Meanwhile, Beijing North, South, East, and West Railway Stations serve other destinations such as Hong Kong, Xian, Shenzhen, and more. All the stations offer extensive traveler resources such as connectivity and restaurants.
How can I take a bus to or from Beijing?
Buses are the most extensive travel network in Beijing and China. There are more than 20 bus stations in the capital city, though the top 6 are Lianhuachi, Xizhimen, Sihui, Deshengmen, Dongzhimen, and Zhaogongkou Long Distance Bus Stations. Xizhimen Long Distance Bus station is one of the busiest and serves destinations to the north and west. Buses are modern and well equipped and are generally quite comfortable.
Which bus station should I use?
Choose the bus station in the direction of your destination.
Are there different bus services?
There are regular, and there are express bus services which take advantage of expressway routes.
For longer trips, are there any sleeper buses?
Some buses with sleepers and bunks are also available for a more indulgent trip for longer journeys, though they may be slower and take more time to reach your destination than more basic vehicles. Sleeper buses are an interesting transportation option that gives you a sense of how less wealthy Chinese travel.
What should I know about traveling by taxi in Beijing?
Taxis are the most efficient and comfortable way of getting around the huge city of Beijing. It is common for drivers to refuse a passenger if they prefer not to be in expected poor traffic along the way, or if they are not headed in that direction or serve that area. The vehicles are metered so you can see your exact fare at any time. When you reach your destination, be sure to ask for a receipt for a record of your ride in case you leave anything in the car or just in case for reference.
How do I know if a taxi is official or unofficial?
Official taxis have a "B" before their license plate number. Even though they may be cheaper, unofficial taxis are not recommended for safety and legal reasons.
What if my taxi driver charges me more than usual?
Prices may surge during poor traffic or weather conditions, sometimes up to five times as much as typical. Despite this, it may still often be a good idea to accept the ride.
How does the Beijing subway system & network operate?
The Beijing subway system is a fantastic way of getting around quickly and economically, and services are well marked in English. There are currently about 20 routes and more planned into the future. There are lines that connect you with most of the city's main attractions and highlights such as the Forbidden City, Tiananmen Square, Beihai Park, Beijing Zoo, Olympic Park, various universities, and more. They are also an efficient way of reaching other transport hubs such as bus and train stations. Both single tickets and multiple-ride tickets are available for purchase at stations. Avoid traveling by subway during rush hours since the cars become incredibly crowded.
Can I get around Beijing by bus?
If you do not speak Chinese or understand the city layout well, it is not recommended to take a public bus. However, the bus system is very extensive and reaches specific destinations.
What is the best transportation option if I want to sight-see daily life?
If you feel adventurous, a bus journey is a great way to see areas of Beijing outside of the tourist sectors and glimpse into daily residential life!
Is it recommended to walk around Beijing?
In a city as urban as Beijing, it is most efficient to walk and see the sights! Some great walks include the Great Wall, or wandering through a hutong, a unique neighborhood style known to the capital. However, Beijing's city traffic can be very aggressive so pedestrians should be very careful and aware (as should drivers!).
Where can I bicycle in Beijing?
Although heavy vehicular traffic in many areas make it unappealing or dangerous for bikers, there are also many green areas and bike routes for enthusiasts. Biking is a cheap way of getting around, and since June 2012, the city has offered a public bicycle rental service. Thousands of bicycles are available for rent.
What is the most traditional way of getting around Beijing?
Rickshaws have been used throughout China's history and today, these services are available mostly for touristic means. For example, you can take a human-powered rickshaw into a typical Beijing hutong residential neighborhood to see residents in a completely different way!
23.What souvenirs can we buy in Beijing?
Dough figurines, Jingtailan(cloisonné), lacquer work ware, colour glazed ware and palace lattern are very popular among visitors.
24. What is Jingtailan(cloisonné)?
Cloisonné is an ancient technique for decorating metalwork objects.  The decoration is formed by first adding compartments to the metal object by soldering or adhering silver or gold wires or thin strips placed on their edges. These remain visible in the finished piece, separating the different compartments of the enamel or inlays, which are often of several colors. Cloisonné enamel objects are worked on with enamel powder made into a paste, which then needs to be fired in a kiln.
Foreign influence contributed to the development of cloisonné during the early fourteenth to fifteenth century in China.  It has been popular since the Jintai years of the Ming Dynasty (1368–1644).  At that time a new blue pigment was discovered and it was used extensively in cloisonné.  In Chinese "lan" is the word for blue, thus cloisonné came to be known as "Jingtailan."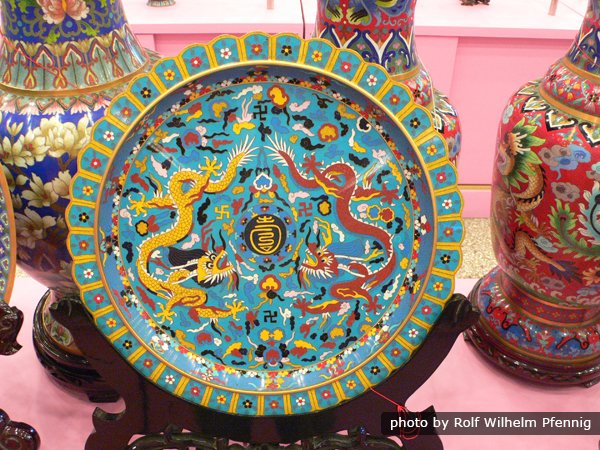 25. What are dough figurines?
Dough shaping is a traditional Chinese folk art that requires simple equipment but demands high artistic skills. Traditional dough figurines are made of with purified wheat flour, glutinous rice power mixed with bee-honey and glycerin. The artists use their skillful fingers to cut, pinch, rub, and twist the soft dough and in a few minutes, a human figure or an animal will be created. The various colors of the dough are from mineral pigments and do not change with time, nor does the shape of the dough.
26. What is lacquer ware?
Lacquer ware is one of the earliest industrial arts of China (Shang Dynasty 1600 -1046 BC). It is a decorative work made of wood and covered with lacquer and is sometimes inlaid or carved.  Lacquer ware in Beijing falls into two groups.  One group combines the intricate skills of carving designs and images after the piece is coated with scores or even hundreds of layers of lacquer.  The second group is gold filigree lacquer ware made of gold and silver often inlaid with ivory, previous metals and jewels.
27. What is colour glazed ware?
Chinese ceramic ware (colour glazed ware) is one of the most significant forms of Chinese art.  A layer or coating of a vitreous substance is fused to a ceramic object through firing. The glaze can serve to colour, decorate, strengthen or waterproof an item.
28.  What are palace lanterns?
In ancient times these elegant lanterns were used in palaces only.  They are now used in public and private buildings as well as in homes. The lanterns are ornate and very decorative.  The frame is usually made of rosewood, sandalwood or pear wood.  Many lanterns are fashioned with colorful glass and silk panels.  During the Lantern Festival that marks the end of the Spring Festival, you will see a large variety of lanterns decorating the streets of Beijing.
29.What local specialties can we buy in Beijing?
In Beijing, you can easily find local products in supermarkets.  Candied fruits and Candied haws (Bingtang Hulu) are very popular among visitors.  Candied fruits (Guopu) are made of with fresh fruits. They have a sweet and sour flavour.  Tuckahoe pie (Fulingping) was a royal dessert in the Qing Dynasty. The paper-thin skin of Tuckahoe Pie is made of starch and the stuffing is a mixture of honey, white sugar, Tuckahoe powder and kernels of all kinds. Beijing Crisp Candy (Beijing Su Tang) is made of high quality sugar and sesame paste. It tastes crisp, fragrant and sweet. Lv Da Gun is one of the oldest snacks in Beijing. Lv Da Gun is a little piece of dough with sweet bean paste inside and soybean powder on the surface.  It is yellow with a dense soybean flavour. Candied haw (Bingtang Hulu) is several haws covered with a thin layer of sugar threaded on a stick.  It tastes sweet and sour.
30. Where can we buy local Beijing products?
You can buy local Beijing products on Wangfujing Street and Liulichang Antiques Street.
Wangfujing Street is a street where you can buy almost everything you want or you can just go window shopping which can also be a pleasant experience. Small shops on the side streets afford you the chance to bargain.  On the street, there are many restaurants, department stores and souvenir shops.
Address: Dongcheng District, Beijing 100006, China
Liulichang Antiques Street, a renowned cultural street in Beijing, enjoys a history of over 780 years. Many shops sell antiques, calligraphy and paintings.  It is 500 metres south of Hepingmen Subway Station.
Address: Liulichang Street, Xicheng District, Beijing 100051, China
31. When is the best time to visit Beijing?
The best times are April, May, September and October when the climate is pleasant and the scenery is at its best. During these months, there is always a large number of visitors in Beijing, especially on the Labour Day holiday (from May 1 to May 3) and the National holiday (from October 1 to October 7). Although it is cold during the winter months, the snow scenery in Beijing is amazing and you may also want to visit ski resorts.
Note: Avoid travelling during peak times when flight and train tickets are difficult to buy and popular scenery spots are crowded: Labour Day Holiday (from May 1 to May 3) the National holiday October 1 to October 7), and the Spring Festival holiday (from the 1st day to the 7th day of the 1st Chinese month). 
32.What should I pack when I visit Beijing in the spring?
Spring in Beijing has large temperature differences between day and night and it can be very dry.  Light jackets, T-shirts and jeans are appropriate. It is also windy in the spring and it would be advisable for visitors to bring hats and glasses.
33. What should I pack when I visit Beijing in the summer?
Summer days in Beijing are very hot and it rains frequently. Short-sleeved T-shirts and shorts are recommended.  To avoid the strong sun, it is advisable for visitors to bring sunglasses, sun screen and perhaps a parasol.
34. What should I pack when I visit Beijing in the autumn?
The climate of Beijing in autumn is the most pleasant time of the entire year, In November, the maple leaves of the Fragrance Hill all turn brilliant red, presenting a red hill, which is the most charming autumn scenery in Beijing. Visitors may want to bring long-sleeved coats, light knitted sweaters and insulated coats.
35.  What should I pack when I visit Beijing in the winter?
As it may snow, warm clothing such as down jackets, insulated jackets, thermal underwear, insulated shoes, anti-skid shoes and gloves are recommended.