Civil Aviation
In China, can we fly to Datong, Shanxi?
Datong Airport is located in the north of Beijiazao Town, Datong County, about 15 kilometers away from the center of Datong City. This airport was constructed in 2004 and now is at the stage of flight-testing. It plans to open six flight courses to such cities as Shanghai, Guangzhou, Chengdu, and Shenyang, and regular air navigation can be expected soon.
Since Datong Airport hasn't been officially open, you need to go by plane at Huairen Airport in Shuozhou City or Wusu Airport in Taiyuan City. Huairen Airport opens scheduled Flights to such cities as Beijing, Shanghai and Taiyuan. By the way, the long-distance bus to Huairen can be taken in Datong Xinnan Passenger Station and needs about 50 minutes' drive, and to Taiyuan needs three hours' drive.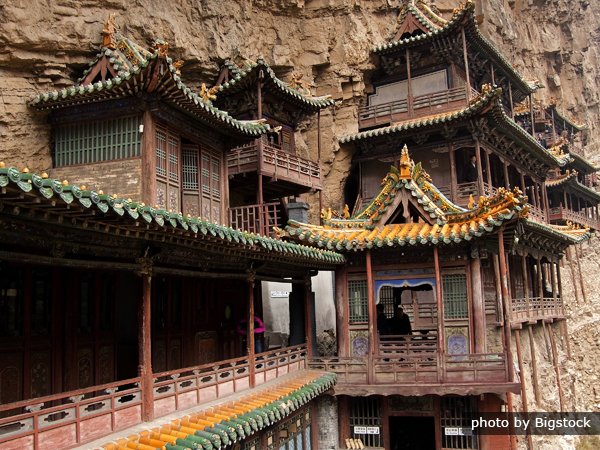 Railway Transport
Can we take a train to Datong?
The domestic railways such as Beijing-Baotou, Datong-Fenglingdu, Datong-Qinhuangdao lines as well as the international railways to Erlianhaote and Moscow all join in Datong, which makes its railway transportation quite convenient.
Datong Railway Station, located on the North Xinjian Road, can be easily reached by No. 2, 4, 8, 14, 16, and 21 buses. Everyday there are many trains leaving for other domestic cities such as Taiyuan, Beijing, Hangzhou, Baotou and Shenyang.
How to go to the urban area of Datong City?
From Huairen to Datong:
Visitors can take the bus 40 from the railway station to Datong or take a taxi. It is 15km's long to the Datong City.
From Wusu to Datong:
The airport coach 201 is available to the bus station. It is about 45mins.
From Datong Railway Station:
Bus: Passengers can take Bus No.1, No.2, No. 4, No. 8, or No. 32 from the railway station to Datong City.
Taxi: Initial fare is 5 or 6 RMB, and then 1.2 RMB per kilometer.
What are the local specialties in Datong?
Eggshell Carving, Datong Coal Carving, Guangling Paper Cut, Artistic Porcelain, Yungang Silk Doll, Corn Husk Plaited Articles.
What is Eggshell Carving?
Eggshell Carving is one of an increasingly flourish folk handicraft in recent years. All designs are carved on real eggshells. All shells should be cleaned and sterilized. After carving is complete, a protective coating is applied.
What is Datong Coal Carving?
Coal carving originates in Datong city, Shanxi province. The raw material of coal carving is coal gangue. Coal carving as a new art first appeared in 1998. The themes involved in the coal carvings focus on Datong's culture taking the Big Buddha Statue, Bodhisattva, Hanging Temple, Yingxian Wooden Tower as its main expressions. 
What is Guangling Paper Cut?
Guangling Paper-Cut is famous for its rich content, exquisite craftsmanship, bright color, distinctive flavor of life and local style.
What is Artistic Porcelain?
They mainly produce some pottery kitchen utensil like cups, dish wares, bowls, tea pots. Their products are renowned for being fashion, original, beautiful and with high quality. They are the best choices as gifts.
What is Yungang Silk Doll?
Yungang Silk Doll is remarkably similar in shape and spirit to human being. In Ming and Qing daynasties, Yungang people had kept a habit to buy silk or clay dolls for good luck. The silk dolls in Yungang are commonly made of ghatpot, silk, brocade, muslin and so on. With these materials, these silk dolls are very gorgeous.
What is Corn Husk Plaited Articles
Corn husk plaited articles, as it name suggests, are made of corn husks. The Datong people are so cleaver that they make the corn husks into various useful and beautiful products like tea-cup cushions, automobile cushion, mats and so on. Because of corn husk plaited articles are of good elasticity and air permeability, they are very popular.
Where to buy the local specialties?
Daxi Street
With a very long history, Daxi Street is one of the busiest streets in Datong city. All kinds of stores stand along the road sides. With very high- tech facilities, these big shopping malls not only provide people the best goods but also the best services. In the middle of the street, two Shanhua Monasteries are located there. You could tour these two Shanhua Monasteries incidentally while shopping. Totally, it is a good place for people to go shopping, relax and enjoy the delicious foods.
Visitors can take the bus 4 from the railway station to the Daxi Street. It is just two stops.
Sipailou Street
Situated in the downtown of Datong city, Sipailou Street is one of the popular and relatively well-known streets. Many malls, shops and wholesale centers line along the street. You can buy not only the high-price and high-quality goods but also the low-cost products there. Sipalou Street offer many local products including carpets, porcelain, woolen clothing, furs, and many leather goods, attractive silk dolls and artistically designed copper hotpots. Clothings at every price can also be bought here. You shouldn't miss the restaurants along the street. They provide guests all kinds of delicious special foods. Tasting Datong's famous hand-cut noodles or pea noodles will be very enjoyable.
Visitors can take the bus 4, 23, 27, 38 to Sipailou Street.
When is the best time to go to Datong?
Datong City enjoys a continental monsoon climate. Winters are long, cold and dry and summers short, hot and rainy, and the spring and autumn cool with great difference in temperature. The annual average temperature is 5.5°C, while the annual rainfall averages 400 millimeters.
Tips for tourists:
1) The temperature in Datong normally changes sharply between day and night; therefore, it is highly advisable that a thick overcoat should be taken to keep out the cold, even in summer.
2) The best time to visit Datong is spring and summer.