From Shanghai
Transportation
Air Transport
How to get Huangshan from Shanghai?
There are planes from Hongqiao Shanghai Airport flying to Tunxi airport in Huangshan City. Visitors can take a flight to Tunxi from Shanghai.
How to get to Hongqiao Shanghai Airport?
The Hongqiao airport in Shanghai is located 15 kilometers from the city. It is the best airport for flights to take off and landing in Shanghai. It is one of the biggest airports in China with a field of 82 square kilometers.
There are several ways to get to Honqiao. One way is to take a taxi from the People's Square. Also, bus service in Shanghai is covering the whole city, visitors can take the bus 941, 806, 807, 938 and they all pass though the airport. And if you don't know which stop to get off the bus, you can take the bus 941 headed to the terminal. The Airport Bus is also a good choice. Line 1, 941, 316, 320, Shuniu Line 4 and 9 for terminal is head to the airport as well. The metro line2 and 10 can also take you to the destination. It will cost one hour to get to Tunxi airport.
Railway Transport
How to get to Shanghai Railway Station?
There are three railway stations in Shanghai. They are Shanghai South Railway Station, Shanghai Hongqiao Railway Station and Shanghai West Railway Station. Visitors can take bus 144, 236, 763, 180, 301, 867, 937, 315, 729, 180, 747, 803, 303, 164, 341 and 729; subway line 1 and 3 to Shanghai South Railway Station, bus 1, 5, 6, 7, 8, 9, 10, 23, 173, 320, 4, 316 and 941; subway line 2 and 10 to Shanghai Hongqiao Railway Station and bus 1, 106, 129, 319, 742, 768, 944; subway line 11 to Shanghai West Railway Station.
What services shall we enjoy in Shanghai Railway Station?
1. Passengers can buy the train tickets 20 days in advance during the pre-sale period for high-speed EMU train tickets. Passengers can buy the tickets at the EMU ticket office, at ticket windows and other special ticket offices and at ticket outlets.
2. Passengers cannot buy the ticket 10 minutes before the departure of EMU trains.
3. If passengers want to change the ticket temporary, the refunds of tickets are required before the departure of the train. However, passengers who want to change the ticket will be required to pay a 20% refund fee. Except for passengers with sudden injury and illness, tickets will not be refunded after the departure of the train.
Special Services
There is ticketing purchasing service for those aged 80 and over (with relevant documents), pregnants, mothers with babies, and disabled people.
From Hangzhou
Transportation
Railway Transportation
How to get to Huangshan from Hangzhou?
There is no order of railway transport from Hangzhou to Huangshan. Visitors can take high-speed railway to Shanghai or Nanjing and transfer to the local high-speed railway. It will take about two hour to reach Shanghai and half and eleven hours from Shanghai to Huangshan. And from Hangzhou to Nanjing is around six hours then to Huangshan it is another six hours.
How to get to Hangzhou Railway Station in Hangzhou City?
Visitors can reach the newly-built Hangzhou Railway Station located in the vicinity of Jiangcheng Road by city buses numbered K7, 11, K11 and 151.
From Nanjing
Transportation
How to get to Huangshan from Nanjing?
There is also no flight from Nanjing to Huangshan, but visitors can take a train.
How to get to Nanjing Railway Station?
Visitors can take No. 1, 13, 17, 32, 33, 36, 50, 59, 64,Tourist 1, 801, 811, and 813 to get there.
In Huangshan City
How to get to the urban area from Tunxi airport?
Visitors can cost 5 Yuan to take a public bus or can take an airport coach spending 15 Yuan from the airport to the urban area. The airport tickets are selling in the offices in the urban area. It is located in the Huashan Road of Tunxi District.
In Yellow Mountain Scenic Spot
How to get to Yellow Mountain from Tunxi?
Located in the Qianyuan north road, Tunxi District, the Huangshan Railway Station provide trains head to the foot of Yellow Mountain (Tangkou). There will be a train setting off Eevery five minutes. It spends one and half an hour. The fare of a ticket is over ten Yuan. Visitors choose to go to Yellow Mountain will cost 10 Yuan and spend one and half an hour on the fantasy journey.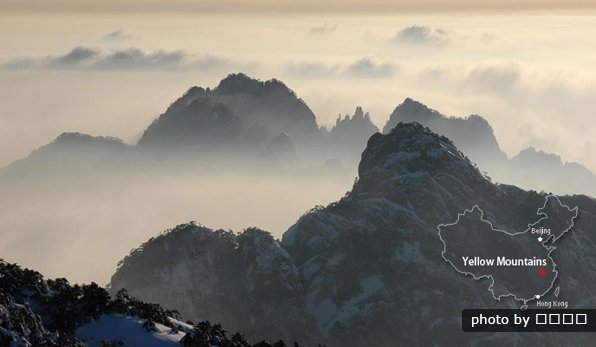 What local specialties can be bought in Yellow Mountain Scenic Spot?
Huangshan Maofeng Tea
The kind of tea is like the jewelry varying different classes. To some people who are not familiar to the tea development and tea market, they maybe think the quality of every sort of tea is the same as each other. Maofeng (Furry Peak) is one of the famous teas planted in local area and also in the other area in China. But the planting condition and the quality of the tea leaves is not equal to another. Planting on the high altitude on the Yellow Mountain into the cloud, Maofeng Tea also called Huangshan Cloud Tea and is known as Yellow Mountain Furry Peak tea. The Maofeng tea is the third-best green tea in China.
Qimen Black Tea
Being different to the Maofeng tea, Qimen black tea is not green tea but black. While pouring the boiling water, the water will be dyed to red by the tea leaves. In China, black tea is very treasure among traditional teas. The Qimen black tea leaf is slim and the tea is very red. Visitors go to Yellow Mountain to have a taste of the Qimen black tea will find the fragrance of the tea can last a long time. The smell of the tea is like the aroma of the orchid. Whether it is only brewed with boiled water or added some milk and sugar, taster will find the fragrance remain in their mouths for a long time. Because of the special taste, it is not only one of China's ten famous teas, but also one of world's three famous Gaoshan teas. 
When is the best time to visit Yellow Mountain?
Because of the obvious diversity of the four seasons in Yellow Mountain scenic spot, visitors will appreciate different scenery and breathtaking landscaping of Yellow Mountain in four seasons. From March to November, it will be the peak season of the tourism. It is suggest that visitors should avoid the rush season. July and August rank as the best periods for visiting Huangshan because of the gentle temperature. In winter, visitors can appreciate the charming snow landscape of Yellow Mountain.
What should I take to Yellow Mountain?
The Heavenly Capital Peak, the Lotus Flower Peak and the Brightness Peak are the three major peaks of Yellow Mountain. The main three peaks of Yellow Mountain all reach a height of more than 1,800 meters above sea level. It will be colder on the high position than the bottom of the mountain. Visitors should prepare some clothes to keep warm.
In Hongcun Scenic Spot
How to get to Hongcun from Tunxi?
There is no bus to Hongcun from Tunxi airport or railway station. Visitors can take a taxi to the bus station and take the coach to Hongcun. If visitors just finish visiting Yellow Mountain, there are regular coaches in the Yellow Mountain Scenic Area Coach Station near the south gate of the spot. And coaches from Tangkou(汤口) to Hongcun Village are still available.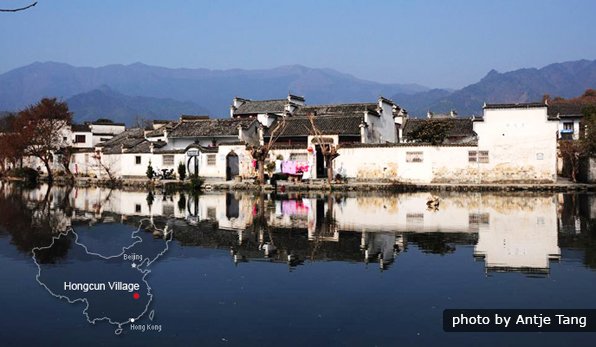 What local specialties can be bought in Hongcun Scenic Spot?
Cloth Shoes
The cloth shoes in Hongcun Village are all hand-made. The color of the female shoes is embroidered or colorful tie-dye. It has features of fragrance of primitive simplicity and a comfortable feeling of wear. It is a good choice to climb Yellow Mountain on this kind of beautiful shoes. They are about 60 to 70 Yuan per pair and visitors can negotiate the price down to 40 Yuan/pair.
Oilpaper umbrella
In the rainy day, holding an oilpaper umbrella or have a rest and a taste of the Hui Cuisine and local tea is a great enjoyment. Oil umbrella is also can be bought to give friends as a gift or used to be a decoration of your house.
Embroidery
Embroidery is a traditional folk handicraft in Anhui. With the elegant design and elaborate skill, it is both practical and beautiful. Visitors can see the embroidery embroided on the handicraft, clothes, hat, bedding and so on.
When is the best time to visit Hongcun?
In November, the village turns into a colorful world consisting of red, yellow, green leaves. Colorful leaves make Hongcun Village popular in autumn. Less crowded than Fragrance Hill in Beijing, it also is a marvelous place to see autumn scenery. Hongcun Village is easy to reach when travelers want to visit the Yellow Mountain.
It is a great village which should not to miss on the way to the Yellow Mountain. Travelers can also visit Xidi Village which is similar village compared with Hongcun Village.
In Xidi Scenic Spot
How to get to Xidi from Tunxi?
People set off from Tunxi to Xidi, and they can get off buses before getting to county city of Yixian. There are index plates to Xidi. People can take minibuses or tricycles. People also can head for Xidi from Huangshan. There are buses at half past seven or thirteen o'clock. It takes about one and a half hours to get to Xidi.
What local specialties can be bought in Xidi Scenic Spot?
 There are three Treasures in Xidi. Leaf of Broadleaf Holly Tea is one of the Three Treasures in Xidi. The tea is planted in the remote mountains and forests and containing many beneficial elements human beings need. Torreya grandis Fort (香榧) is another treasure. In ancient China, Torreya grandis Fort is used as a tribute to the royal family. The last treasure in Xidi is Arrow root (葛粉) which has a function of hairdressing, lower the blood pressure and blood fat.
When is the best time to visit Xidi?
Xidi Village features north subtropical humid monsoon climate: long winter and summer and short spring and autumn. The climate there is mild and humid—abundant rainfall and fresh air. It is not severe cold in winter and not hot and heat in summer with the average temperature of 3.7℃ in its coldest month and the average temperature of bellow 27.1℃ in the hottest month. Therefore, best time to visit the Xidi Village is autumn, especially in November.
In Tachuan Scenic Spot
How to get to Tachuan from Tunxi?
There is no bus to Tachuan from Tunxi airport or railway station. Visitors can take a taxi to the bus station and take the coach to Tachuan. Visitors also can start from the Hongcun Village and walk along the Hongsi highway with less than 2 kilometers, you will reach the Tachuan Village.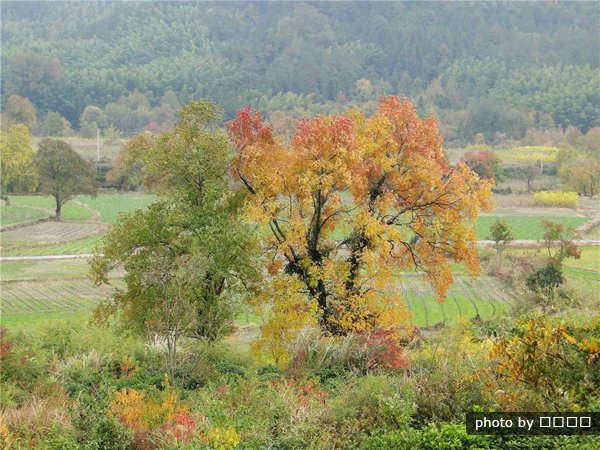 What local specialties can be bought inTachuan Scenic Spot?
Laba Tofu (腊八豆腐) is always made in the eighth day of the twelfth month of the traditional Chinese calendar (so-called Laba). Every Spring Festival, household in every family at Tachuan Village would dry the tofu under the sun, which is called "Laba Tofu".
The Laba tofu is made from quality soybean. The local people cut the tofu into different shapes like round or square pieces and wiped them with salt water. A hole is scooped in the middle but not through the tofu, and salt is put into the hole. Then it is basked in the sun till the water dry up and the salt is absorbed into the tofu. Laba Tofu tastes soft, salty and fragrant.
When is the best time to visit Tachuan?
The best time to visit Tachuan is autumn (from October to November) when the mountains and the ground under the foot are pervaded by colorful leaves. As a large number of towering trees abound in this area, the red leaves of the trees are the most charming autumn scenery in Tachuan when autumn comes. It is a good time to take photos of the colorful leaves.