What cities in China have flights to Lhasa?
Flights to Lhasa are available from Chengdu, Beijing, Xian, Chongqing, Shanghai, Guangzhou, Hangzhou, Shenzhen, Nanjing, Nanning, Mianyang, Changsha, Fuzhou, Tianjin, Xiamen, Yinchuan, Kunming, Lijiang, Zhengzhou, Lanzhou, Diqing, Geermu, Yinchuan and Xining.
The Lhasa Gonggar Airport is situated approximately 65km from Lhasa.
Note:  A Tibet Entry Permit (TTB) is required for all visitors entering Tibet.  Group tours are encouraged and permits are issued free of charge by the Tibet Tourism Bureau.  You need the original TTB permit when checking in for your flight.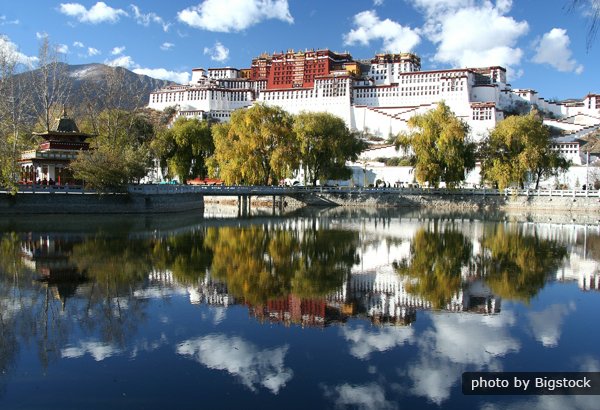 How to go to Lhasa from Lhasa Gonggar Airport?
1.  For every flight to Lhasa, there are airport shuttle buses available to transfer passengers to the city.  The price of the ticket is approximately 25 yuan and the travel time is 70 minutes.   The shuttle bus will leave when there are no other passengers going to Lhasa.
2.  Taxis are also available and the cost will range from 150 to 200 yuan based on the number of passengers and the size of the taxi.  The travel time is 45 minutes and visitors should ensure that there is a supervision card visibly located on the window of the taxi.
How to go to Lhasa Gonggar Airport from Lhasa?
1. When departing Lhasa, visitors can take the airport buses to the airport. The Civil Aviation Ticket Office is on Niangre Road, on the east side of the Potala Palace.  Airport buses will leave approximately 2 hours before the flight departure time.  Even if the shuttle bus is not full, it will leave on time. However it is recommended that passengers arrive 2-1/2 hours in advance as buses will leave as soon as they are full.  Travel time to the airport is about 70 minutes and the ticket price is about 25 yuan per person.
Timetable of Regular Bus for Passengers
Flight Departure

08:30 - 08:55
09:30 – 10:20
10:30 – 10:50
11:00 – 11:50
12:00 – 12:50
13:00 – 13:50
14:00 – 14:50
15:00 – 15:30
15:40 – 16:30
17:00 – 17:50
19:00 – 19:50
20:30 – 20:50
22:00 - 22:50

Bus Departure

06:30
07:40
08:00 – 08:30
09:00
10:00
11:00
12:00
13:00
13:30
14:00 – 14:30
17:00
17:30
19:30
2.    It is advisable to go to the Lhasa Gonggar Airport by airport bus.  However, if you choose to travel by taxi, do not go in the morning for safety reasons because some taxi drivers stay up all night waiting for a fare.  The travel time is 45 minutes at a cost of 150 to 200 yuan depending on the number of passengers and the size of the taxi.
Can we go to Lhasa by train?
Yes, there are 7 railway lines from Beijing, Shanghai, Guangzhou, Chengdu, Chongqing, Lanzhou, Xining to Lhasa.
How to go to Lhasa from the Lhasa Train Station?
The Lhasa Train Station is about 10 km from the downtown area. There are three bus lines to the city: Bus No. 86, 89 and 91. Bus No. 89 is routed via the Potala Palace.
Is it easy to take a taxi in Lhasa?
It is not difficult to hail a taxi on the city streets.  The fare is 10 yuan to travel  anywhere within the city. For longer journeys, visitors need to negotiate a fare with the driver beforehand.
What should I do if I have altitude problems?
Visitors who fly to Lhasa could have altitude problems after a stay of 12 to 14 hours. Visitors may feel dizzy, nauseous or headachy.  It is recommended that visitors sleep for a while and drink water. Do not run and walk slower than usual. Also visitors should not arrange a tour on their first day in Lhasa.  Should you have a fever and your heart is beating faster than normal, you should try to relax. If you still do not feel well, please see a doctor.
What are local Lhasa products?
Tibetan carpets, Tibetan medicine, Tibetan silver ornaments, gold And silver ware, Tibetan silver ornaments, Tibetan handicrafts, Tibetan necklaces, etc.  More details can be found at  http://www.chinatravel.com/lhasa-travel/shopping/
What is a Tibetan carpet?
Tibetan carpets are woven with exquisite designs, soft to the touch, and dyed with high quality fade resistant dyes resulting in bright and harmonious colours.
What is Tibetan medicine?
Many Tibetan medicines are purported to have good effect on disorders such as cardiovascular disease and certain tumors.   Some of the rare Tibetan medicines are "Pearl seventy", "momozhiqi" "zhifanshiwu", "alpine snow lotus herb", "rhodiola root", and "musk."
What are Tibetan silver ornaments?
Tibetan bracelets are usually made of Tibetan silver and copper with Sanskrit inscriptions.  Agates and gems are mounted on some silver ornaments to acquire blessings, good health and good luck.
What are Tibetan handicrafts?
There is a large variety of unique and attractive Tibetan handicrafts, such as carpets, pulu, Tibetan waist knives, Tibetan clothing, caps, pottery, wooden bowls and ornaments.
What are Tibetan necklaces?
The uniquely designed necklaces are made of gold, silver, turquoise, bone, wood and stone, etc.
Where to buy local Lhasa products?
1.  Barkhor Street, Chengdu District, Lhasa 851500, China
Located in the heart of old Lhasa, Barkhor Street is an old street encircling the Jokhang. There are more than 120 handicraft shops and more than 200 stalls in this street at present. Visitors can easily find Tibetan knives, traditional clothes, silver jewelry, carpets and many other traditional handicrafts. It's a good idea to go shopping on Barkhor Street in the morning or evening, because local people always highly value their first and their last customer. This rule is common in other places in China. Visitors have to bargain to get a reasonable price.
2.  Lhasa Department Store, No.1, Yutuo Road, Chengguan District, Lhasa, China
The Lhasa Department Store is located on the southeast side of the Potala Palace. Walking from Potala Palace to the Lhasa Department Store only takes about 15 minutes. It has all sorts of articles for sale including practical items like cotton clothing, towels, toothpaste and canned food. The interior is pleasant and open. Goods are moderately priced and the department store has dining and recreation areas as well as a fitness center.
What is the weather like in Lhasa?
June is the hottest month with an average temperature of 15.7℃ and an average high of 22.9℃.  January is the coldest month with an average temperature of -2℃.   While the temperature in Lhasa is not warm, the solar radiation is very strong due to its high altitude of 3,650 meters.
What is the best time to visit Lhasa?
May to November are considered to be the best time to visit Lhasa. The weather is comfortable and numerous festivals are held during these months.  However this period has become so popular that an increasing number of tourists choose to travel to Lhasa in winter when there is the attraction of the Tibetan New Year Festival.
What to wear in Lhasa?
There is a large temperature variation in spring and autumn ranging from -3°C to 19°C thus some warm clothing is recommended.
In the summer, light clothing is suitable during the day but sweaters, jackets, and pants are more appropriate at night.
No matter the season, it's highly recommended to bring sunglasses, hats, sunscreen and lip balm for protection from the strong ultraviolet rays.