How to get to Mount Everest from Lhasa?
Can I take a bus to Mount Everest from Lhasa?
Hourly bus service is available from Lhasa to Shigatse.  The trip usually takes about 6.5 hours and the cost ranges from 85 yuan to 125 yuan.  The bus station is located in the western suburb of Lhasa.
Once in Shigatse, there is a bus service twice a day to Dingri that is about 6 hours away.  The bus fare is about 85 yuan.  Upon arriving in Dingri, the next destination is the Rongbuk Monastery, a 3-hour bus ride on terrible road conditions.  Eco-cars can then take you to the Mount Everest Base Camp.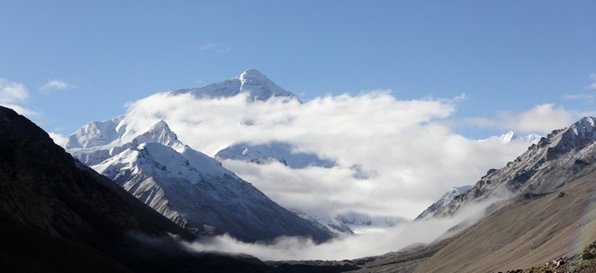 Is there train service to Mount Everest?
There is no train service to Mount Everest. Visitors can only travel by train from Lhasa to as far as Shigatse.  Please see the above.
Can I fly to Mount Everest?
Visitors can only fly as far as Lhasa or Shigatse.
Flying to Shigatse
The Shigatse Peace Airport is 43 kilometers from Shigatse. Visitors can fly from Chengdu Shuangliu Airport to Shigatse. There is only one flight at 06:30 on Monday, Wednesday, Friday and Sunday from Chengdu to Shigatse. There is an airport bus to the city. The bus fee is about 90 yuan.
Flying to Lhasa
There are flights from Chengdu, Beijing, Xian, Chongqing, Shanghai, Guangzhou, Hangzhou, Shenzhen, Nanjing, Nanning, Mianyang, Changsha, Fuzhou, Tianjin, Xiamen, Yinchuan, Kunming, Lijiang, Zhengzhou, Lanzhou, Diqing, Geermu, Yinchuan and Xining to Lhasa.
Is there a hiking trail around the Mount  Everest Base Camp?
Visitors can trek from the Rongbuk Monastery to the Mount Everest Base Camp. This is a short 2-hour, 8km route to reach the camp which is at an altitude of 5,200 meters.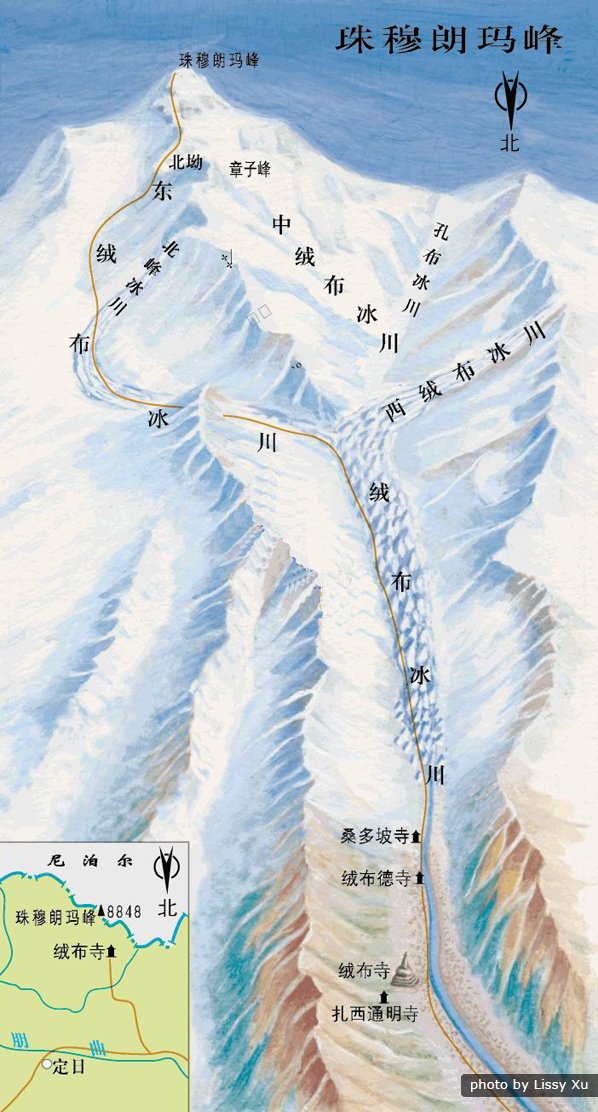 Can I climb Mount Everest?
Only experienced and extremely fit mountaineers should attempt to scale the mountain.  Mount Everest is the highest peak in the world and many mountaineers dream of scaling this peak.  However, it is a very dangerous feat and climbing the highest peak in the world without years of training is extremely hazardous.  The weather is changeable and oxygen deprivation is a crucial factor at such a high altitude (8844.43 meters). Visitors can usually manage to reach the Mount Everest Base Camp which has an altitude of 5,180 meters.
What is the admission fee to the Mount Everest Nature Area?
The admission fee is 180 yuan per person.
When is the best time to visit the Mount Everest area?
Exploration of Mount Everest is unsuitable from October to April because of extremely cold temperatures. The monsoons occur in July and August and visibility is problematic making it impossible to see  Mount Everest in the misty rain. The optimum time to enjoy Mount Everest is April, May and June.
Can we stay over near Mount Everest?
Many visitors  set up tents at the Mount Everest Base Camp. There is no hotel nearby but some local people set up tents to provide hostel, restaurant and tea house services. Usually, there are 10 beds in a tent and a bed costs about 30 yuan.  At an altitude of about 5,200 meters, the Mount Everest Base Camp is very cold and windy at night. Visitors should prepare accordingly.  Visitors can also stay over at the Rongbuk Monastery which is 8 kilometers from the Mount Everest Base Camp. The Monastery operates a hostel with 100 beds, a dining room and a store.
What preparations are needed to travel to Mount Everest?
Bring whatever medication is recommended by your physician and purchase bottles of oxygen in case of altitude problems.  A bottle of oxygen is cheaper in Lhasa than places near Mount Everest.  If one should get ill before going to Mount Everest, it would be best to cancel the outing.  
Wear down-filled jackets and take enough food to keep warm as it can be very cold at night.  It is best to wear anti-slip, durable, cleated and spiked shoes. (Consult your local mountain sports equipment supplier before leaving.)
The types of food are limited at the Mount Everest Base Camp.  Moreover, the prices are very high.  Visitors can bring their own food and water.
4.  Consuming fruit and milk products can strengthen one's adaptive capability to the high altitude.
What can I buy at the Mount Everest Base Camp?
Visitors can buy post-marked souvenirs from the Mount Everest Post Office and mail items such as  postcards to friends or family members to share the exciting experience. Within a month, your friends or family members should receive a magnificent memento. Visitors can also buy some buttered tea, air dried meat and highland barley wine.