Multinational Autonomous County of Longsheng
How can I go to Longsheng?
Located in the northeast of Guangxi Zhuang Autonomous Region, Longsheng is under the governance of the city of Guilin. Guilin is a transportation hub for airlines and high speed trains that connect to most large cities in China. Visitors usually begin their Longsheng tour by bus from the Guilin bus station close by the railway station.Buses to Longsheng depart at intervals of 40 minutes from 06:10 to 17:00 daily. The cost is approximately 40 yuan and the bus ride is about 2 hours long.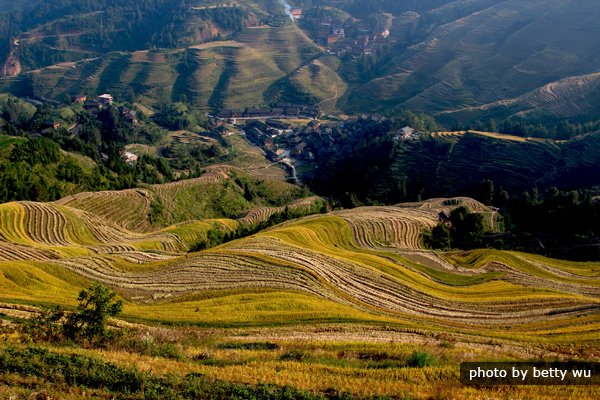 When is the best time to visit Longsheng?
Longsheng has a subtropical monsoon climate and the annual average temperature is 18℃ (65°F). It is very pleasant year round with temperate winters and summers. Beautiful scenery abounds whether it is sunny or rainy throughout the four seasons. Ideal visitation months are April to May and September to October.
Is there public transportation in Longsheng?
Transportation within the county is convenient, as buses regularly run between the surrounding villages, towns and scenic spots.
How to get to Longji (Dragon's Backbone) Rice Terraces?
There is local bus service to the scenic area that transfers only once in Heping Township. The bus fare is about 10 yuan. Upon leaving the bus, visitors still have about a half hour walk uphill to the ideal lookout. There is also the option of taking a sedan chair.
How to go to the Longsheng Hot Springs National Forest Park?
There are regular buses to Longsheng Hot Springs National Forest Park which is about a 40 minute drive. The bus fare is about 5 yuan.
What are the Longsheng local products?
There are 4 treasures produced in the area of Longji (Dragon's Backbone) Rice Terraces: Longji chili, Longji Yunwu Tea, Longji Rice Wine and Longji sticky rice. Longi chili is the most famous product. Longji Yunwu Tea was a tribute to the imperial household of the Qing Dynasty (1644-1911). Longji sticky rice makes Longji Rice Wine very sweet. There are no department stores or supermarkets in Longsheng but visitors can buy local products in small stores and roadside boutiques. Available souvenirs include Longsheng rare stones, ethnic embroidery, gold or silver ornaments, Yao wax-printing goods, hand-knitted straw sandals and Zhuang brocade and bags.
Can we change our money in Longsheng?
Visitors should note that there are no foreign exchange facilities in Longsheng. Foreign currency should be exchanged in Guilin before visiting Longsheng.
Do visitors require special clothing when visiting Longsheng?
There are distinct temperature differences between day and night and visitors should dress accordingly. Longsheng is a mountainous area and appropriate footwear is recommended.