How to go to Pingyao?
Highway Transport
Visitors can take the airport regular buses leave Taiyuan for Pingyao costing about 10 Yuan at 6 pm. and the bus ride is around 2 hours. 
Air Transport transfer to Railway Transport
There is no nonstop flight to Pingyao. Visitors could reach Shijiazhuang or Taiyuan by air, and then take bus or train to get to Pingyao. It is very convenient to flight to Pingyao from Taiyuan, Shijiazhuang. Three airports are prepared for visitors to choose from in Shanxi. They are Wusu Airport in Taiyuan, Huairen Airport in Datong and Wangcun Airport in Changzhi.
How to go to Pingyao from Taiyuan?
Visitors can take the couch from the airport to urban area of Taiyuan and transfer the coach to Pingyao. Or visitors can take a taxi to Taiyuan Railway Station and take the train to Pingyao.
How to go to Pingyao from Datong?
Visitors can take a taxi to Datong Railway Station or Bus Station. It is 9 hours railway or 5 hours highway to Pingyao.
How to go to Pingyao from Changzhi?
There are two Railway Stations locates in Changzhi. They are Taijiao Railway and Hanchang Railway. Taijiao Railway lies from south to north and Hanchang Railway lies from east to west in Changzhi City,which link Changzhi with most cities in China. It is convenient for visitors to take a train to Pingyao. Also, there are over thirty thousand kilometers' highway lie in Shanxi Province now, half of which reach the standard of high and second high grade highways. It is a good choice to go to Pingyao on highway.
How is the transportation in Pingyao?
Pingyao is an ancient town in China, the transportation in the ancient town is not put into construction. Visitors cannot take a taxi or bus in the tiny town. But you can use the following available means of transportation for getting around:
Rickshaw: Rickshaw is a traditional means of transportation in old China. And this man-driven vehicle is preserved to now in the Pingyao ancient town. It is very easy to find one and take you for a stroll in the ancient streets.
Electro mobile: visitors sitting on the electro mobile can get a good view of the ancient town and can accommodate 1-20 people.
Bicycle: visitors can easily rant a bicycle in front of your hotels and it is probably the most experience way to get around the ancient town. This is a popular means of transportation for many tourists to get on their pace to explore the ancient city.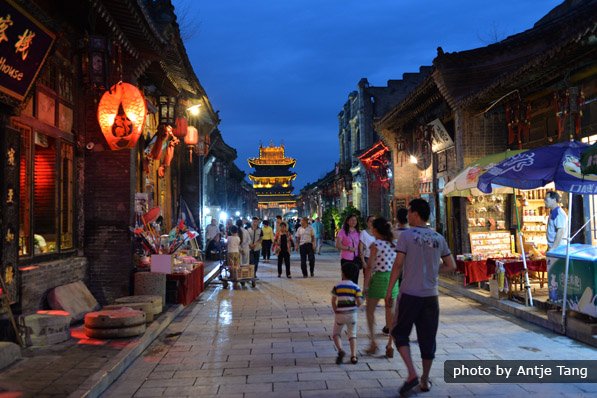 What can I do in Pingyao?
Shanxi is an ancient cultural city in China and Pingyao is an ancient town in Shanxi. Pingyao Ancient Town and Pingyao Ancient Town Walls are absolutely the highlight attractions visitors must see. In addition, there are also some other spots in Pingyao area include the trade and finance houses of famous families of the area including Rishengchang Draft Bank, Cao Family Courtyard in the village of Beiguang, Taigu County, Chang Family Courtyard.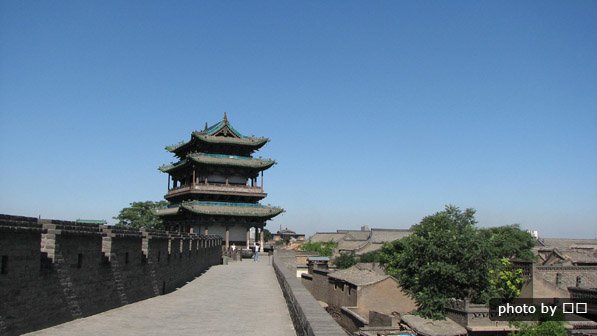 What could I buy in Pingyao?
There are many local specialties in Pingyao. The Pingyao Beef has a long history since Han Dynasty. The Pingyao Wantuo is a traditional snack in Pingyao. It has rich local characteristics and local people always eat the beef when drinking liquor. Chinese Yam is praised as "Chinese Ginseng". It is very good to human health.
Where to buy the local specialties?
There is a street called Ming and Qing Street. On both side of the street locates varieties of local specialty shops with the ancient style building. Visitors can buy all sort of local specialties there. The street is located on the middle axle wire of Pingyao.
How is the weather like in Pingyao and what should be prepared to go to Pingyao?
Pingyao climate is typically temperate with hot summer and cold winter. Annual average temperature is about 10ºC. Summer is often hot and rainy mainly in July and August. In winter, the wind blowing from the north is very cold with average temperature –12 ºC.. March to October is the best time to visit Pingyao. The temperature varies greatly between day and night. If visitors go to Pingyao in winter, you should prepare some thick clothes for winter to prevent you to get cold in winter.
The best time to visit Pingyao is autumn. In autumn, the temperature gets colder but it will not be too cold at night.